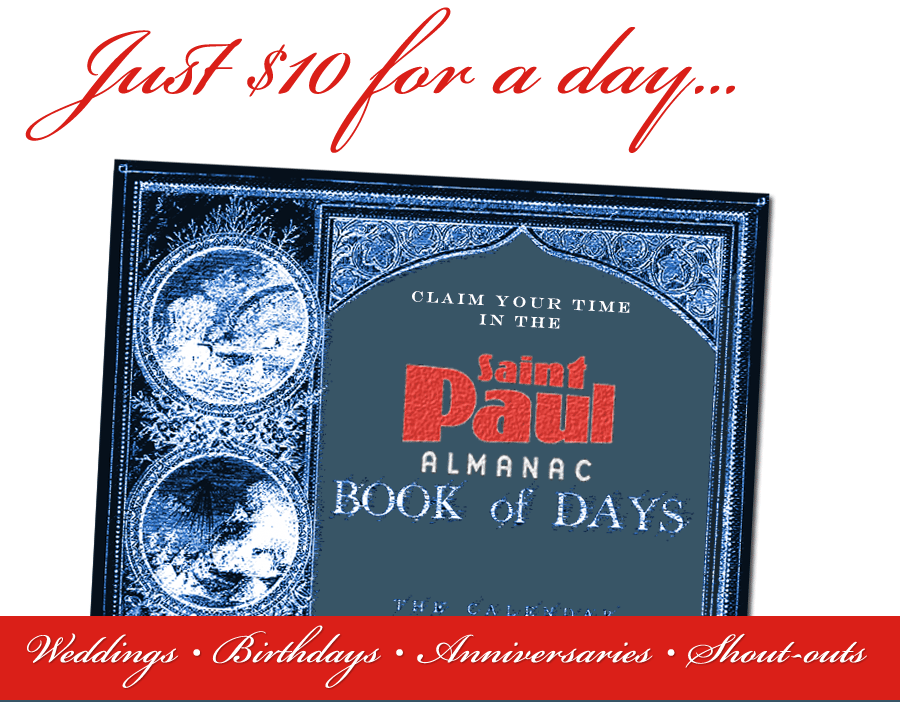 Buy a day (or week or month) in the Saint Paul Almanac's "Book Of Days"!
For $10, your dedication or shout-out will be immediately entered into the Almanac's online Saint Paul Calendar, and will also appear in a special location front and center on our homepage, as well as on every page of our website during the timeframe you purchased. Your name will additionally be listed as a donor in the 2014 Saint Paul Almanac.
Highlight, celebrate, and commemorate a friend or other loved one's birthday, wedding, anniversary, graduation, or other life-changing event. Know someone who loves Saint Paul? Someone who can't get enough of arts and literature? Someone who celebrates all things local?
Donate for one day for just $10!
Celebrate an entire graduation week for $70!
Forgot someone's birthday? Heh heh. The month package is yours for just $300!
Whether motivated by pure love or a deservedly guilty conscience, the community-building mission of the Saint Paul Almanac is strengthened either way. Sign up for the Almanac's "Book Of Days" now. Time is running out!