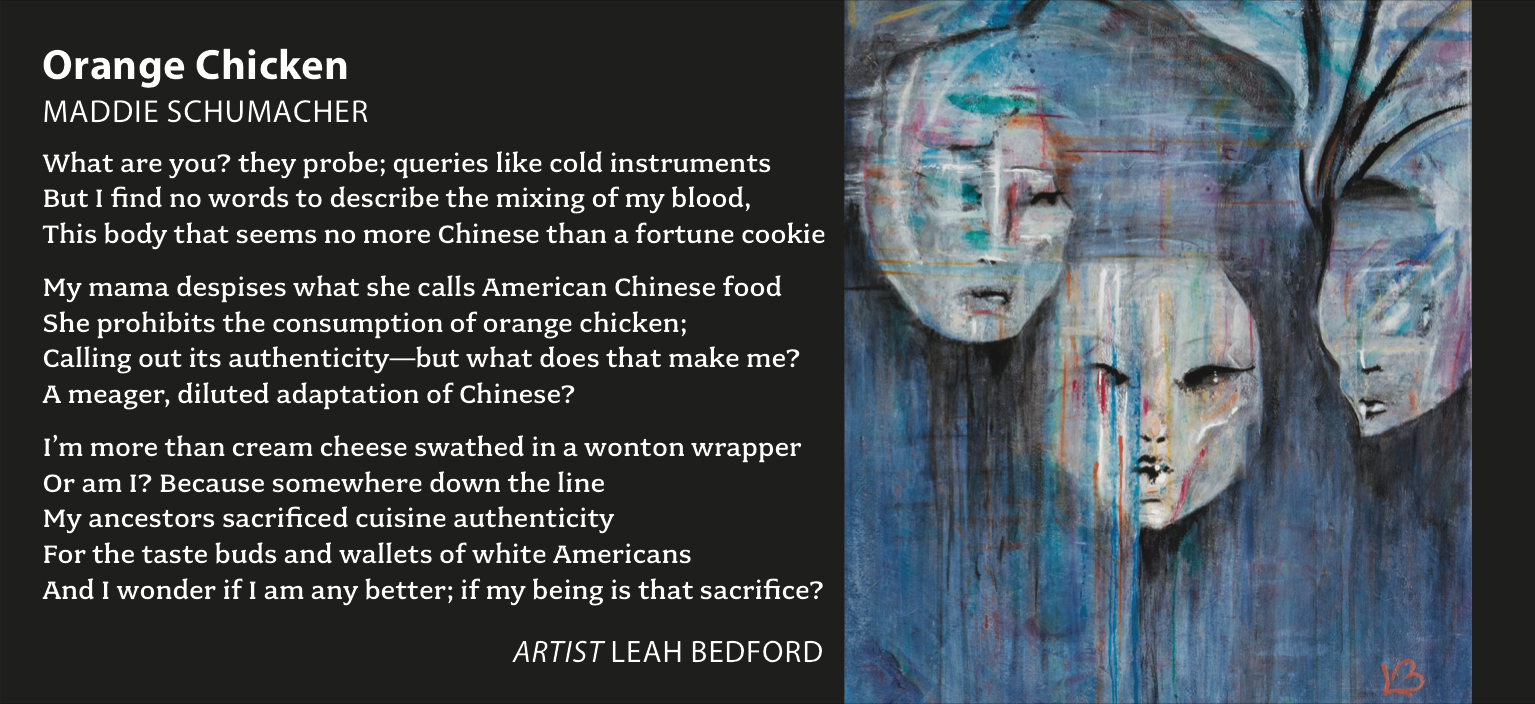 Maddie Schumacher is an American studies and urban studies student at Macalester College. As a queer woman of biracial heritage, she finds refuge in expressing her anxieties, fears, and victories through spoken word poetry. She also loves building forts with her three younger siblings and eating rice.
Leah Bedford feels this opportunity to create a visual work inspired by the words of another artist is perfect for her because she paints intuitively from the heart and her work authentically expresses her feelings and captures her emotions. Her paintings are colorful, full of texture and movement.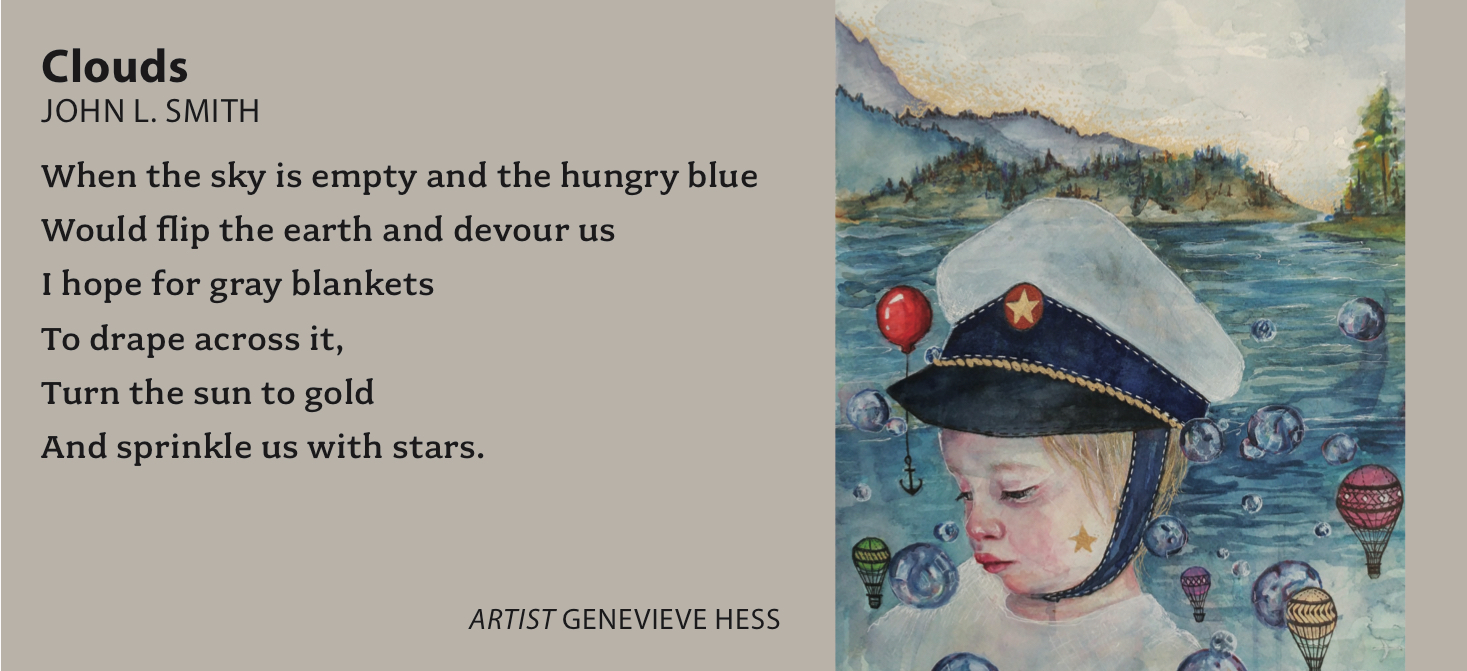 John L. Smith is a grad student at Hamline University. His piece was written for a Landscape and Memory class in spring 2016.
Genevieve Hess believes each individual has a unique perspective and constructs hers through her art. Her paintings are inspired by beauty in humanity and the artistry of color. She hopes to portray balance between strength and delicacy, femininity and drama. Her prowess as an artist is often shown in striking images of women who evoke strong yet fragile feelings in the observer. These paintings are more emotion-based than conceptual, bringing beauty and aura to the space and mind they occupy.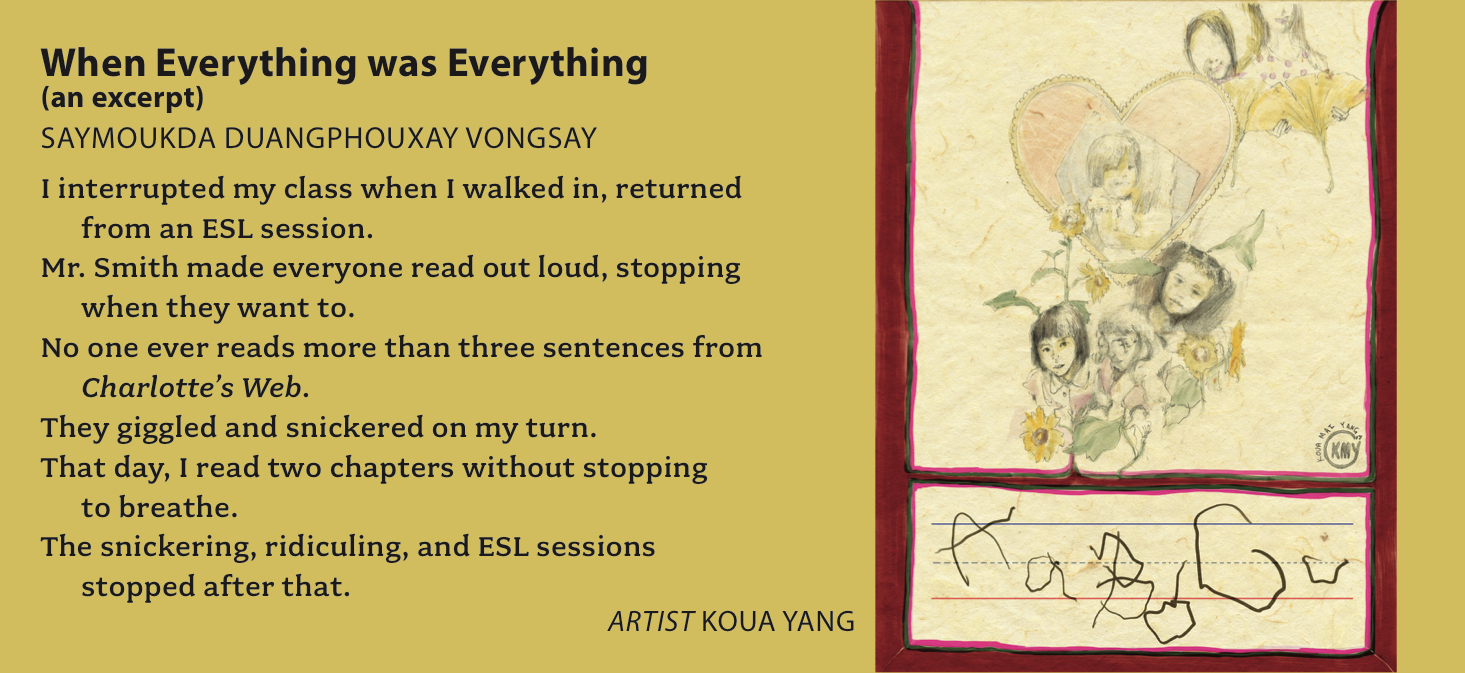 Saymoukda Duangphouxay Vongsay is a Lao American poet, playwright, and cultural producer. She is best known for her critically acclaimed, award-winning play Kung Fu Zombies vs. Cannibals (Mu Performing Arts). Vongsay believes in creating tools and spaces for amplification of refugee voices and explores and shares these narratives through poetry, theater, and storytelling.
Koua Mai Yang is a Hmong American female artist exploring Hmong identity in drawings, paintings, and textiles. Inspired by Hmong history and traditions, Yang's current work re-images Hmong textiles and clothes to explore the tensions between the preservation of Hmong cultural objects and the reproduction of Hmong culture in America.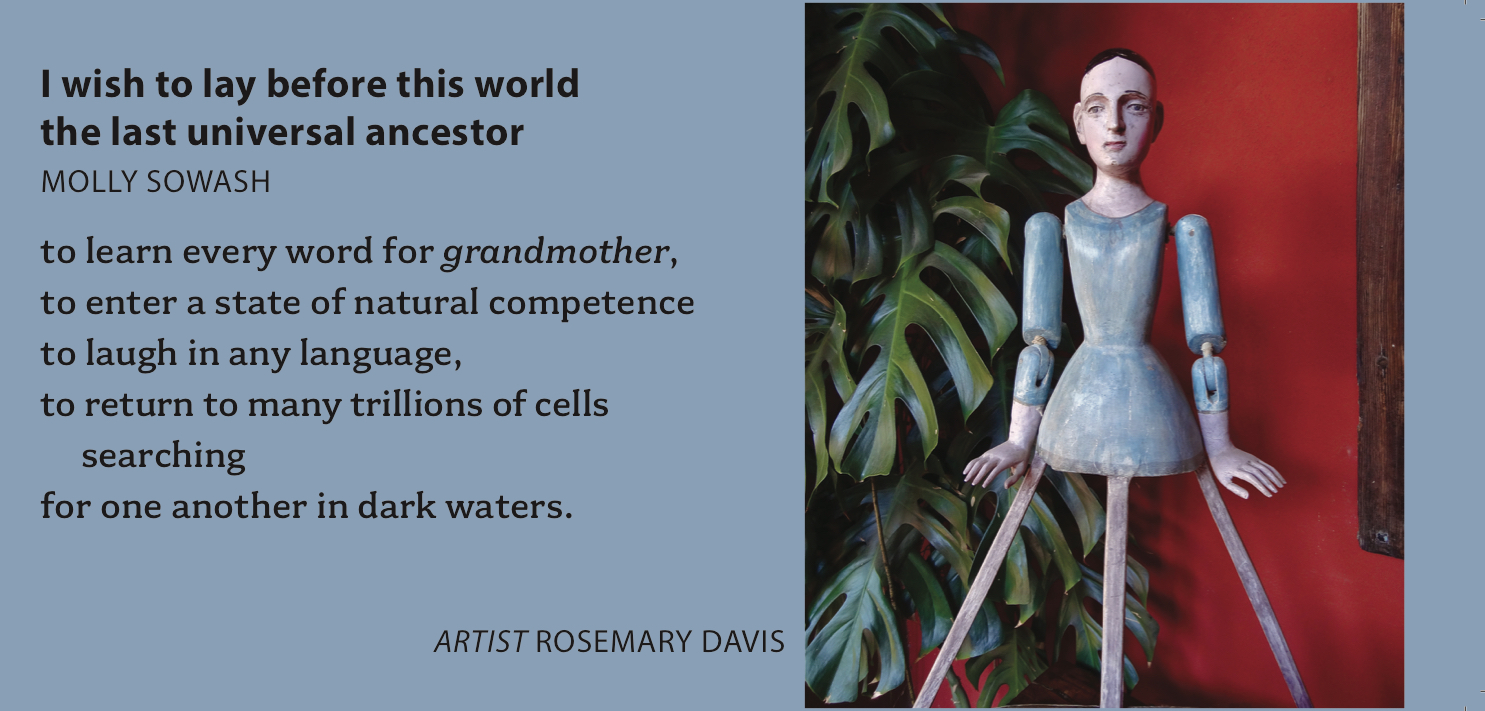 Molly Sowash is a recent graduate of Macalester College who loves writing poetry, growing food, and singing in her trio, Mama Caught Fire. She feels grateful to live in a city that appreciates and supports artists and writers so heartily.
Rosemary Davis is a photographer and writer. Her undergraduate degree in visual communication (photography, film, and video) from the University of Minnesota provided a foundation for 25 years of work in film and video production. Interests include architecture, documentary films, and book arts. Rosemary tends a large, overgrown garden.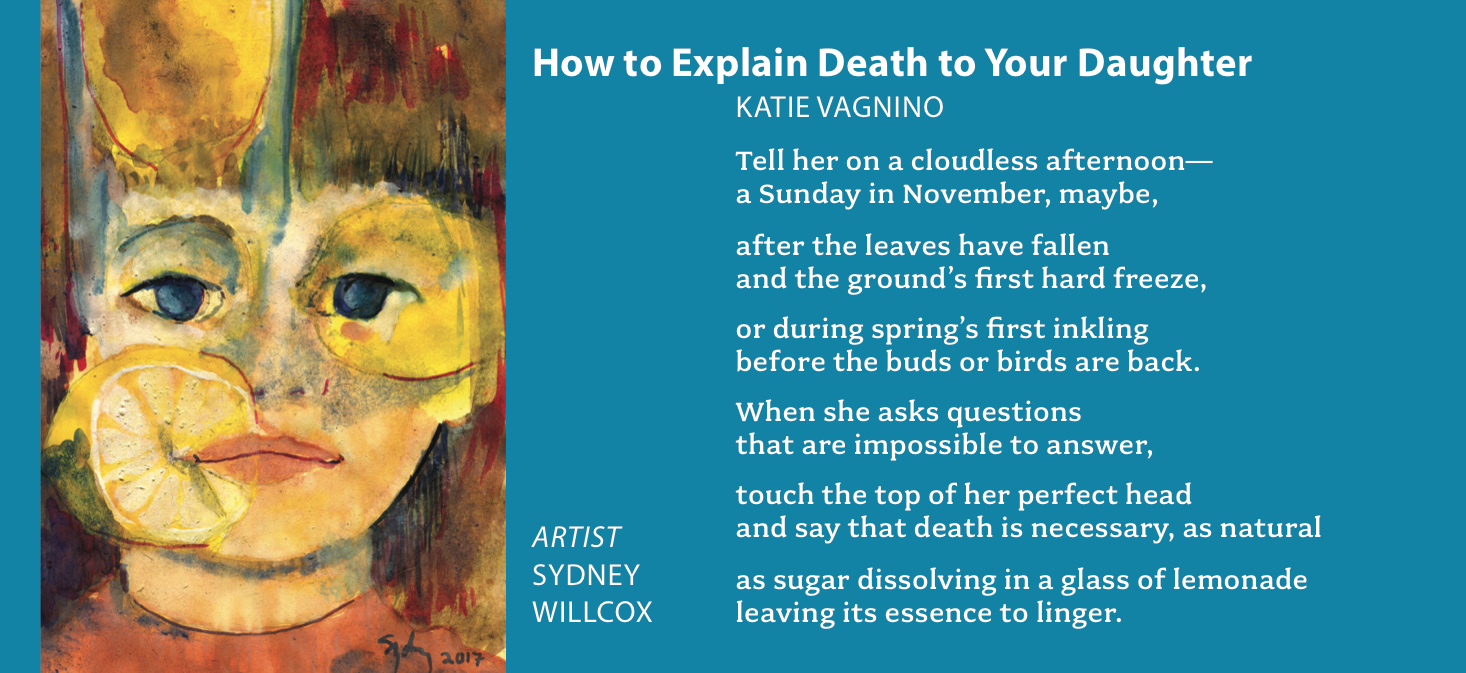 Katie Vagnino is a poet and educator originally from St. Louis. She holds degrees from Yale University and Emerson College and has taught creative writing since 2010. She is a visiting assistant professor at the University of Wisconsin–Eau Claire and also teaches workshops at the Loft Literary Center. She currently resides in Saint Paul.
Sydney E. Willcox is a narrative painter, potter, printmaker, high school art teacher, and parenting partner of six. She loves stories of transformation and aspiration. In this time of great change, color—transparency—glow grabs attention and can restore hope. She seeks to encourage the way light streaming through stained glass windows illustrates story and prayers.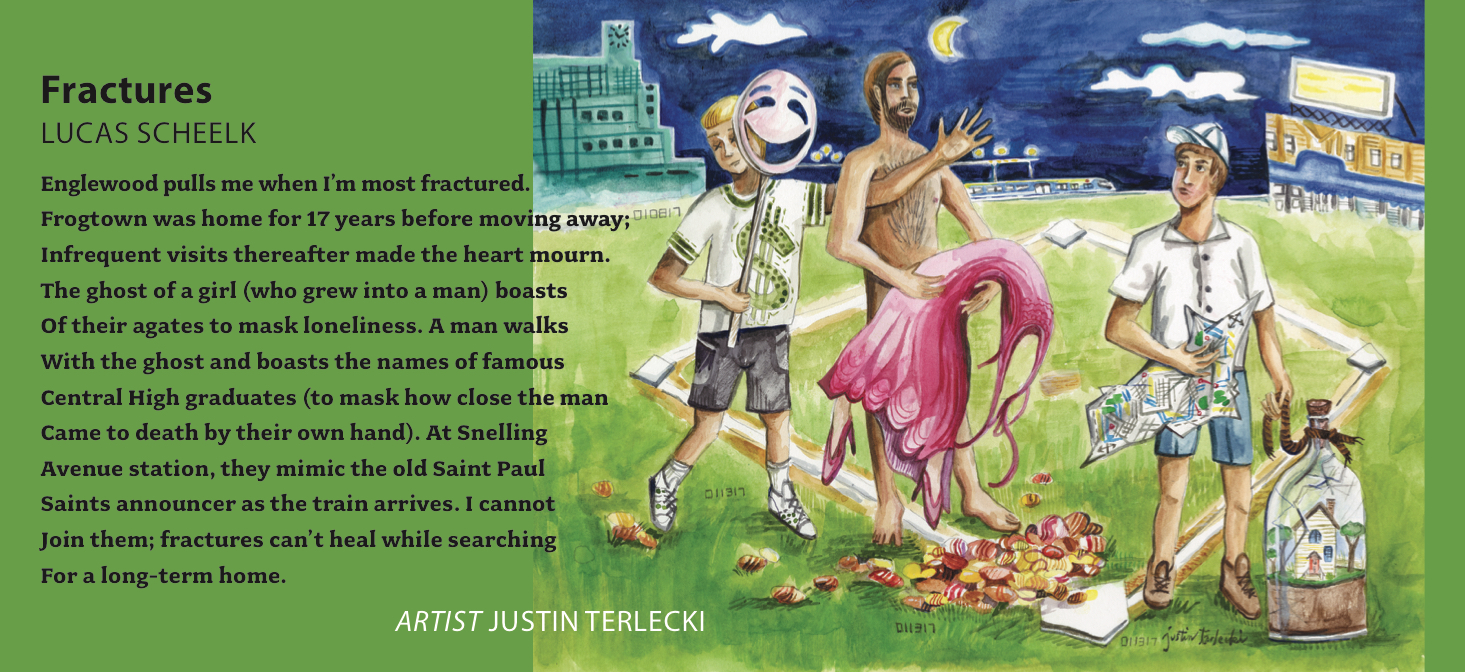 Lucas Scheelk are a white, autistic, trans, queer-identified poet from the Twin Cities. Lucas uses they/them/their pronouns. They are the author of This Is a Clothespin (Damaged Goods Press, 2016). Aside from poetry, they advocate for neurodivergent representation in Holmesian adaptations. Lucas can be found on Twitter @TC221Bee.
Justin Terlecki is an artist living and working in Saint Paul. Originally from Youngstown, Ohio, he graduated from Youngstown State University in 1997 earning a BFA in painting and printmaking. He has exhibited his work regularly in the Twin Cities since moving to Minnesota in 1998. In 2009, he received a Jerome Fellowship for Emerging Printmakers through Highpoint Center for Printmaking. This fellowship funded a series of prints inspired by his travels to India and Spain. His work is included in the permanent collection of the McDonough Museum of Art and many local and national private collections. He is currently represented by Groveland Gallery in Minneapolis and has been exhibiting there since 2011. He lives in the Lowertown Lofts Artist Cooperative.
Make an IMPRESSION in your home or office!
Prints of any broadside can be purchased for $20 each (including shipping and tax!) or you can buy a  bundle of all 6 broadside prints for just $100.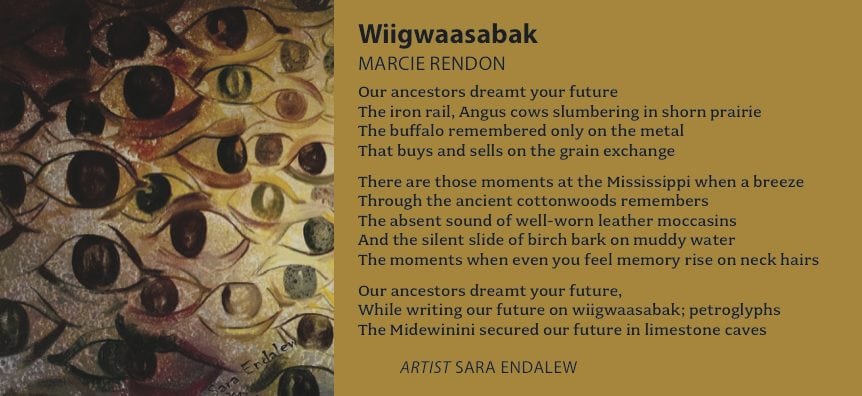 Marcie Rendon, White Earth Anishinabe, is a playwright, poet, performance artist, and author. She has four published plays, two nonfiction children's books, and poems and short stories in numerous anthologies. Her first novel, Murder on the Red River, was recently published by Cinco Puntos Press.
Sara Endalew was born in Addis Ababa, Ethiopia. She holds an associate degree in the fields of sculpture and painting. She moved to the United States in 2006 and has been living in the Twin Cities for the last 10 years. She has had many opportunities to show her artwork in the Twin Cities in collaboration with about a dozen local and regional institutions, businesses, and public arts organizations.
 J. Otis Powell‽ is an author, mentor, performer, curator, editor, "jazz" appreciation tutor, and cultural consultant. J. Otis‽ has studied with Gloria Anzaldúa, Quincy Troupe, Amiri Baraka, Alexs Pate, Sekou Sundiata, and Yusef Komunyakaa. He worked as co-mentor and performed with Amiri Baraka for the Givens Writer's Retreat and with TruRuts Endeavors in a production of Whys, Wise, Ys. His grants and awards include being the recipient of a Loft Creative Nonfiction Award, a Jerome Travel and Study Grant, a Jerome Mid Career Artist Grant, and an Intermedia Arts Interdisciplinary McKnight Fellowship. Mr. Powell‽ is a coeditor and contributor to Blues Visions, an anthology published by the Minnesota Historical Society. His writing appears in Barefoot in the Mountains and the anthology Views from the Loft; his poetry is featured in Bringing Gifts, Bringing News, an anthology of poems from Downstairs Press; and he is a contributor to Saint Paul Almanac. A CD project titled BALM was released through TruRuts/Speak Easy Records. He was a founding producer of the award-winning Write On Radio! at KFAI-FM in Minneapolis while working as a program director and community liaison at the Loft Literary Center. He wrote, with editorial collaboration and design from Rain Taxi, a chapbook titled Pieces of Sky.
Ni'Kol Imani Dowls is a multidisciplinary artist, storyteller, and teacher. She quickly fell in love with the combination of writing and illustration. She combines her love of photography, body movement, and writing to express the world around her. Ni'Kol is a self-taught artist.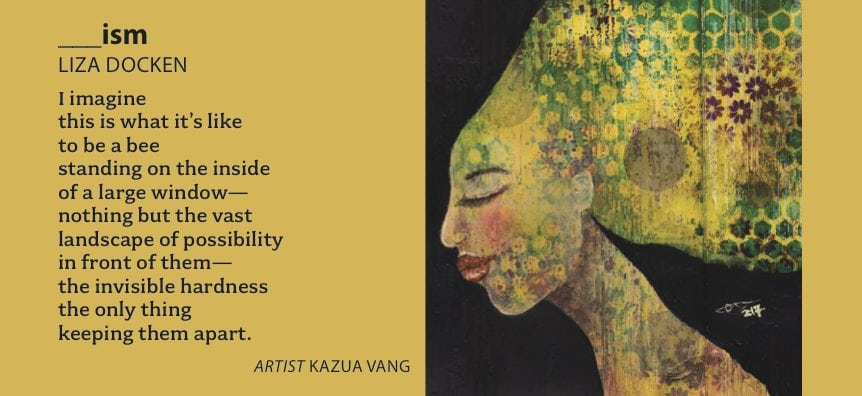 Liza Docken earned her MFA from Hamline University while living across the river in Minneapolis. She is co-author of Hinge, a conversation between poetry and prose. The moon, birds, and love inform her writing.
Kazua Vang, a Hmong American born and raised in Minnesota, is an artist, photographer, and multimanager for various productions. She received her bachelor of arts degree from the University of Minnesota, Twin Cities, with a focus on photography, printmaking, and book arts.
Marion Gómez is a poet and teaching artist based in Minneapolis. She has received a Minnesota State Arts Board grant and was one of four poets selected by Linda Hogan and Ed Bok Lee for the Loft Literary Center's Mentor Series.
Jill Lynne Ness is a writer and artist living in Minnesota. Jill received an MFA in creative writing from Emerson College in Boston in 1994. As an artist, she is self-taught and is known for her use of intense watercolor. Currently, Jill leads a creative writing group at Bridgeview in Fridley, Minnesota, a community support program for adults with severe and persistent mental illness, where she is also a member.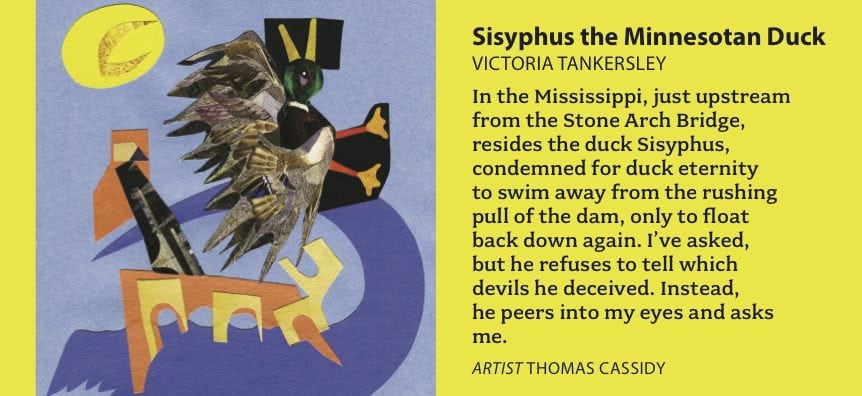 Victoria Tankersley moved to Minneapolis for college but fell in love with the vibrancy and sounds of the city (the ring of the light rail gives her especially warm, fuzzy feelings). She now lives in Minneapolis with her partner and puppy and, somehow, can't wait for winter to come each year.
Thomas Cassidy, aka Musicmaster, has been an active participant in correspondence art and visual poetry projects since 1973, and his artwork and written pieces have appeared in publications, galleries, and museums around the world. In the mid-1970s he co-founded the Portland, Oregon, performance troupe The Impossibilists, who were reunited in 2008 by the Oregon Heritage Commission. He hosted MTN's Access to Art series for three years, co-edited a Minnesota Center for Book Arts' vispoeologee (an anthology of visual literature with John M. Bennett and Scott Helmes), hosted open mikes for 25 years, and is on the board of Cheap Theatre. More of a stand-up poet than a word worshipper, his recent chapbooks include give up art and juiced up walnut (Musical Comedy Editions 2013). His doppelgänger has held the same real-world job with the Minnesota Multi Housing Association for 36 years. He owes his sliver of sanity to his beautiful and tolerant wife, Dawn, and their two deranged children.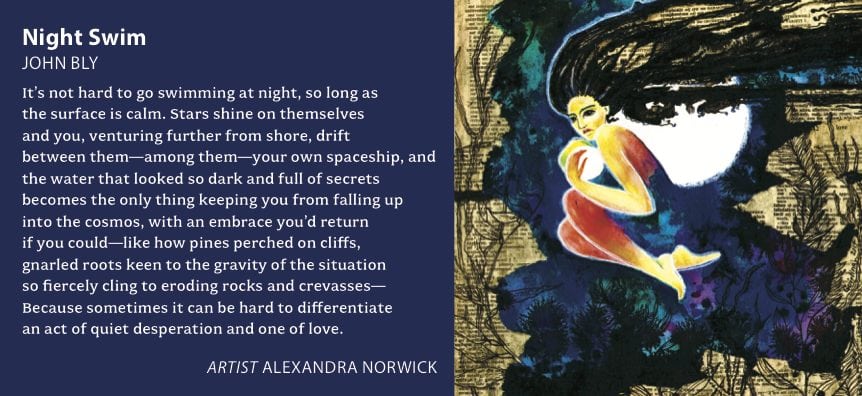 John Bly likes to find, fix, and learn new things. He cooks and cleans with reckless abandon. His favorite time of year is fall, after the green drains from leaves and reminds you how many other colors were there the whole time.
Alexandra Norwick is a Ukrainian who moved to Minneapolis three years ago, starting everything from scratch on new terrain. Part of this transition consisted in going back to making art—returning to her roots, nurturing new beginnings, and exploring the nature and essence of the feminine.
Make an IMPRESSION in your home or office!
Prints of any broadside can be purchased for $20 each (including shipping and tax!) or you can buy a  bundle of all 6 broadside prints for just $100.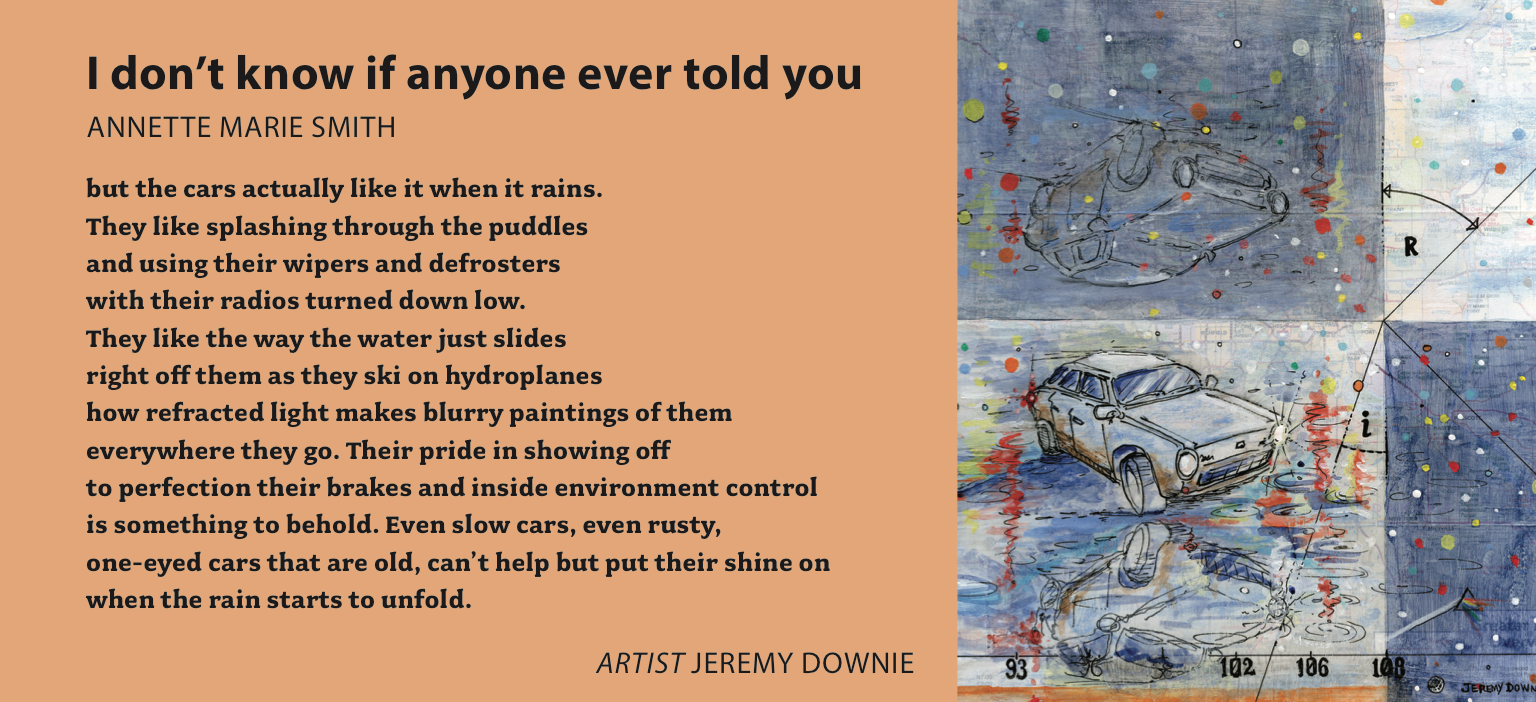 Annette Marie Smith is a freelance journalist, author, artist, and poet. She is the founder and curator of the international feminist project Facing Feminism. Her articles have appeared in print throughout the United States and internationally. Her two most recent books are Tell the Bees, a collection of love and lust poems, and She Wanted Storms, a collection of short stories and poetry. She is happily at work on a novel of magical realism set in Saint Paul.
Jeremy Downie's interdisciplinary practice embraces a variety of mediums, including painting, drawing, and mixed media. Most recently, he has been experimenting with mixed media paintings on surfaces considered throwaway or transitory. They range from newspaper, wood, cardboard, and city maps to more conventional watercolor paper and canvas.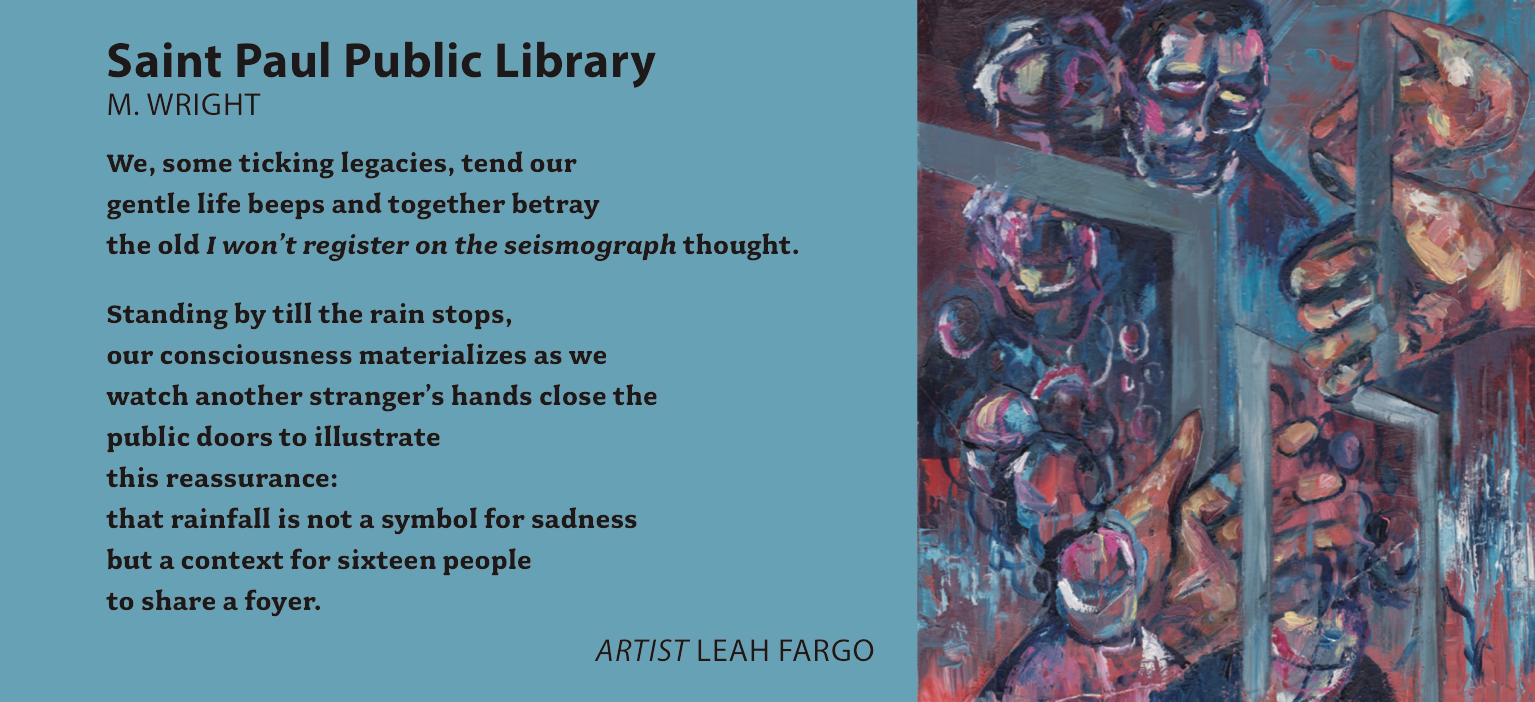 M. Wright has two forthcoming chapbooks: a boy named jane (Bottlecap Press, 11 March 2017) and Dear Dementia (Ghost City Press, 4 April 2017). He is the 2016 winner of The Atlantis Award in poetry, and his poems have recently appeared or are forthcoming in Squawk Back, Maudlin House, Ghost City Review, L'Éphémère Review, cahoodaloodaling, and Temenos Journal.
Leah Fargo uses oil paint as a vessel for capturing and sorting through ideas that may at first appear disjointed in the resulting imagery. She works by deliberately combining symbols and layers of paint to comment upon different facets of this bizarre, fascinating, and sometimes dysfunctional human experience.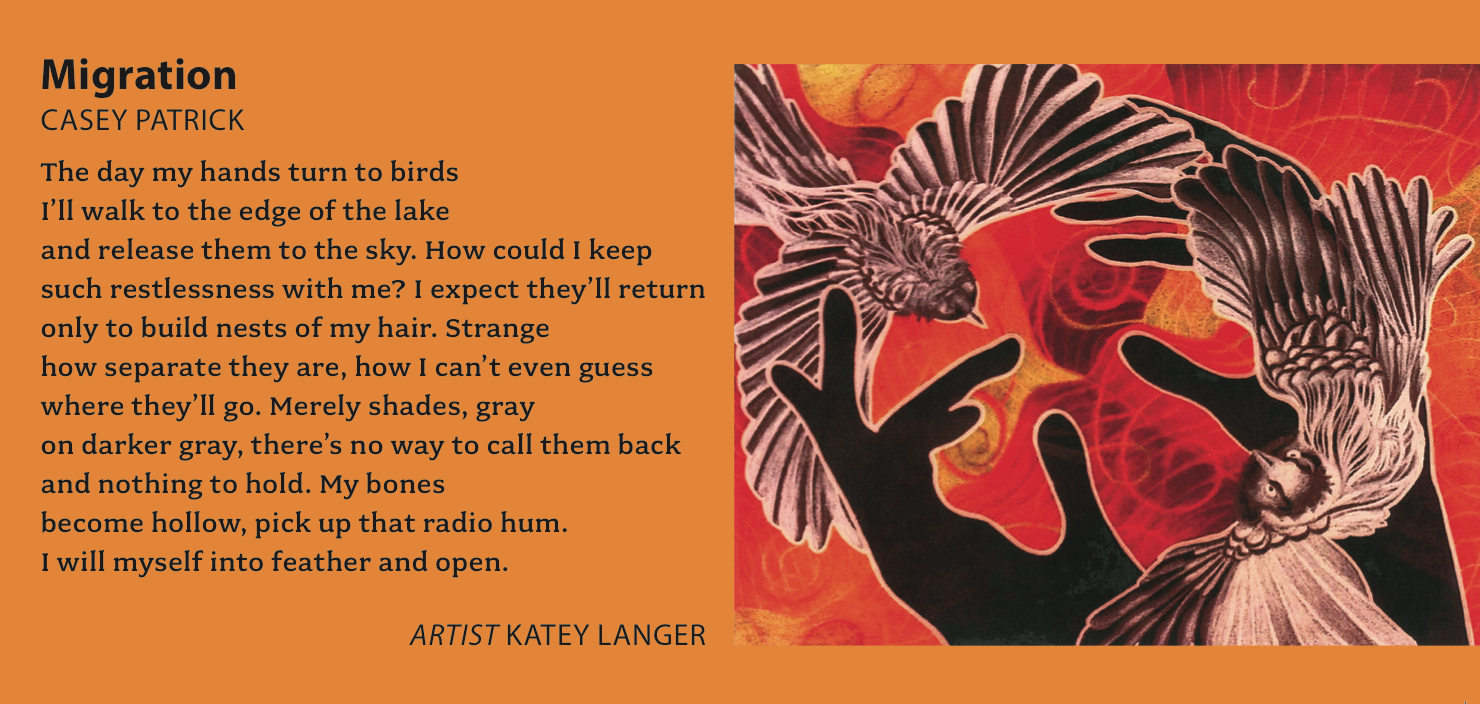 Casey Patrick's poems have recently appeared in Pleiades and The Adroit Journal, and work is forthcoming in Juked, Passages North, and The Journal. Awards include a James Merrill Fellowship and the 2014–2015 Hub City Writers House Residency. She works as a bookseller and teaches at the Loft.
Katey Langer is a 20-year-old student enrolled at Minneapolis Community and Technical College. She is not from the Twin Cities but every day is so appreciative to have the opportunity to obtain an education in such a dynamic area. Her work contains observations, patterns, and connections.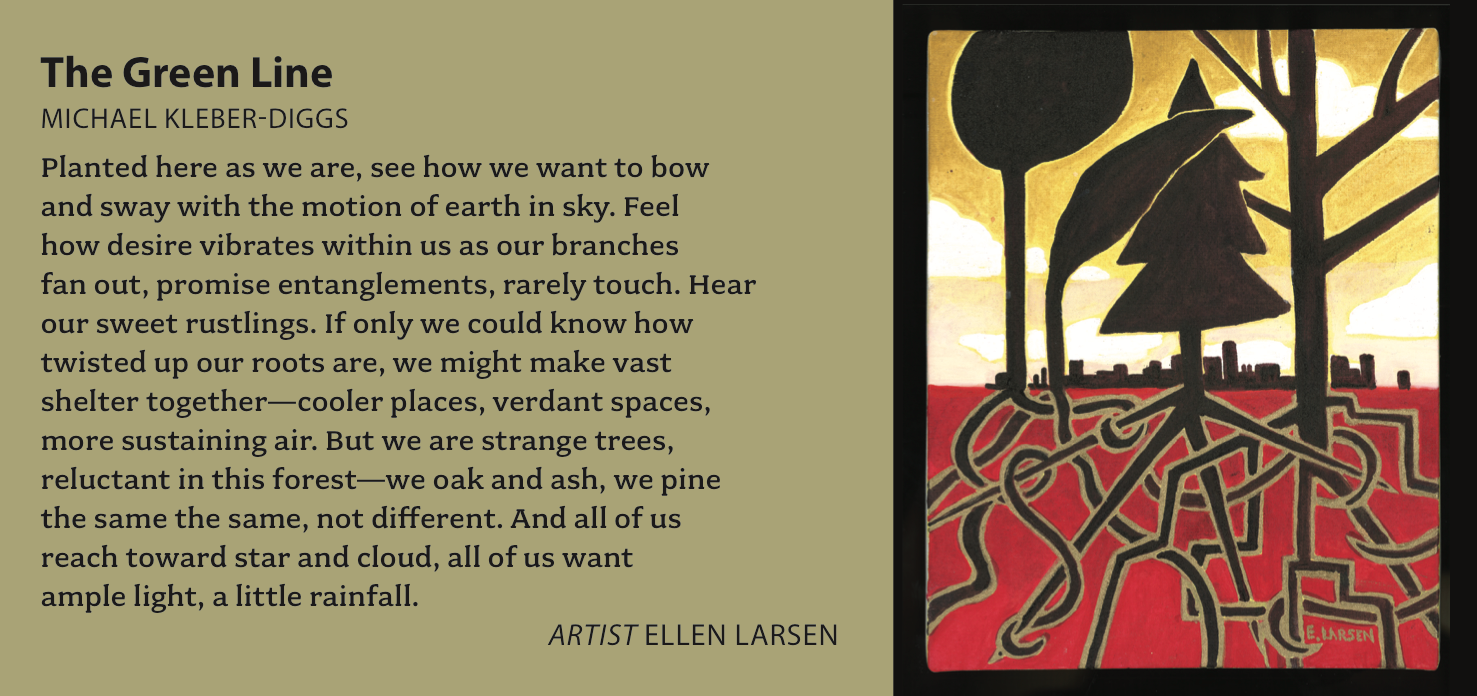 Michael Kleber-Diggs is a poet and essayist. He lives in Saint Paul with his wife, Karen, who makes art with flowers, and their daughter, an accomplished dancer.
Ellen Larsen likes to challenge herself to express value using color. She is inspired by form, figure, cars, buildings, horizons, color, everyday objects, light, and shadow. Viewers have commented that the subjects she paints—whether inanimate or "live"—are able to convey, as well as evoke, emotion.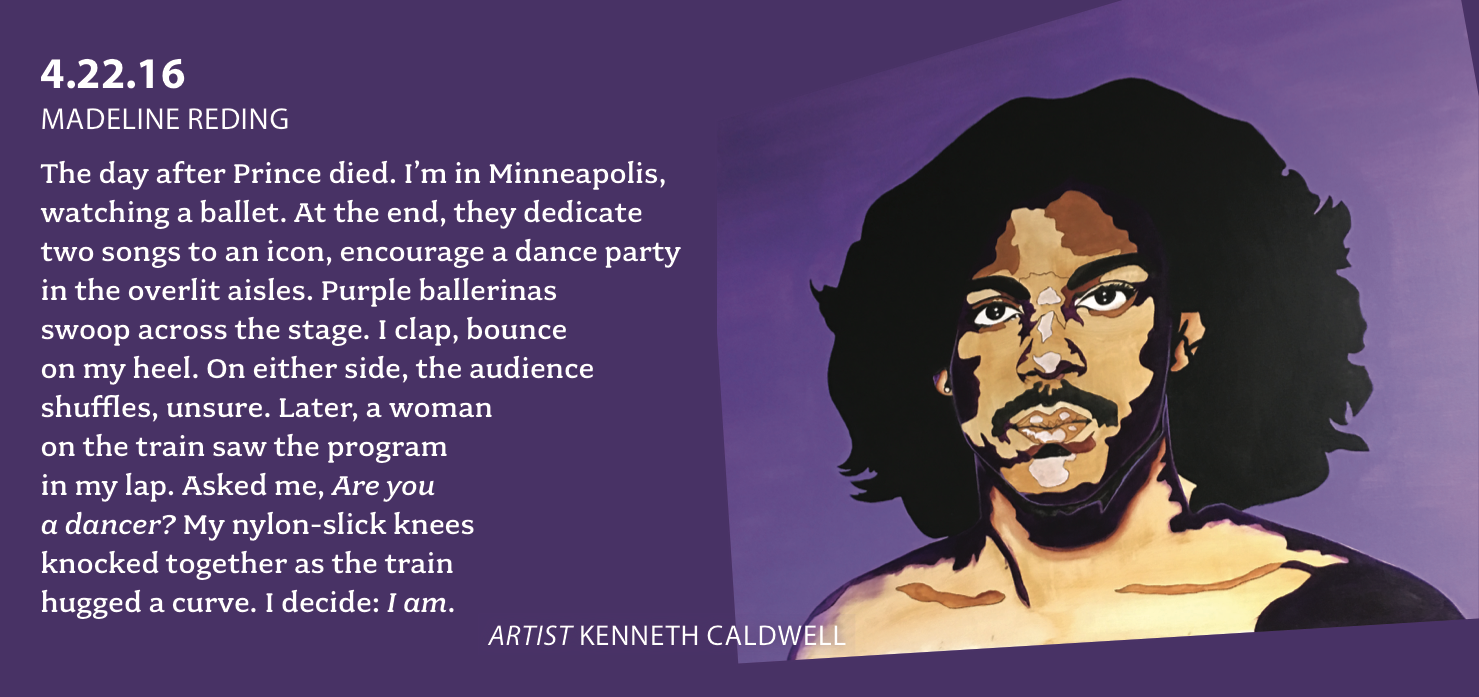 Madeline Reding lives in Saint Paul. Her work has appeared or is forthcoming in Midway Journal, Salt Hill Journal, and Paper Darts, and she writes about global health for The Borgen Project.
Kenneth Caldwell focuses on creating contemporary art influenced by the Harlem Renaissance, the Black Arts Movement, and the Hip Hop genre. Using acrylic, oil, pastels, and mixed media, Kenneth creates images that reflect people, music, and emotions. A Minnesota native, he started his career in the field of visual arts as a young student attending North High School in Minneapolis. Kenneth has a distinctive artistic style that incorporates his love of music into art. Today he teaches art at Sojourner Truth Academy and runs a paint class named CaldtoArt Paint Time.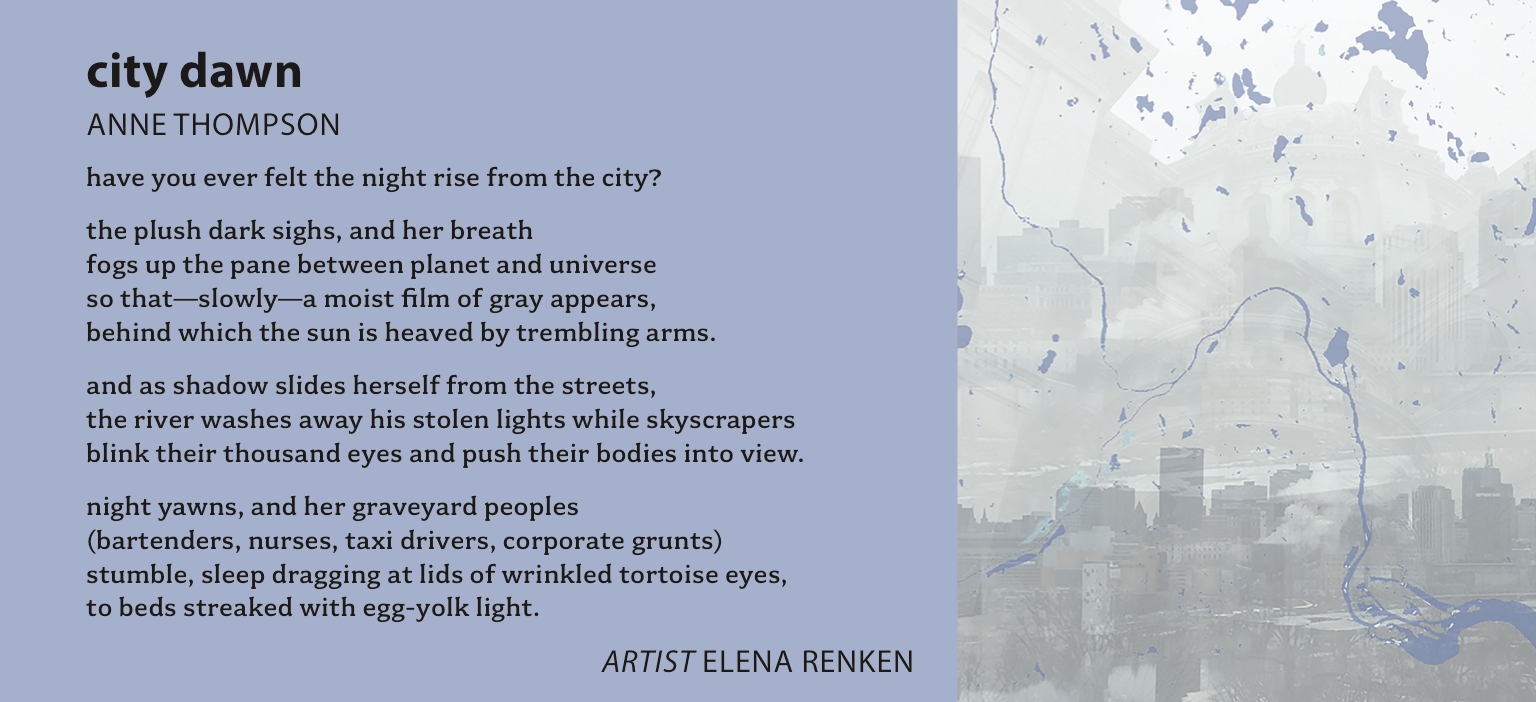 Anne Thompson is an English literature and French language student at the University of Minnesota. She relies on coffee to support her night-owl lifestyle.
Elena Renken grew up in Saint Paul and has lived in the Summit-University, Highland Park, and Cathedral Hill neighborhoods. She attends Brown University in Rhode Island, where she is a sophomore studying science and society. In her spare time, she is an avid baker, ceramicist, photographer, and screen printer.
Make an IMPRESSION in your home or office!
Prints of any broadside can be purchased for $20 each (including shipping and tax!) or you can buy a  bundle of all 6 broadside prints for just $100.