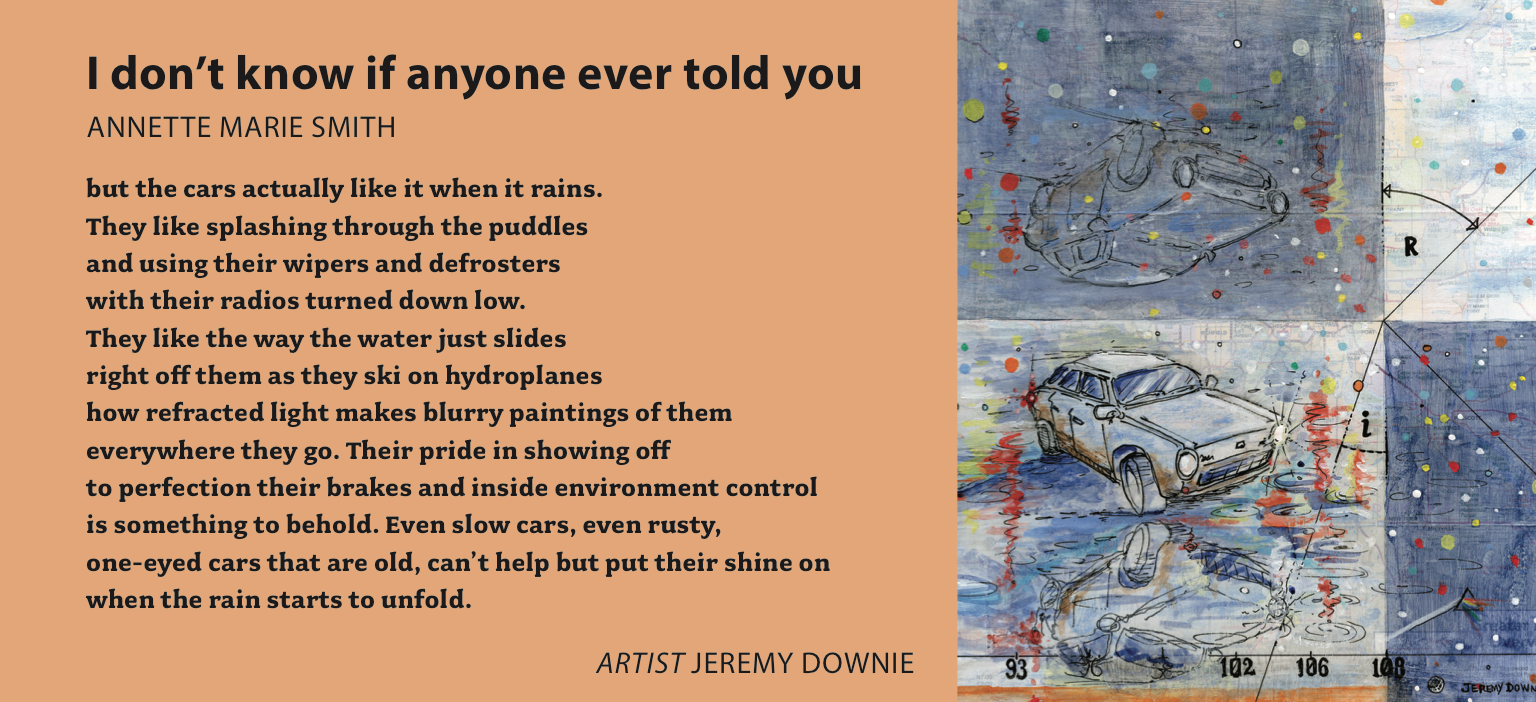 Annette Marie Smith is a freelance journalist, author, artist, and poet. She is the founder and curator of the international feminist project Facing Feminism. Her articles have appeared in print throughout the United States and internationally. Her two most recent books are Tell the Bees, a collection of love and lust poems, and She Wanted Storms, a collection of short stories and poetry. She is happily at work on a novel of magical realism set in Saint Paul.
Jeremy Downie's interdisciplinary practice embraces a variety of mediums, including painting, drawing, and mixed media. Most recently, he has been experimenting with mixed media paintings on surfaces considered throwaway or transitory. They range from newspaper, wood, cardboard, and city maps to more conventional watercolor paper and canvas.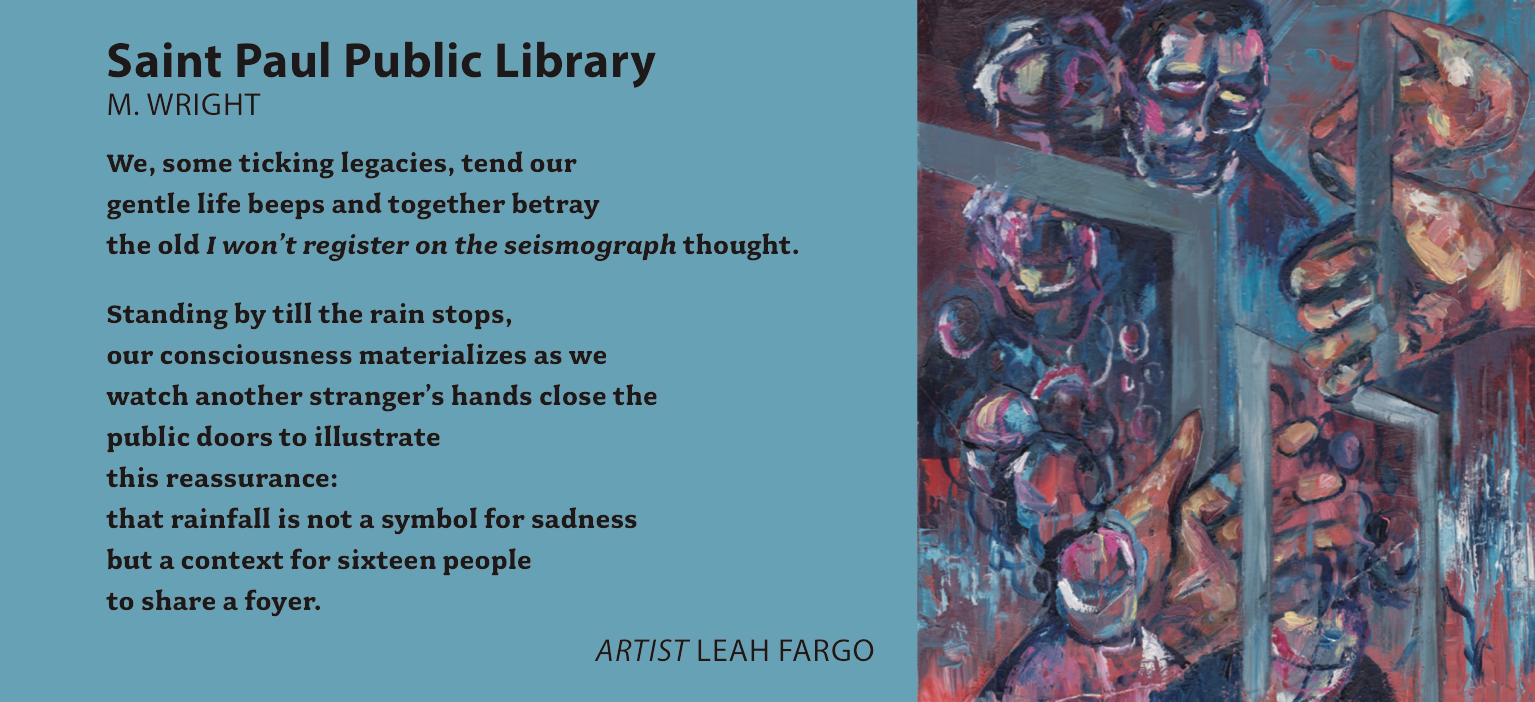 M. Wright has two forthcoming chapbooks: a boy named jane (Bottlecap Press, 11 March 2017) and Dear Dementia (Ghost City Press, 4 April 2017). He is the 2016 winner of The Atlantis Award in poetry, and his poems have recently appeared or are forthcoming in Squawk Back, Maudlin House, Ghost City Review, L'Éphémère Review, cahoodaloodaling, and Temenos Journal.
Leah Fargo uses oil paint as a vessel for capturing and sorting through ideas that may at first appear disjointed in the resulting imagery. She works by deliberately combining symbols and layers of paint to comment upon different facets of this bizarre, fascinating, and sometimes dysfunctional human experience.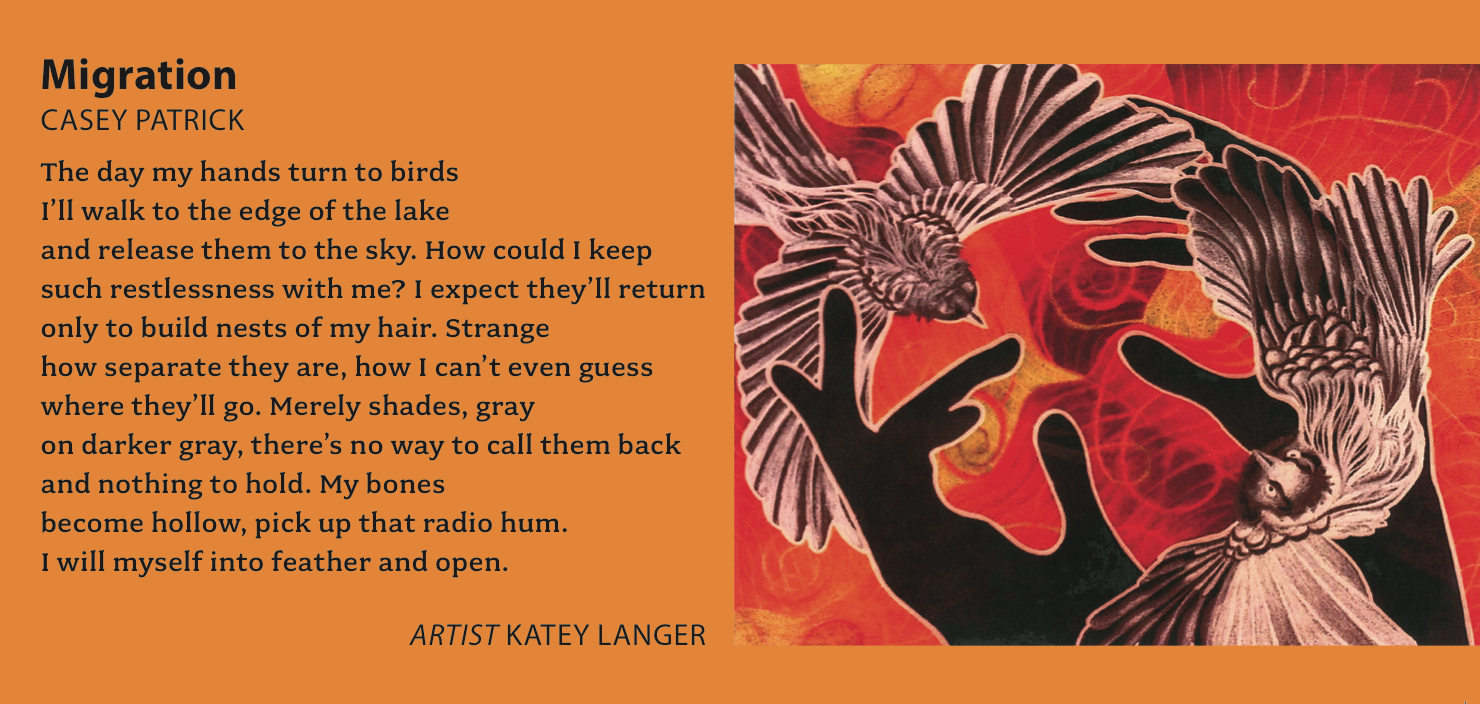 Casey Patrick's poems have recently appeared in Pleiades and The Adroit Journal, and work is forthcoming in Juked, Passages North, and The Journal. Awards include a James Merrill Fellowship and the 2014–2015 Hub City Writers House Residency. She works as a bookseller and teaches at the Loft.
Katey Langer is a 20-year-old student enrolled at Minneapolis Community and Technical College. She is not from the Twin Cities but every day is so appreciative to have the opportunity to obtain an education in such a dynamic area. Her work contains observations, patterns, and connections.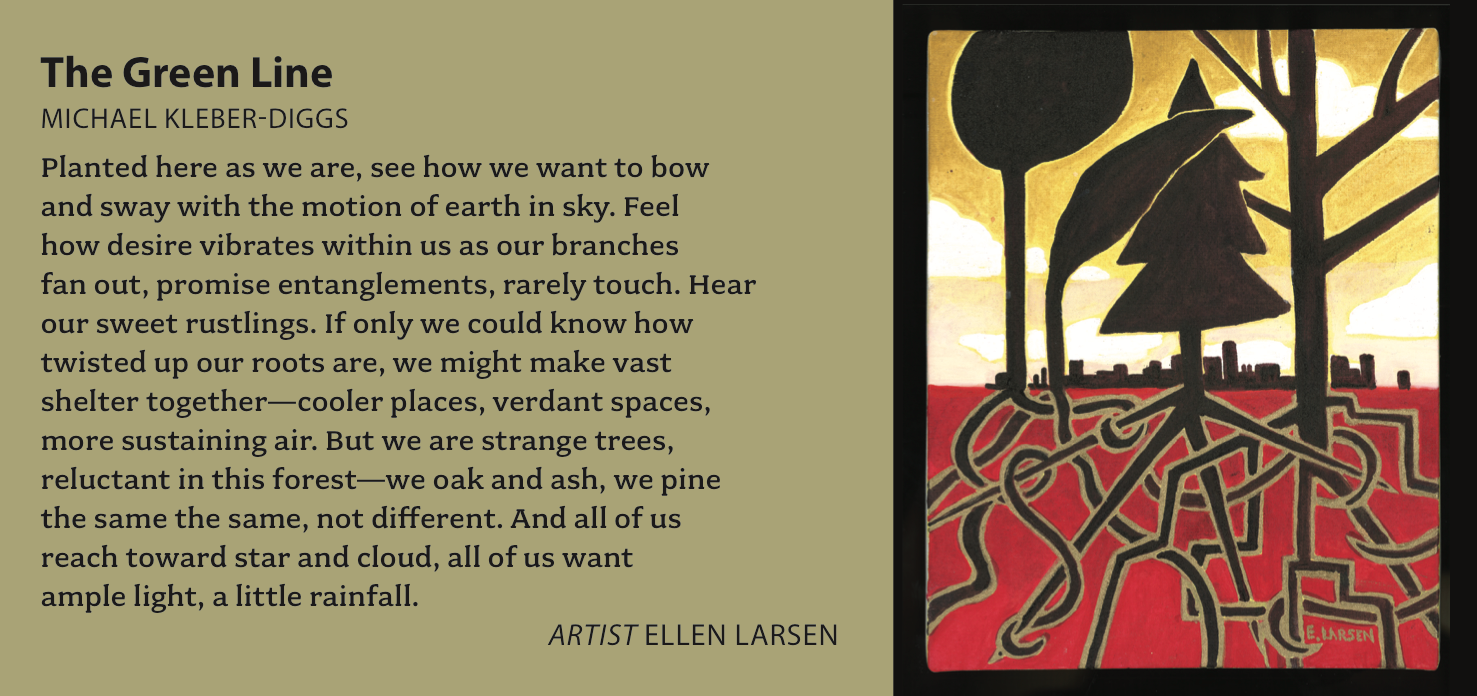 Michael Kleber-Diggs is a poet and essayist. He lives in Saint Paul with his wife, Karen, who makes art with flowers, and their daughter, an accomplished dancer.
Ellen Larsen likes to challenge herself to express value using color. She is inspired by form, figure, cars, buildings, horizons, color, everyday objects, light, and shadow. Viewers have commented that the subjects she paints—whether inanimate or "live"—are able to convey, as well as evoke, emotion.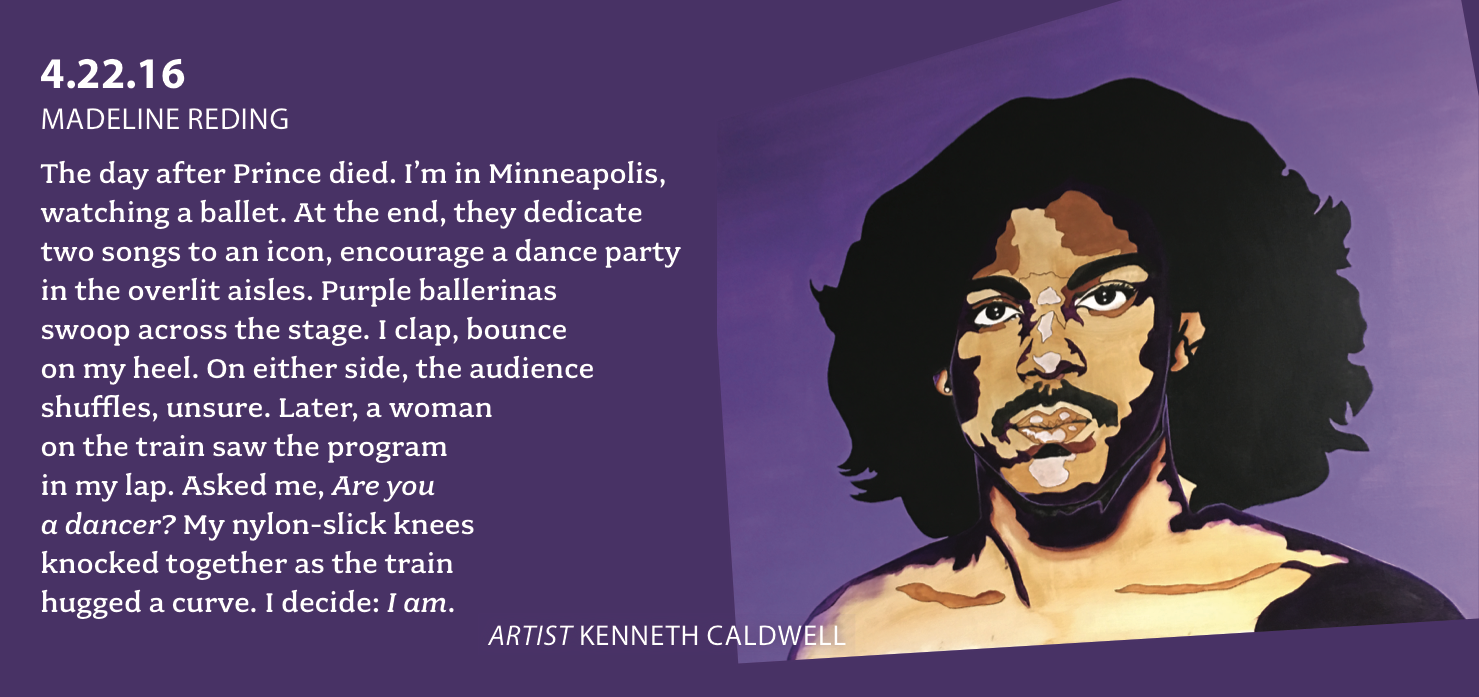 Madeline Reding lives in Saint Paul. Her work has appeared or is forthcoming in Midway Journal, Salt Hill Journal, and Paper Darts, and she writes about global health for The Borgen Project.
Kenneth Caldwell focuses on creating contemporary art influenced by the Harlem Renaissance, the Black Arts Movement, and the Hip Hop genre. Using acrylic, oil, pastels, and mixed media, Kenneth creates images that reflect people, music, and emotions. A Minnesota native, he started his career in the field of visual arts as a young student attending North High School in Minneapolis. Kenneth has a distinctive artistic style that incorporates his love of music into art. Today he teaches art at Sojourner Truth Academy and runs a paint class named CaldtoArt Paint Time.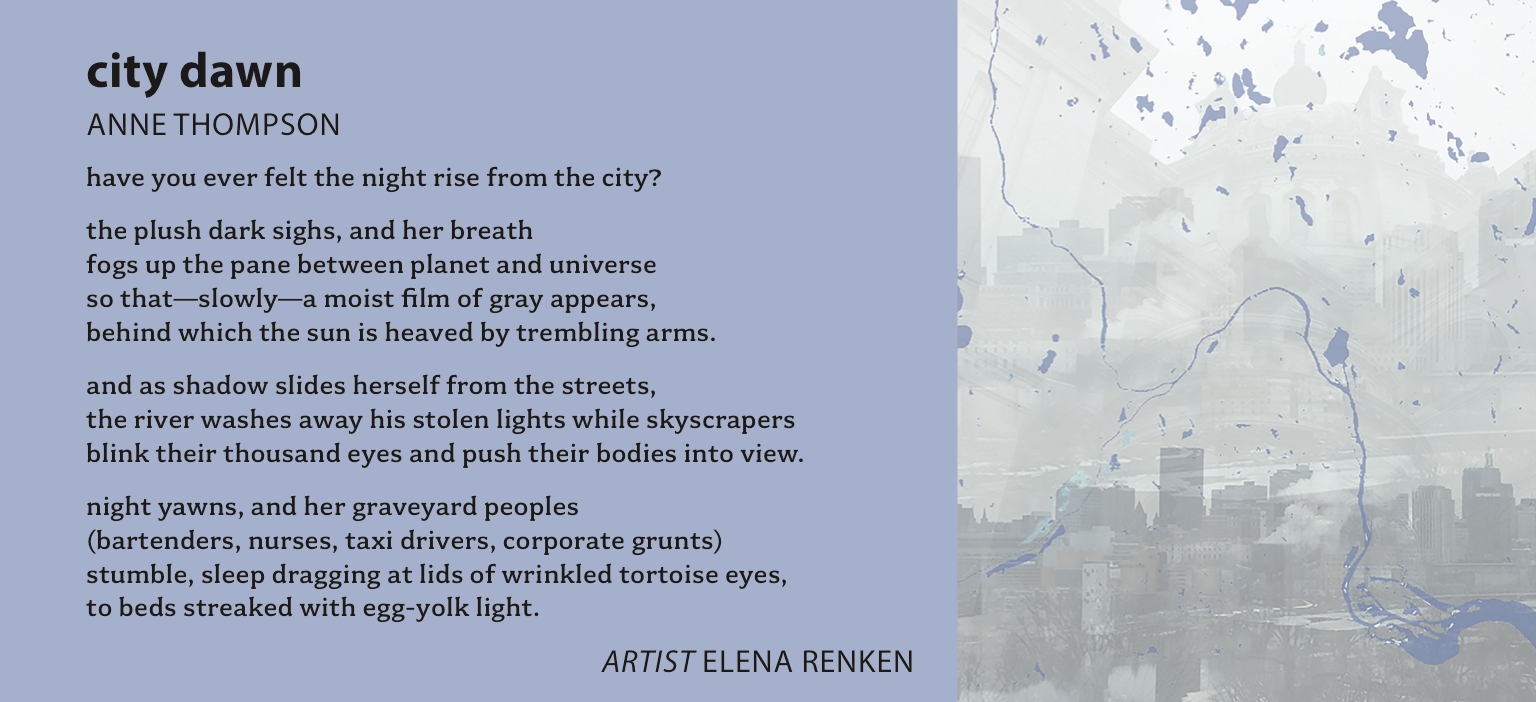 Anne Thompson is an English literature and French language student at the University of Minnesota. She relies on coffee to support her night-owl lifestyle.
Elena Renken grew up in Saint Paul and has lived in the Summit-University, Highland Park, and Cathedral Hill neighborhoods. She attends Brown University in Rhode Island, where she is a sophomore studying science and society. In her spare time, she is an avid baker, ceramicist, photographer, and screen printer.
Make an IMPRESSION in your home or office!
Prints of any broadside can be purchased for $20 each (including shipping and tax!) or you can buy a  bundle of all 6 broadside prints for just $100.