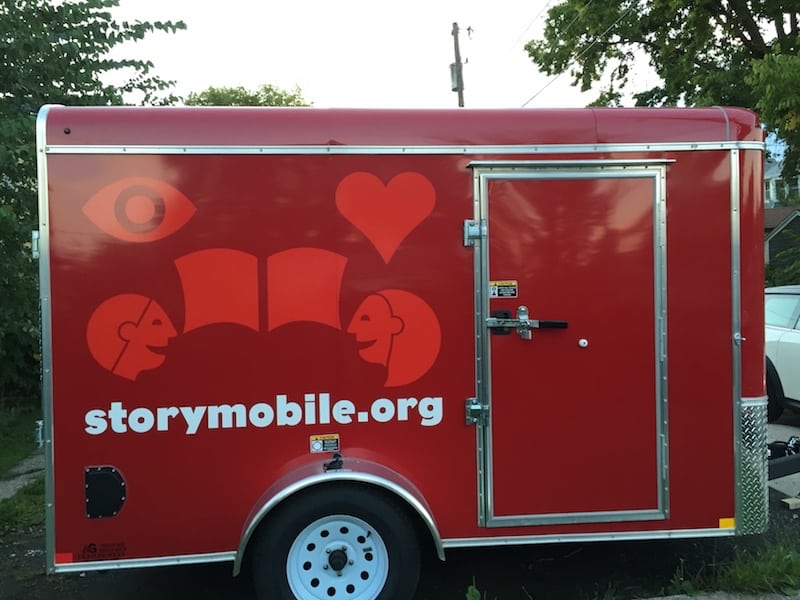 Sadly, our Storymobile trailer with Storymobile inside (electric solar bike and bike trailer) was stolen last night from Summit-University neighborhood in Saint Paul.
Description of trailer:
7′ x 10′ H&H Trailer
Bright Red with Storymobile logos
VIN #533SC1015HC261467
Storymobile is a moveable community engagement space—on wheels and solar powered—where artists/writers and community members work with residents in writing, speaking, performing, and recording the stories of their lives.
We hope we find our Storymobile soon! An anonymous donor has pledged a $500 reward for information that leads to the safe return of the Storymobile traveling trailer, the Storymobile, and the electric ELF bike.
Storymobile's popularity and the great resource it provides is important space for collecting histories of the people of Saint Paul and other places.
Contact:
info@storymobile.org
651-785-6268
[Update November 22, 2017] A response from Storymobile Director Melvin Giles:
Thanks for the thoughtful replies and suggestions. We are optimistic that our bright red trailer and Storymobile 2.0 will be returned and/or found, which will make this a special Thanksgiving story. We appreciate you keeping your eyes open, as well as your hearts. We often capture stories of hurt, pain, and even betrayal that ends with forgiveness, healing, and joy from not taking the situation too personal or making assumptions. We don't know the circumstances of the missing trailer nor the emotional and mental state of those involved.
The Storymobile Team is grateful every time we can be present at an event to collect stories. Our last event was at Immanuel Lutheran Church for their 68th Annual Lutefisk Dinner. We were amazed by the abundance of hard-working volunteers and culinary artists and the joyful spirit of the hundreds of people who came to partake in a tradition meal. We heard repeated stories that Food is Culture. Likewise, a month ago at Golden Thyme Coffee Café, the Storymobile Team was on-site to document and collect stories of the power of Food is Medicine, particularly in a traditional manner. Fortunately, those stories are not missing and are archived.
The Storymobile Team will continue to capture and collect stories. We ask you to continue joining us in believing in a hopeful ending of this Tale of a missing Bright Red Trailer. Great stories have a moral or a lesson that is helpful for the journey in life. Obviously, we will find an inside shelter for our trailer when it is returned; we welcome suggestions in the neighborhood to house our trailer and Storymobile unit. Again, thank you for your concern, compassion, and hope for a wonderful ending to this perplexing story of the disappearance of the Storymobile trailer! Peace and Thankfulness.