Ai Hue's Bakery and Deli
432 West University Avenue, Unit B
651.602.0231
Traditional Vietnamese desserts, drinks, and other fare. Look hard for this hidden gem; it's worth the search. Closed Tuesdays.
Amore Coffee
879 Smith Avenue
651.330.0570
www.amorecoffee.com
A cute little date spot featuring award-winning coffee; a variety of smoothies and hot and cold drinks; and simple plates such as hummus, bagels, salads, sandwiches, and soups. As they say, "All you need is love and a cup a coffee."
Black Dog Coffee and Wine Bar
308 Prince Street
651.228.9274
www.blackdogstpaul.com
A café and workspace serving locally roasted coffee, beer, and wine alongside tasty sandwiches, soups, and pizzas with a focus on organic and local ingredients. Open for breakfast, lunch, and dinner, plus a full lineup of live music.
Bravo! Café & Bakery
1106 Grand Avenue
651.287.9118
www.bravobakery.net
This southeast Asian bakery specializes in cakes and cream puffs. Pre-order a whole cake for any occasion (including tiered wedding cakes), or stop by for a slice (try the new Taiwanese pineapple cake). Enjoy with coffee or bubble tea.
Bread & Chocolate
867 Grand Avenue
651.228.1017
www.breadandchocolatebakery.com
Decadent baked goods are the trade at B&C, along with coffees and espressos, and paninis for breakfast or lunch. Located across the street from its sister restaurant, Cafe Latté. Try the famous fudge brownies.
Cahoots Coffee Bar
1562 Selby Avenue
651.644.6778
cahootscoffee.wordpress.com
Bohemian atmosphere, great coffee, and Middle Eastern inspired plates. Take it to the outdoor garden patio in the summer months.
Claddagh Coffee
459 West Seventh Street
651.600.3400
Wee shop: 612 Selby Avenue
651.493.7455
www.claddaghcoffeecafe.com
Welcoming "yogis, bikers, runners, and all cool people everywhere," Claddagh on West Seventh is a wide-open space with beautiful light and occasional music performances. Also serving high quality breakfast and lunch options. The wee shop on Selby offers a limited menu of coffee and baked goods. Catering available.
Coffee Bené
53 South Cleveland Avenue
651.698.2266
www.coffeebene.com
Welcoming coffee shop with organic beans from master roasters and yummy goods from the bakery. There's also a serviceable meeting room, adjoining Davanni's, that is free to reserve for groups.
Dr. Chocolate's Chocolate Chateau
579 Selby Avenue
651.379.3676
www.drchocolate.com
Enjoy chocolate treats, ice cream, or pastries while sipping wine, craft beer, or hot chocolate. The Cathedral Hill chateau also offers intimate banquet spaces for public and private events.
Dunn Bros Grand Avenue
1569 Grand Avenue
651.698.0618
www.dunnbrosgrand.com
The original Dunn Bros Coffee features live music daily and a distinct aroma from the coffee roasted in-house. Be prepared to get cozy with fellow sippers.
Espresso Royale
475 South Fairview Avenue
651.699.1117
www.espressoroyale.com
A coffee shop plus extras: soups, sandwiches, frappes, and ice cream. The study space for St. Kate's and community members.
Fresh Grounds
1362 West Seventh Street
651.224.2348
www.freshgroundscoffee.com
A nonprofit shop offering coffee and light meals, music, art, and job training for youth. Catering available, plus a private room for parties or meetings.
Ginkgo Coffeehouse
721 North Snelling Avenue
651.645.2647
www.ginkgocoffee.com
Besides coffee, the original Ginkgo on Snelling offers fruit smoothies, sandwiches, and other edibles, as well as a play area for children and a diverse Thursday night concert series. It has satellite locations at Children's Hospitals, St. Joseph's, and Gillette Children's Hospital. Catering available.
Goat Coffeehouse
699 East Seventh Street
651-200-4370
www.goatcoffeehouse.com
A friendly open space across the street from Metro State, set in a historic red brick building. Serving gourmet espresso, eggs for breakfast, and sandwiches and wraps for lunch.
Golden Thyme Coffee & Café
921 Selby Avenue
651.645.1340
www.goldenthymeonselby.com
A community hub in the historic Rondo neighborhood offering drinks named after jazz legends and a really great gumbo. Meeting/performance room available.
Golden's Lowertown
275 East Fourth Street
651.224.8888
www.goldensdeli.us
Soups, sandwiches, and farmers market fresh breakfasts. Show up hungry for brunch, lunch, and late-night munchies and live entertainment. Order from the walk-up window on Wall Street, open in the warm months. Catering available.
Grand Central Cafe
1672 Grand Avenue
651.964.1012
cafeongrand.com
Grand re-opening to be announced soon! The newly refurbished Grand Central will offer farm-to-table eats, beer flights, wine, and coffee in an intimate café setting. Enjoy a quiet place to work or break bread with friends.
Groundswell
1340 Thomas Avenue
651.645.6466
www.groundswellmn.com
This neighborhood spot, serving delicious meals and baked goodies as well as handcrafted coffee, is operated by a nonprofit. The perfect balance of community love and customer care.
Grumpy Steve's Coffee
215 South Wabasha Street
651.224.1191
www.wabashastreetcaves.com
Grumpy Steve's, in the Wabasha Street Caves, offers breakfast in the morn and wine in the afternoon. Try the Belgian waffle.
J&S Bean Factory
1518 Randolph Avenue
651.699.7788
jsbeanfactory.com
Full-service roaster features the Obama Blend, tamales, baked goods, and occasional live music.
Kopplin's Coffee
2038 Marshall Avenue
651.698.0457
www.kopplinscoffee.com
Dedicated to sustainable practices, Kopplin's offers seasonal beverage creations made from hand-selected and locally roasted beans, ideal for brewing connoisseurs.
La Patisserie
1570 Randolph Avenue
651.690.8973
Facebook: La Patisserie
In addition to rustic croissants and pastries, La Patisserie offers homemade soups, sandwiches, and a seasonal salad bar. Closed Sunday.
Lady Elegant's Tea Room
2230 Carter Avenue
651.645.6676
www.ladyelegantstea.com
Take tea in the British tradition with three-, four-, and six-course events. Reservations recommended; closed Sunday and Monday.
Lowertown Daily Perk
180 East Fifth Street, Suite 266 (Skyway)
651.228.9820
www.lowertowndailyperk.com
A skyway workday staple serving organic, fair-trade coffee and desserts. Catering available.
Lucy Coffee Cafe
540 North Fairview Avenue
651.210.8727
Facebook: Lucy Coffee Cafe
Coffee cafe in the Griggs Midway Building offering breakfast and lunch fare, including hot sandwiches, soups, and salads. Deaf friendly.
Mad Hatters Coffee Cafe & Teahouse
943 West Seventh Street
651.227.2511
A space for social justice salons and acoustic music, adjoined to the Saint Paul Gallery.
Mojo Monkey
1169 West Seventh Street
651.224.0142
www.mojomonkey.biz
Handcrafted donuts made fresh daily. Closed Monday.
Nina's Coffee Café
165 Western Avenue
651.292.9816
www.ninascoffeecafe.com
Filled with sunshine and artists, Nina's is the quintessential writer's café, offering a beautiful, historic space in Cathedral Hill to eat, drink, and work. Hosts frequent art and literary events. Offering coffee, beer, wine, and good food.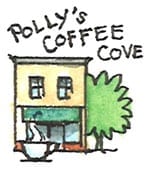 Polly's Coffee Cove
1382 Payne Avenue
651.771.5531
Facebook: Polly's Coffee Cove
Comfortable kitsch and convenient boxed lunches; Polly is the bird. Regular entertainment and community events.
Roundtable Coffee Works
2386 Territorial Road
info@roundtablecw.com
http://roundtablecw.com/a>
Building a coffee culture around an appreciation for a simple beverage, for grace & kindness, and for working with gusto.
Quixotic Coffee
769 South Cleveland Avenue
651.699.5448
www.quixoticcoffee.com
This Highland Park café emphasizes quality coffee and a supportive relationship with coffee farmers. Offers a small selection of edibles, kombucha on tap, and fresh fruit smoothies. Check out the reservable meeting room for groups up to 10.
Roundtable Coffee Works
2386 Territorial Road
roundtablecw.com
Coffee storefront that roasts and sells whole beans and coffee beverages.
Saint Paul Coffee Shop
101 East Fifth Street, Suite 296
651.221.9859
The sunniest corner in the skyway; serving coffee beverages, muffins, and snacks. Open Monday through Friday.
Sencha Tea Bar
1692 Grand Avenue
651.690.3495
www.senchateabar.com
Tea bar serving a large selection of loose leaf teas and bubble teas.
St. Paul Corner Drug
240 South Snelling Avenue
651.698.8859
www.stpaulcornerdrug.com
A Saint Paul institution since 1922, this independently owned pharmacy still has its old-fashioned soda fountain selling ice cream, shakes, floats, pastries—and a cup of coffee for a nickel.
SugaRush
712 West University Avenue, Suite B2
651.797.3354
Facebook: SugaRush
Massive pastries and donuts, coffee and drinks.
Swede Hollow Cafe
725 East Seventh Street
651.776.8810
www.swedehollowcafe.com
An expansive all-day breakfast menu features daily quiche and oven-baked French toast. Warm up with a homemade cinnamon bun, or wait till sunnier times to enjoy the patio. Catering available. Closed Sunday.
TeaSource
752 South Cleveland Avenue
651.690.9822
www.teasource.com
Tea shop in Highland Park offering pots of extraordinary tea, chai, scones, cookies, and tea accessories for sale. Hosts regular tea events, tastings, and workshops.
Trotter's Cafe
232 North Cleveland Avenue
651.645.8950
www.trotterscafe.com
Find local and organic food at this charming Merriam Park café and bakery, serving beer, wine, burgers, and hearty sandwiches. Catering available.
Underground Music Cafe
1579 Hamline Avenue
651.644.9959
undergroundmusiccafe.com
A friendly gathering place that supports local music and music education by hosting musical acts, jams, and events just about every night. Serves coffee, wine, local craft beer, and café food ($2 Waffle Tuesday!).
Unity Cafe
843 Rice Street
651.493.8064
unitycafemn.com
Espresso, coffee, and homemade baked goods in downtown.
Workhorse Coffee Bar
2399 University Avenue
651.348.7561
workhorsecoffee.com
Home of the (outdoor) Smallest Museum in Saint Paul, Workhorse serves breakfast, lunch, and coffee drinks in comfortable, stylish, minimal décor.