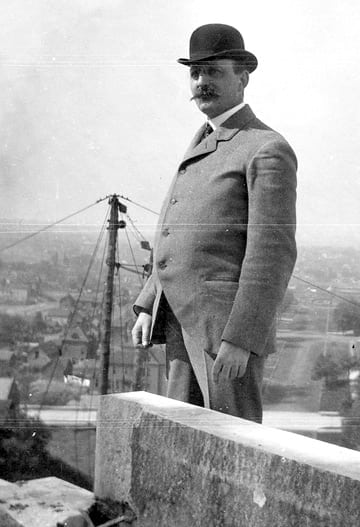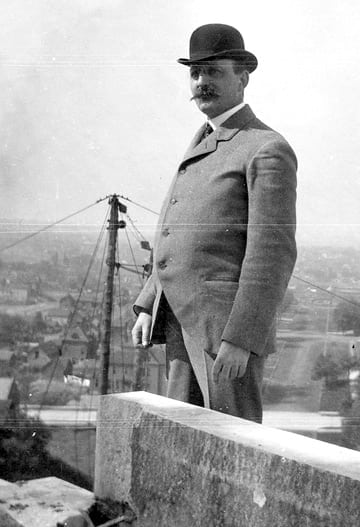 In 1878, Cass Gilbert left Saint Paul to attend the two-year architectural program at the Institute of Technology (MIT) in Massachusetts, after which he planned to travel in Europe. Gilbert checked his finances after his first year. He had sufficient funds to complete his coursework or travel, but not both. He chose travel. Upon his return to the States, he caught on with the iconic architectural firm of McKim, Mead & White in New York.
Working in New York was a heady experience for the twenty-one-year-old Gilbert. His rapport was solid with the firm's principals, who served as his mentors and provided him with his first projects when he started his own architectural practice. His best friend was his fellow draftsman, Joseph Wells, a descendant of John Adams. Wells was a brilliant designer who is credited for the Italian Renaissance design of the Villard townhouses on Madison Avenue, formerly Random House headquarters and now part of a Helmsley Hotel.
One of several projects Gilbert worked on in New York was the Louis Comfort Tiffany House at 72nd and Madison, a fifty-seven-room, five-story townhouse. Ten years older than Gilbert, Louis Comfort Tiffany, son of the founder of Tiffany & Company, had begun his career as a painter but switched to glass making. He declared that his lifelong goal was "the pursuit of beauty," a quest in which he was so successful that his name became synonymous with the term. Wells, a first-class skeptic, felt Gilbert's reverence for the artists of the day approached religious fervor. To chide Gilbert, Wells coined the term "Pope" Tiffany, and suggested Gilbert's faith was misplaced.
Gilbert did believe in the symbolic Pope Tiffany as well as the flesh-and-blood Tiffany; his artistic aims mirrored those of Tiffany and the leading artists of the day, and he never gave up the faith. When given the opportunity to design the interior of a motor yacht for James Gordon Bennett, Jr., the publisher of the New York Herald and the man who financed Henry Stanley's search for the explorer David Livingstone, Gilbert specified Tiffany windows.
Gilbert didn't abandon his artistic sensibility when he returned to Saint Paul in 1882 to set up his architectural practice, but he found it difficult to find clients prepared to spend money on art glass from Tiffany. In 1885-1986, Gilbert and James Knox Taylor designed the Dayton Avenue Presbyterian Church at 503 Dayton Avenue. Gilbert queried The Tiffany Glass Company about providing windows for the building. A representative of the company replied that even if Tiffany had no other work, the company could not afford to provide windows at the budgeted price, and the church went without.
Gilbert strove to include Tiffany windows in his other churches. Thanks to the generosity of Mrs. Theodore Eaton of New York, Gilbert was able to acquire twenty-one Tiffany windows for St. Clement's Episcopal Church at 901 Portland Avenue (1895-1896), but not without controversy. Mrs. Eaton demanded a larger window behind the altar. Gilbert felt a larger window ruined his design. Mrs. Eaton went behind his back to the glass company. The company denied taking sides in the dispute, but Mrs. Eaton got the larger window. J. P. Morgan attended the dedication and afterward lunched with Gilbert at his Grand Hill home. St. Clement's later donated one small Tiffany window to St. John the Divine Episcopal Church (1898-1899), which Gilbert designed in Moorhead.
Gilbert won the competition to design the University of Minnesota Campus Plan in 1908, while he was president of the American Institute of Architects. His design was never built. Aside from the question of funding, a quarrel arose between Gilbert and his erstwhile friend and classmate at MIT, Clarence Johnston, the Minnesota state architect, who believed all work at the University of Minnesota fell under his purview. It didn't help matters that Pierce Butler, a university regent (later the first U.S. Supreme Court justice from Minnesota) had an ax to grind; he was miffed that Gilbert penalized his family's construction firm (general contractor for the Minnesota State Capitol) on an East Coast project. Gilbert did, however, receive a letter from Tiffany Studios soliciting work on the project.
A decade after winning the design competition for the University of Minnesota, Gilbert received a note from Tiffany's secretary: Gilbert (now world famous) had left his gloves in the great man's automobile—Gilbert had kept the faith and got his interview with the "Pope."