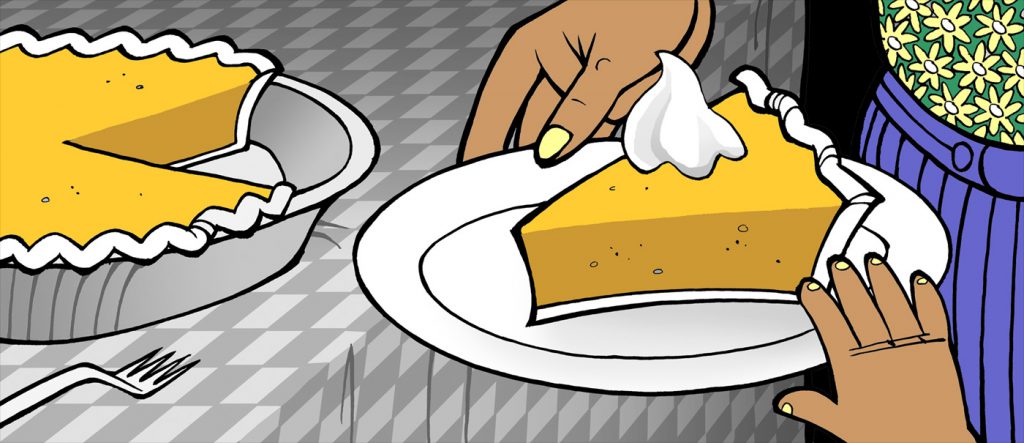 Every holiday, every barbecue, every church social, and Lord knows for every somebody or another's funeral, the unspoken expectation has always been that my mama makes the sweet potato pies. Calling her pies delicious is an understatement—they are heavenly.
Today, close to a hundred people are packed practically elbow to elbow in Mama's little five-room, tin-roof house in Jackson, Tennessee. None of her pies are being served because not a single one of us ever thought to keep a batch tucked away in the freezer. Instead, as is customary, everyone is waiting with a Southern style of patience for some of the church ladies to usher themselves into Mama's cozy little yellow-and-white gingham-accented kitchen, hauling in their own sweet potato pies. Each woman believes hers is the best and warrants first-to-be-served for today's special repast—Mama's funeral.
Peeking out the window and much to my surprise, I see seven distinguished elderly women, each wearing a white hat, a white dress, white shoes, and white gloves ceremoniously lined up on Mama's front porch, about to make some type of grand entrance. Looking closer, I realize these are Mama's cooking rivals and closest friends! A further cue of "All rise" becomes an unspoken command. Everyone stands to attention in stone military silence as the packed Red Sea living room begins parting, making way for the ladies' entrance. Each is carrying a colorful woven basket containing sweet potato pies.
Within minutes, sweet potato pie is being served. Definitely not hungry, but graciously, I nibble from a slice brought in to me by Mama's favorite niece, who now resides in Saint Paul, Minnesota. As Cousin Mary Louise continues serving slices of pie in a Northern sort of way, I am desperately wishing this whole funeral ordeal will hurry and come to closure. I'm given another slice of pie. I nibble a bit more. Not a bad flavor, but slightly too much nutmeg for my taste. Nothing like Mama's. Doesn't even come close. I only want Mama's pie. I only want Mama back.
Nobody could or ever will be able to make a sweet potato pie like my Mama.
Traditional Sweet Potato Pie
Rose McGee, Owner of Deep Roots Gourmet Desserts
Ingredients (makes two 9" pies):
1 stick of butter, softened
1 cup packed brown sugar
2 cups granulated sugar
4 medium to large sweet potatoes, cooked
2 eggs, lightly beaten
1 cup milk (whole, evaporated, or condensed)
1 teaspoon ginger
1 tablespoon nutmeg
1 tablespoon cinnamon
2 tablespoons vanilla extract
1 teaspoon lemon extract
2 unbaked pie shells
Directions:
Preheat oven to 400° F.
Use a hand or stand mixer.
1. 
In a large mixing bowl, blend cooked sweet potatoes with sugar. Blend in eggs.
2. Now blend in soft butter.
3. Add next 5 ingredients; mix well.
4. Pour into pie shells.
5. Reduce heat to 350° F and bake 60 minutes or until well set.
6. Remove from oven. Allow to cool and firm up before eating.