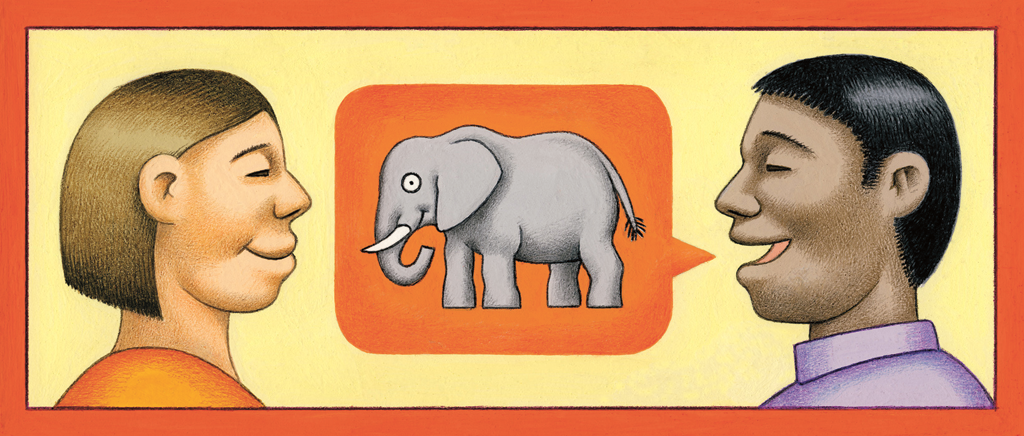 One day, Darby and Marcella were quietly having lunch at a Galtier Plaza skyway table. Both worked at Cray Research, he in testing and she in quality assurance. Marcella had just unwrapped her jelly sandwich when Darby popped his question. "What's the difference between an elephant and a flea?"
Marcella opened the small spiral notebook she brought every day to lunch, and began to write the question down, but then paused. She removed another notebook from her purse and flipped through it rapidly.
"Aha," she announced. "October 14th."
"You're sure about that?"
"An elephant can have fleas, but a flea can't have elephants." She snapped the notebook shut.
"Noooo!" he moaned. "You have to give me another chance. According to the rules, right?"
Marcella located another notebook, even more ragged than the one she'd just shut. "After the first joke repetition, Darby is allowed to tell another elephant joke. If he repeats himself with the second joke, he has one last question."
Darby thought long and hard. Marcella took a bite of her sandwich.
The elephant jokes had begun a few years earlier, when Darby came across Marcella during the noon hour. She was sitting exactly where she was now, quietly crying into her jelly sandwich.
They'd been acquaintances, but not yet friends, and that day she needed a friend. She told him she'd just been dumped by her fiancé, a junior executive in the marketing division. Darby removed a clean tissue from his pocket protector, handed it to her, and offered to marry her on the spot.
He was more serious than she knew, but made the offer sound like a joke. She sniffled that he must be joking, but thanked him anyway. It was then he told the first elephant joke.
She laughed harder than she'd ever laughed at anything. "Well, now," she said. "You're welcome to join me for lunch any day, as long as the elephant jokes hold out."
"There are literally trunks of elephant jokes," he quipped. "So you won't be rid of me anytime soon."
Now it seemed he had finally run out of material. Mustard dripped from his Braunschweiger sandwich onto his shirt. Finally, a joke came to him. "How can you tell whether you're eating elephant or peanut butter?"
"Elephant doesn't stick to the roof of your mouth!" she said, triumphantly, without referencing her notes.
Darby gasped and turned pale. "I have one final shot. Right?"
"Right. You remember what happens if the jokes run out?" Marcella dabbed at Darby's mustard stain.
Yes. He knew. It would be time to get serious. Her broken heart had long since healed, yet he was the one dragging his feet, unwilling to take a risk.
All he'd ever asked of her was one more day, one more lunch, another new joke. Why get serious? Wouldn't that end it for them? Still, he'd agreed to the rules.
He'd told all the elephant-in-the-refrigerator jokes, all the jokes about how many elephants you can fit in taxis and Volkswagens. Why elephants have blue shoes (white shoes get dirty too fast), why they float upside down (to keep their blue shoes dry), all of the jokes about elephants crossing the road—with and without chickens. All of the wordplay jokes: elephones (how elephants communicate), elecoptors (what's big and gray and can fly straight up?), elevision (what elephants do for entertainment).
There was really only one question left.
Darby got down on his knees and held Marcella's hand. "I'm out of elephant jokes. Will you marry me anyway?"
Happy tears accompanied her answer. "Yes!"