The Golden Thyme Coffee Café and the Saint Paul Almanac are pleased to announce the tenth "Soul Sounds Open Mic," hosted by Tish Jones! The "Soul Sounds Open Mic" series is held every Thursday, with a special pre-performance writing workshop on the first Thursday of each month.
The tenth "Soul Sounds Open Mic" is presented on Thursday, August 9th, 2012, and features a Special Surprise Guest, elder Bobby Hickman. Bobby Hickman was born and raised in Saint Paul, and has remained a lifelong resident of the city. He directed the Inner City Youth League for twenty years, and is a nephew of Gordon Parks. The event takes place from 6 p.m. to 8 p.m. at Golden Thyme Coffee Café at 921 Selby Avenue (corner of North Milton Street) in Saint Paul. All ages are welcome, and there is no cover charge.
At every "Soul Sounds Open Mic" there is a sign-up process, where name and contact info will be collected. Each performer will have five minutes on stage. Although performances are uncensored, please be mindful of underage audiences.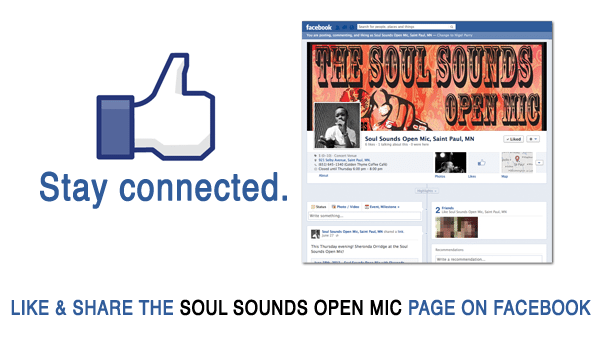 Host Tish Jones
Tish Jones, Community Engagement Director for the Saint Paul Almanac, is a spoken word artist, writer, educator, organizer, and activist in the Twin Cities. She has worked as a teaching artist with Pillsbury House Theater, Intermedia Arts, Plymouth Christian Youth Center, MacPhail Center for Music, Minneapolis Public Schools (Arts for Academic Achievement), Kulture Klub, and many other arts organizations. She received the 2009 Artist of the Year Award from City Pages and was Female Spoken Word Artist of the Year at the Minnesota Spoken Word Association's Urban Griots Awards in 2009.
About the Soul Sounds Open Mic
The Soul Sounds Open Mic is a platform for encouraging literacy within the Saint Paul community through leadership, mentoring, and relationship building. Unlike actors and many musicians, writers typically work in isolation, so building and supporting a literary community can be a challenge.
The "open mic" format, together with a featured performer, is designed to foster leadership; encourage connecting opportunities between established, emerging, and amateur writers; and help build, strengthen, and leverage other opportunities for the Saint Paul literary community.
Featured performers are recognized as leaders in the literary arts community and are offered an opportunity to build their own audiences. The "Soul Sounds Open Mic" also provides a space to connect writers who are spoken-word based and writers who are written-word based, within the context of being artists sharing a common literary heritage and practicing their craft in Saint Paul.
The First Thursday workshops before performances will explore specific poetic devices such as alliteration, assonance, metaphor, or specific forms of poetry to investigate when developing a piece. Workshop attendees will be encouraged to share the work created in the workshop at the open mic that follows.
Scheduled featured performers
June 7th – Ahanti Young – with writing workshop
June 14th – Brittany Delaney
June 21st – Jake Virden
June 28th – Sheronda Orridge
July 5th – Melanie Holst-Collins – with writing workshop
July 12th – IBé Kaba
July 19th – Crystal Ruiz
July 26th – Khary (AKA 6 is 9)
August 2nd – The Lioness – with writing workshop
August 9th – Surprise Guest Feature
August 16th – Desdamona
August 23rd – Gayle Smaller Jr.
August 30th – Kenna Cottman
About the Saint Paul Almanac
In addition to our award-winning book, the Saint Paul Almanac presents literary events in Minnesota's capital city, including the acclaimed monthly Lowertown Reading Jams series. These events provide an opportunity for audiences to explore and bridge the cultural and social breadth of the city of Saint Paul throughout the year.
Now in its sixth edition, the Saint Paul Almanac features essays, poems, photos, maps, and listings of events, bars, restaurants, theaters, and other cultural venues within a datebook format. Available in full color for the first time and—another first—includes gorgeous, hand-drawn, poster-size, pull-out maps of the City of Saint Paul and Downtown!
The 2012 Almanac features 129 stories and 180+ photos. Contributors include literary giants, everyday residents, students, journalists, new Americans, and lovers of Saint Paul who live in other corners of the world. Information on upcoming events, how to make a submission, and other Saint Paul Almanac news is available at www.saintpaulalmanac.org.
The Saint Paul Almanac and its projects provide rich and unique "cross-fertilizations" within and beyond artistic communities. As the Saint Paul Almanac serves artists, it also serves residents of and visitors to the city of Saint Paul, whether individuals, families, neighborhoods, or organizations.
The Almanac builds partnerships with schools, libraries, small businesses, and community groups. Every year 2,000 Saint Paul Public School (SPPS) high school students receive the new edition of the Almanac, with curriculum developed yearly in collaboration with a SPPS teacher and a writing professor from Hamline University. Local libraries and small businesses host our literary events and writing workshops, bringing increased readership and new revenue to every pocket of our city.
Location & Directions
Golden Thyme Coffee Café is located at 921 Selby Avenue, Saint Paul, MN 55104. Tel: (651) 645-1340.