The Golden Thyme Coffee Café and the Saint Paul Almanac are pleased to announce September to November performers at the "Soul Sounds Open Mic," hosted by Tish Jones! The "Soul Sounds Open Mic" series is held every Thursday, with a special pre-performance writing workshop on the first Thursday of each month.
The event takes place from 6 p.m. to 8 p.m. at Golden Thyme Coffee Café at 921 Selby Avenue (corner of North Milton Street) in Saint Paul. All ages are welcome, and there is no cover charge. The First Thursday writing workshop will be held an hour before the open mic begins, from 5 p.m. to 6 p.m.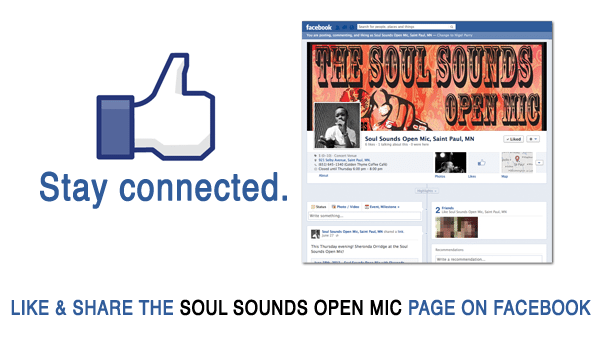 Host Tish Jones
Tish Jones, Community Engagement Director for the Saint Paul Almanac, is a spoken word artist, writer, educator, organizer, and activist in the Twin Cities. She has worked as a teaching artist with Pillsbury House Theater, Intermedia Arts, Plymouth Christian Youth Center, MacPhail Center for Music, Minneapolis Public Schools (Arts for Academic Achievement), Kulture Klub, and many other arts organizations. She received the 2009 Artist of the Year Award from City Pages and was Female Spoken Word Artist of the Year at the Minnesota Spoken Word Association's Urban Griots Awards in 2009.
Featured Performers
September 6th – Tou Saiko Lee – with writing workshop
Tou SaiKo Lee believes in building an influential movement within the Hmong community through the arts. He is a spoken word artist, mentor, and hip hop activist. A mentor for youth at schools and community centers across the country, he speaks about issues that include human rights, diversity, racism, gang violence, and arts for social change. Tou SaiKo Lee is the co-founder of "The H Project," a compilation music CD inspired by the Hmong people who suffered human rights violations in the jungles of Laos. On occasion, Tou teams up with his grandmother, Youa Chang—who does the traditional Hmong art of kwv txiaj (Hmong poetry chanting)—to perform as the duo "Fresh Traditions."
September 20th – Queen Drea
A consummate singer/song writer who's style ranges from alternative rock to hip hop has blessed stages from the Twin Cities, to Austria. As an opening act, or as a member of the band, Drea has rocked with the likes of Burning Spear, The Last Poets, George Clinton, Anthony Hamilton, EduPoetic Enterbrainment, Flux Delux , Sinamn Jonz and others. Because she is truly a lover, not a fighter, her songs are filled with the joy and the pain of loving oneself, loving love, and loving life. Her voice brings a pure honesty to every lyric she writes.
September 27th – Diego Vazquez Jr.
Diego Vázquez has been a visiting Writer in the Schools for many years. His novels include Growing Through the Ugly and Border Town with the UFO Sky (forthcoming). Vázquez is regarded as the founder of Poetry Slam in Minnesota. As a community editor for the Saint Paul Almanac, Vázquez is constantly searching for new authors, young and old, to publish. In 2008 he was selected as a Saint Paul Everyday Sidewalks poet. Vázquez is featured on the acclaimed Equilibrium/Loft CD, Nation of Immigrants.
October 4th – Gabrielle Samone – with writing workshop
No stranger to the music scene in Minnesota, Gabrielle Samone began her career as a singer and songwriter in Universal Music's R&B group Styll Rayne, at the age of 14. She is now nurturing her voice as an independent solo artist and has since collaborated with Minnesota icons J. Isaac,Trusthmaze ,Tish Jones, and more. A passionate youth worker and creative spirit, she is now focusing her energy on a solo project to share with the world.
October 11th – Chantz Erolin
Chantz Erolin is a South Minneapolis poet and rapper currently trying to quit his job. A former student (Read: Drop-Out) of Sarah Lawrence College and graduate of the Literary Arts program at the Perpich Center for Arts Education, Chantz writes poetry based in radical anarchist politics (Read: Love) and critical race theory. He is also a member of the Minneapolis based, budding-rap-colossus "Audio Perm" and a smaller rap group "Art School Girls."
October 18th – Ashley Dubose
Ashley DuBose is a blooming Twin Cities-based singer/songwriter who is gaining local, national and even international attention only two months after the release of her debut album, Somethin' More. Somethin' More is a soulful collection of art which can only result from real- life experiences. Ashley writes songs that are relatable, powerful, and diverse in subject matter including songs about perseverance, spirituality, strained relationships, reminiscence and love.
The young songstress was born in Philadelphia and raised in St. Paul, Minnesota. She began singing at the young age of seven, when she recalls belting along with Lauryn Hill on the breakdown of "Killing Me Softly" each time it played on the radio. From there, Ashley would go on to perform in numerous community talent shows, private events, Minnesota colleges, and various Twin Cities performance venues, such as the well-known Fine Line Music Café in Minneapolis.
Ashley's love of music was put to the test when she became a mother on her sophomore year of college; she soon learned to juggle parenthood, education, and involvement in music. With the love and support of family, friends, and most of all, God, Ashley was able to complete her debut album and, a week later, graduate from St. Catherine University with a Bachelor of Arts degree in Mathematics.
Now that her album is complete, Ashley keeps busy with shows, performances, music videos, song collaborations, and album promotion. Her songs receive airplay from local Twin Cities radio stations such as KMOJ (89.9 FM), The Current (89.3 FM), and KFAI (106.7 FM). The entire album is available to listen to and download online at www.ashleydubose.com.
October 25th – Guante
Guante is a hip hop artist, two-time National Poetry Slam champion, activist, educator and writer based in Minneapolis. His newest project, a musical collaboration with producer Big Cats!, is called "YOU BETTER WEAPONIZE" and will be released on November 9th at Hell's Kitchen in Minneapolis. Check out www.guante.info for more.
November 1st – Mankwe Ndosi – with writing workshop
Mankwe Ndosi has been working in the Twin Cities and Chicago for more than 15 years as a musicmaker, performer, educator and culture weaver focused on sound, story, and expanding the vocabulary of singing. She seeks to infuse creative practice back into the worlds of healing, sustainable economic development, education, and new village community building.
November 8th – Spencer Virden
Spencer Virden was born in Northeast Minneapolis before that was considered a cool thing to do, so I guess you could say he's a bit of a trendsetter. He spends his time rapping as Unfuh Qwittable with the Audio Perm crew and working the third shift at Rainbow Foods. His passions include reading, teaching/learning, and his family. Above all Spencer is a true representer of the scoundrel nation, lets go.
November 15th – Ashley Gold
Ashley Gold is a versatile singer/songwriter whose style ranges from spoken word to neo-soul. Her work is based on everyday struggles and triumphs, and has a universal appeal, with a voice and style that come off as nonchalant yet intentional at the same time. Ashley has worked with local heavyweights, Desdamona, Carnage, and Truthmaze. She is an artist and activist, and has donated her talents to various causes including Take Back the Night, The Great American Sleep Out, and B-Girl Be. She believes that all artists have a social responsibility to engage community and inspire people to create change. www.ashleygoldmusic.com
November 29th – Hieu
Hieu Nguyen is a rising star in the Twin Cities' slam scene. He has competed at the National Poetry Slam with both the Minneapolis and Saint Paul teams, placing 5th and 12th respectively. In 2012, he was a Write Bloody finalist and performed with The Good News Poetry Tour. Also, his poems are really, really good.
About the Soul Sounds Open Mic
The Soul Sounds Open Mic is a platform for encouraging literacy within the Saint Paul community through leadership, mentoring, and relationship building. Unlike actors and many musicians, writers typically work in isolation, so building and supporting a literary community can be a challenge.
The "open mic" format, together with a featured performer, is designed to foster leadership; encourage connecting opportunities between established, emerging, and amateur writers; and help build, strengthen, and leverage other opportunities for the Saint Paul literary community.
Featured performers are recognized as leaders in the literary arts community and are offered an opportunity to build their own audiences. The "Soul Sounds Open Mic" also provides a space to connect writers who are spoken-word based and writers who are written-word based, within the context of being artists sharing a common literary heritage and practicing their craft in Saint Paul.
The First Thursday workshops before performances will explore specific poetic devices such as alliteration, assonance, metaphor, or specific forms of poetry to investigate when developing a piece. Workshop attendees will be encouraged to share the work created in the workshop at the open mic that follows.
About the Saint Paul Almanac
In addition to our award-winning book, the Saint Paul Almanac presents literary events in Minnesota's capital city, including the acclaimed monthly Lowertown Reading Jams series. These events provide an opportunity for audiences to explore and bridge the cultural and social breadth of the city of Saint Paul throughout the year.
Now in its sixth edition, the Saint Paul Almanac features essays, poems, photos, maps, and listings of events, bars, restaurants, theaters, and other cultural venues within a datebook format. Available in full color for the first time and—another first—includes gorgeous, hand-drawn, poster-size, pull-out maps of the City of Saint Paul and Downtown!
The 2012 Almanac features 129 stories and 180+ photos. Contributors include literary giants, everyday residents, students, journalists, new Americans, and lovers of Saint Paul who live in other corners of the world. Information on upcoming events, how to make a submission, and other Saint Paul Almanac news is available at www.saintpaulalmanac.org.
The Saint Paul Almanac and its projects provide rich and unique "cross-fertilizations" within and beyond artistic communities. As the Saint Paul Almanac serves artists, it also serves residents of and visitors to the city of Saint Paul, whether individuals, families, neighborhoods, or organizations.
The Almanac builds partnerships with schools, libraries, small businesses, and community groups. Every year 2,000 Saint Paul Public School (SPPS) high school students receive the new edition of the Almanac, with curriculum developed yearly in collaboration with a SPPS teacher and a writing professor from Hamline University. Local libraries and small businesses host our literary events and writing workshops, bringing increased readership and new revenue to every pocket of our city.
Location & Directions
The event takes place from 6 p.m. to 8 p.m. at Golden Thyme Coffee Café at 921 Selby Avenue (corner of North Milton Street) in Saint Paul. All ages are welcome, and there is no cover charge. The First Thursday writing workshop will be held an hour before the open mic begins, from 5 p.m. to 6 p.m.