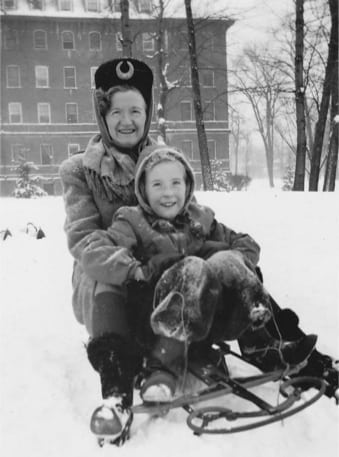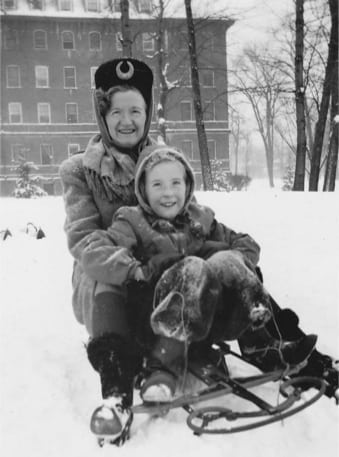 When I was eight years old and living in Pennsylvania, my father took a new job in Minnesota at the Saint Paul Foundry. He and my mother had immigrated to America from Scotland and always spoke lovingly of their hometown of Edinburgh, but work opportunities were better in America. The job in Saint Paul sounded the most promising yet. But I had just spent the last year making new friends in Pittsburgh after moving there from Philadelphia, and I was not happy to be moving again! A family friend tried to cheer me up by saying, "You will love Saint Paul—they build ice palaces there!"
When we first moved to Saint Paul in 1942, we stayed in a hotel downtown, but finally found a house to rent right across the street from the Mississippi River.
I was enrolled in the third grade at Groveland Park Grade School, arriving for the last half of the year. I didn't have any friends at first. To make matters worse, my class had not yet learned cursive writing as I already had at my former school. The teacher told me to go back to printing until the rest of the class had a chance to learn cursive. I felt like I had flunked a grade.
My new Minnesota life felt better when I met Kay, who was also new to Groveland Park. We would walk home together from school, using a shortcut through the vacant lot on Cleveland Avenue near St. Clair. We had many adventures in the long, weedy grass—imagining we were lost in the jungle. Sometimes we would go inside King's Drug Store, where we could get a coke at the fountain. Kay and I dreamed we would be discovered by a Hollywood scout and become movie stars—just like Lana Turner.
I joined Brownies and Girl Scouts and the Edyth Bush Little Theater in Highland. My first role was as a village child in Tom Sawyer. I don't recall the first time I saw an ice palace, but I do remember going to watch Saint Paul Carnival parades and learned to enjoy snowy Minnesota winters. After school I would often go sledding with friends on a hill in the neighborhood or go ice-skating at the rink in the park by the school.
Often I was pegged as the "little Scottish girl," but I was American and wanted to fit in. My mother, however, never wanted me to forget my Scottish roots, and with her thick Scottish accent she filled me with stories about all the great Scottish authors, poets, and inventors. She never ceased to be amazed at some of the questions people would ask her: "Do they have ice cream in Scotland?" or "Is it true that Scots are stingy with money?" or "What language do they speak in Scotland?" She never failed to set the record straight!
When I was in sixth grade, my mother and I went to Scotland for several months to visit relatives. After we returned home and I returned to school, the geography teacher at Groveland (who always made students stand up when called upon) asked me to tell the class about Scotland. Anxious to sit down as quickly as possible, I said there wasn't much to tell. People spoke the same language we did, they mostly liked the same food we liked, and it rained more than it snowed there. But Scotland really wasn't that different from America.
When I got home and told my mother that the teacher had asked me to tell the class about Scotland, my mother asked what I had said. She got quite angry that I hadn't thought to speak of the beauty
of Scotland, or how warm and kind the people are, or that the city of Edinburgh has a real castle, built on the top of a hill, which you can see from miles around.
Later in life, I came to understand how my mother felt about her home. After all, I had come to love my new hometown—Saint Paul, Minnesota—and it too had its very own "palace," made of ice!