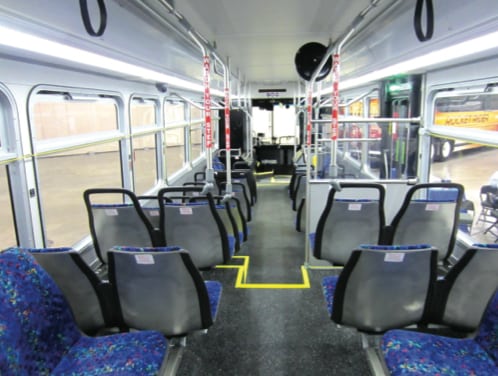 Take the bus? Sure, I can take the bus. Moving to Saint Paul from a small southern Minnesotan town in 1976 was thrilling. I was nineteen years old and fearless; riding the bus didn't seem like a big deal. With only one car and an apartment with my fiancé in Roseville, the commute into the city was not going to be easy, but who knew? The only buses in Albert Lea were school buses, so I had no knowledge to rely on.
After a few calls to MTC, I began to understand what this would entail. Transfer? Sure, I can transfer. After mapping out the route with the fewest transfers, I was raring to go. My job was at the then College of St. Thomas. The bus was scheduled to drop me off on Summit Avenue, right in front of the college. The morning commute went swimmingly. But as late afternoon approached, my anxiety heightened. Seeing my bus pull up to the stop that evening, I was flooded with relief and hopped on. As the trip progressed, I had a sinking feeling that we were not headed in the right direction. The city was unfamiliar, but my gut knotted and sensed this was wrong. After talking to the bus driver, he confirmed I was on the correct number bus, but the wrong letter. Being so nervous, I had neglected to notice the defining capital letter. Okay, get off at Snelling and Randolph. Hop on another bus that will eventually rumble down University toward the Capitol. More questions, more transfers, and finally I was heading north.
As we motored along, the bus grew emptier and suddenly I realized I was alone in a sea of seats. I wasn't alarmed until the driver stopped again and opened the door. I didn't move. He looked at me and I politely informed him that this was not my stop. I was distressed to hear that this was indeed my stop, as this was the end of the line. It was February—dark, cold, and slushy with no sidewalks. While packing up to move to Saint Paul, I'd had a mishap and sprained my ankle, which made walking a mile and a half in wedge dress shoes a pretty hazardous gamble. My fiancé worked nights, so there was no one to call for a ride. My only choice was to start trudging along. After only a few blocks, I came upon a yard with a couple of boys having a snow-ball fight. Seeing the sorry limping sight I was, they decided to launch their snowballs at me. With this my tears streamed uncontrollably, and the weight of defeat in navigating the "big city" really set in.
Luckily my fiancé's job was within walking distance, so after seeing how traumatized I was with my first bus experience, he agreed to forgo transportation during the day so I could use the car. It was a good arrangement until we moved, which we did shortly afterward. Getting an apartment on Como near Dale had things looking up. A coworker of mine lived a couple of blocks away and rode the bus to work. Perfect. We walked together to the stop on Dale across the street from Speedy Market. Only one transfer was required at Grand and Dale, at the drugstore corner. In the winter we kept our dress-shoe-clad feet warmer by standing on the stacks of newspapers delivered earlier that morning. On the return trip we would frequent the drugstore for an after-work nibble while waiting for our next bus. Though it was a bit tricky, at the end of the day we always seemed to make it across the intersection by Joe's Sporting Goods without incident. I began to feel at home in Saint Paul with my newfound bus knowledge. Take the bus? Sure, I can take the bus. Transfer? I'd love to.