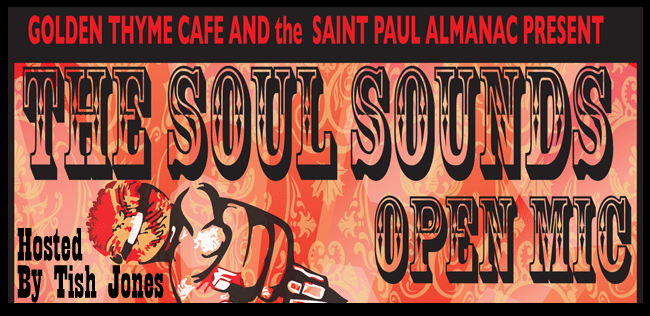 The Golden Thyme Coffee Café and the Saint Paul Almanac are pleased to announce the "Soul Sounds Open Mic," hosted by Tish Jones! The "Soul Sounds Open Mic" series is held every Thursday, with a special pre-performance writing workshop on the first Thursday of each month.
February 20 Featured Performer – Kevin Moore
Kevin "Kaoz" Moore is a native Clevelander and an award-winning writer, actor, poet, and educator. Kevin began his career in the arts at age 8. In 1998, he was recruited to join Black Poetic Society as well as Evolutionary Writer's Theatre, both nationally recognized spoken word performance ensembles.

The Videographer's Association of America's Award of Distinction in Creative Writing went to Kevin in 2002. He has represented Cleveland in two National Poetry Slam competitions, self-published a chapbook of poetry entitled The Y2Kaoz Project, and independently released Project Mayhem Vol 1.5, a spoken word/hip-hop mix tape that serves as first in what he calls the Fight Club Trilogy.

In 2004, Kaoz made his playwriting debut with Baba King at the Ohio Theater. His other playwriting credits include Unseen: The Book of Job, which premiered at the Cleveland Playhouse, and Voices: The Rhythm of Me at Cleveland State University Factory Theater.

Kevin currently resides in Minneapolis/Saint Paul and manages the HIV/Health Education program for Pillsbury United Communities. In December 2006, Kevin initiated an annual World AIDS Day observance event called Silence Equals Suicide—a showcase of local spoken word artists performing original works centered around HIV/AIDS awareness and prevention messages. Kevin received the National AIDS Education Services for Minorities (NAESM) Award of Excellence in Youth Leadership in 2007. Kevin joined the Breaking Ice ensemble at the Pillsbury House Theater company in 2008, and in 2009, Kevin joined the Chicago Ave Project, a mentorship/life skills program that pairs professional actors, playwrights, and directors with aspiring youth actors.

In 2010, Kaoz re-emerged on the hip hop scene, collaborating with numerous hip hop, pop, and R&B artists from across the country. The Tyler Durden EP (Experience) released June 2010 was followed up by The Tyler Durden Mixtape (released August 2010), completing the Fight Club trifecta. Kaoz is released an album entitled Enter-SexTions in early 2013, and more recently executive-produced a full-length hip hop CD Real Talk, which tackles HIV/STI prevention, stigma, and homophobia (released October 25, 2011).
The event takes place from 6 p.m. to 8 p.m. at Golden Thyme Coffee Café at 921 Selby Avenue (corner of North Milton Street) in Saint Paul. All ages are welcome, and there is no cover charge. Every first Thursday, a writing workshop will be held an hour before the open mic begins, from 5 p.m. to 6 p.m.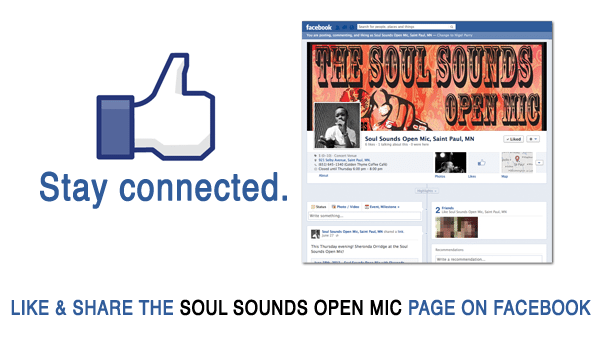 About Host Tish Jones
Tish Jones is a spoken word artist, writer, educator, organizer, and activist in the Twin Cities. She has worked as a teaching artist with Pillsbury House Theater, Intermedia Arts, Plymouth Christian Youth Center, MacPhail Center for Music, Minneapolis Public Schools (Arts for Academic Achievement), Kulture Klub, and many other arts organizations. She received the 2009 Artist of the Year Award from City Pages and was Female Spoken Word Artist of the Year at the Minnesota Spoken Word Association's Urban Griots Awards in 2009.
About the Soul Sounds Open Mic
The Soul Sounds Open Mic is a platform for encouraging literacy within the Saint Paul community through leadership, mentoring, and relationship building. Unlike actors and many musicians, writers typically work in isolation, so building and supporting a literary community can be a challenge.
The "open mic" format, together with a featured performer, is designed to foster leadership; encourage connecting opportunities between established, emerging, and amateur writers; and help build, strengthen, and leverage other opportunities for the Saint Paul literary community.
Featured performers are recognized as leaders in the literary arts community and are offered an opportunity to build their own audiences. The "Soul Sounds Open Mic" also provides a space to connect writers who are spoken-word based and writers who are written-word based, within the context of being artists sharing a common literary heritage and practicing their craft in Saint Paul.
The First Thursday workshops before performances will explore specific poetic devices such as alliteration, assonance, metaphor, or specific forms of poetry to investigate when developing a piece. Workshop attendees will be encouraged to share the work created in the workshop at the open mic that follows.
Event Location
The event takes place from 6 p.m. to 8 p.m. at Golden Thyme Coffee Café at 921 Selby Avenue (corner of North Milton Street) in Saint Paul. All ages are welcome, and there is no cover charge. The First Thursday writing workshop is held an hour before the open mic begins, from 5 p.m. to 6 p.m.