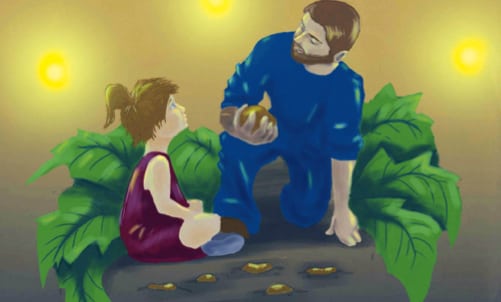 Swatting mosquitoes in the rhubarb,
I watch you pull husky potatoes from the earth.
You roll them in your palms and scuff the dirt from their bulging eyes and moony grins.
Here's Mister Potato Head!
You hold him high for me to admire.
And here's the Missuz!
Lightning bugs blink in wonder.
The compost pile drifts and swirls.
Piney onions, sweet rotting leaves, sour smoke,
like on your foundry clothes and the dome of your big black lunch box.
Mom says your clothes may be dirty but your hands are clean.
You say you're not a big shot and you don't act like one.
I pluck the best rhubarb leaves for us to wear as hats while we pile potatoes in a bushel basket.
You want to call the boys to help. I don't want them, I just want you.