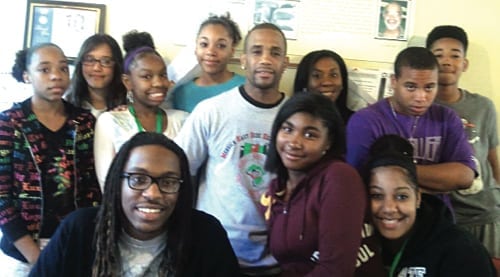 As the Black poet J. Saunders Redding said: The relationship between a people and their history is the same as the relationship between a child and its mother; history not only tells a people where they are and what they are—history also informs us what we still must be and what we still must do.
Chorus:
Looking back . . . moving forward. I am my brother's keeper
Rap:
I am a musician
Never brought into submission Connectin' my jobs like a line
More Black people comin' that's a sign A sign of Rondo's start
I was one of the starters
I am Melvin Carter.
Melvin Carter:
I am my brother's keeper. I am . . . Melvin Whitfield Carter Sr. My first remembrance of Rondo is everything horse and buggy. I remember the milk cars, and the things would be pulled by horses. It was very smoky, and everybody burned coal. It left a kind of haze over every- thing, like a mining town or something. During those days, I did a lot of piecing work. I pieced all jobs together, like a quilt, to make some time to work as a musician and to support my family. One of the jobs that I pieced together was my work on the railroad. I worked as a red- cap porter. Trains and the packinghouses were the place where you could get a job just walking in. And I tried to go to school at the same time, but that didn't work too well with raising a family.
Chorus:
Looking back . . . moving forward. I am my brother's keeper
Rap:
Houses gettin' torn down
Grandfather wearin' a frown
Rippin' pieces from the Black crown
Just 'cuz our skin is brown
Now it came down to my house
My voice was small like a mouse
Flames of sadness too big to dowse
Grandfather's soul was weak
How could life be so bleak
I was Nathaniel Davis but now I'm Nathaniel Khaliq.
Nathaniel Khaliq:
I am my brother's keeper. I am . . . Nathaniel Abdul Khaliq formerly Nathaniel Raymond Davis. I was born and raised at 304 Rondo. Mel- vin Carter Sr., they lived across the street from us. As they started one by one knocking down these houses; this cocoon that many of us had been blessed to be a part of started falling apart. One min- ute we're living in this community where there's Black businesses and people getting along and everything is just wonderful, you can sleep on the porch, then all of a sudden, you're losing this family and you're losing that family. It was like they dropped a bomb and pieces of the cocoon went scattering all over never to be put pack together.
Chorus:
Looking back . . . moving forward. I am my brother's keeper
I am my brother's keeper. I am . . . Debbie Gilbreath Montgomery. I grew up at 978 St. Anthony. I was seventeen years old, and I was on a mission. When I was seventeen, I was elected to the National Board of Directors for the NAACP. I wanted to help the next generation move up. I was kind of blessed. I marched from Selma to Montgomery with Dr. King, and I was in the March on Washington when he gave that "I Have a Dream" speech. People were standing around, 250,000 people, and they're listening to this guy talk and it was just phenomenal. You get a rush and think, "Hey, we've got to fight for our rights." It was just phenomenal.
Chorus:
Looking back . . . moving forward. I am my brother's keeper
Willie Lee Frelix:
I am my brother's keeper. I am Willie Lee Frelix. I decided to be a Pull- man porter because I wanted to travel the world. The waiters, they only run the railroads from like here to Chicago. But I got to see Canada, Mexico, and most of the United States. So, I seen it all. The pay wasn't no good, but you could get a lot of money in tips. I learned a lot on the trains during World War II. I got to meet a lot of people, some good, and some not so good. One thing I didn't like, was how all the pas- sengers called the porters George. George this or George that . . . But I always set them straight. My name is Willie . . . Willie Lee Frelix!
Rap:
Raise up your Black fist.
We can give back this
Life to the Rondo community
As a sign of unity
Together as a unit we
Can remember the past
And move forward from last
No lower or upper class
We can get together and make them Understand
Rising up from the sand
Speaking as one voice sayin' that this is Our land.