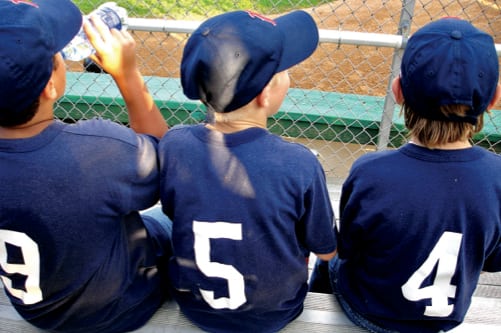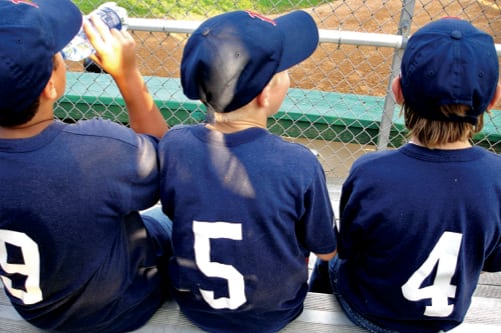 It is a good collection of boys, my son's Midway baseball team. They won their share of games, but the biggest victory came with the biggest loss for one of Sid's teammates. It was an unparalleled profile in courage, not just for him but for all the boys.
I don't know how many times I have watched a sports telecast and heard how one of the participating athletes had recently gone through a terrible loss: loss of a parent, a sibling, someone close. Commentators talk about the bravery of the athlete, how he or she fights through the pain and grief and continues to perform, to live. We feel for those women and men. The stories help us appreciate and admire them. At these times, we are reminded of the important things in life, that we are witnessing humanity even as we enjoy what is "only a game."
Still, most of these athletes, while relatively young, are not children. Patrick Connors was eleven when, in the middle of the season, he lost his dad to a long battle with cancer.
Like a lot of us, Russ Connors shared baseball with his son as an act of love. We show our sons and daughters that this baseball love is about so many things in life, not just learning how to win, how to lose, to be good at the game, or to have fun. It is about things that are too big for an eleven-year-old to understand and bigger than we grownups want to contemplate.
The evening after his dad's passing, under a solid-gray overcast sky, Patrick, in full uniform, stepped out of the car of a family friend. Earlier, Patrick had said, "This is where my dad would want me to be." There was little question of that. It was the right place for him to be—for him, his dad, his teammates, and all of us who needed that life lesson.
While Patrick and the other boys took their warm-up cuts in the batting cage and did their drills on the field, we heard stories about the time that Patrick had spent with his dad in the last days, driving across the country to say good-bye to friends and family; about how they shared a passion for baseball, and why, even on the hardest day of his life, Patrick had decided to show up and play.
The Midway Stealth won that evening's game with Patrick closing out the game on the mound, pitching a great inning of relief. That night, Patrick played in honor of his dad. His teammates played in honor of Patrick.
After the game, coaches Jay, Allen, and Jason brought the boys to the outfield, as they do after each game. This and other team meetings over the course of the season produced some lessons for the boys in how to be the important young men they were for each other throughout the season. What coach Jay shared definitely prepared the boys to be there for Patrick that night and beyond.
The boys attended Russ's visitation in their game jerseys. Later, the coaches took them all to Dairy Queen, a due summer salve and just reward for stepping up on a difficult day—because just as life and baseball are important, treating ourselves along the way is too.
Russ once said, "Death is not the worst thing that can happen to a person. To live without love or joy or meaning or hope would be the far greater tragedy."
This story has made me cry a few times. Just a few. It has also made me quite proud of my son and the group of boys with whom he shared a memorable season of baseball.