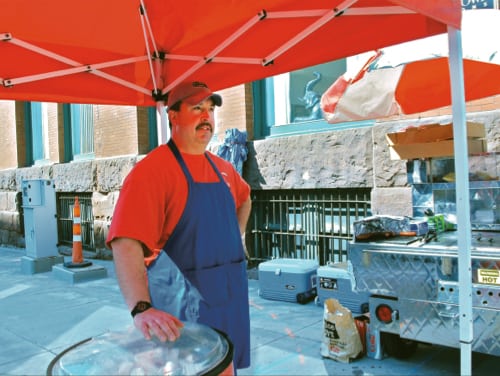 A HALE FELLOW with a flair for retail, Todd Romocky grills, listens, hustles, grins.
"I've been a meat-cutter for the past twenty years. My grilling skills and special sausage recipes have gained me recognition from family and friends—so much so that they encouraged me to start my own business and share my favorite meat recipes with my little corner of the world.
"You can find me in Saint Paul's Lowertown Art District, located on Fourth and Broadway. I run with the Saint Paul Farmer's Market during the summer. I hope to see you soon and share an experience that you won't soon forget."
"Romocky is the best. His cheddar brats are 'to die for.' I love hanging out on the corner with him. Okay, I confess, with the Breakfast Brats. SMILE!" smiles Ta-coumba Aiken.