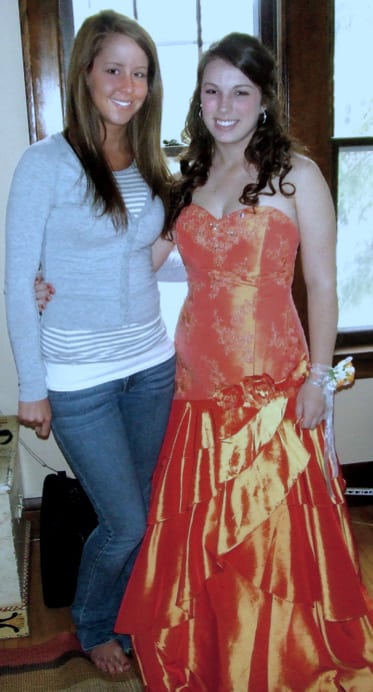 Springtime is the season of the Cinderella gown. My main task when helping my daughter prepare for her high school prom was to take her shopping for that one magical dress. The entire process of gearing up for the traditional high school event left me mildly annoyed, with its expense and pretensions of something not-quite-genuine—whether it be social class or celebrity or romance or all three. But, as the mother of a daughter who is very much her own person, I kept my cranky opinions to myself and went shopping for the prom dress with her.
I sat quietly in an upholstered chair in the basement dressing room of a Grand Avenue bridal shop as my daughter slipped away to try on some of her selections. Alongside teenage girls shopping for dresses in rainbow shades were the brides. Clearly, buying a prom dress was a primer for buying a wedding gown. The swooshing of tulle filled the vast room as the brides turned this way and that in front of mirrors—ivory charmeuse or winter white chiffon? Clans of female relatives and friends were along to offer the nod (or not) to dress choices: strapless, backless or with full-on, high-neck collar; with skirts that called to mind ballerinas, mermaids, or the layered petals of a flower; with sleeves in sheer lace or fitted to the wrist with a puff at the shoulder, like Romeo's Juliet.
Then came my turn to watch and measure one dress against another. But as my daughter stepped out of the dressing room, something curious happened. Even though she is beautiful in a pair of blue jeans and tee shirt, she was transformed in a way I had never noticed before. She tried on one glittering confection of a dress after another: a midnight blue with layers of netting, studded with sequin stars; another in pale sea-froth green with a skirt that flowed down her hips and pooled at her feet like water; another in silver, elegantly spare in detail. I found myself delighted with her enhanced loveliness and thrilled at the prospect of the whole prom package: her long chestnut hair swept up, her wrist circled with flowers, and a young man—a nice one—standing at her side in a suit with a coordinating tie.
The dress she chose was brilliant. It was a deep, evening-sky orange, strapless but well fitted in the bodice. The skirt reached the floor in rippling layers. My daughter brought the dress to life. It glowed with her
inner qualities—warmth, radiance, and strength. I realized there were no pretensions to my seventeen-year-old daughter. She stood in front of the dressing room mirror eyeing herself at various angles, a young woman ready to present herself to a bigger audience—perhaps not in love, but ready; perhaps not sure of her place in this world, but ready to find out, with her best foot forward.