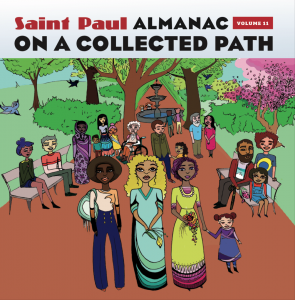 Release Party April 6, 2017 at the Black Dog!
Contact:
Clarence White
clarence@saintpaulalmanac.org
612-267-9036
SAINT PAUL (February 23, 2017) –The Saint Paul Almanac will hold a release party for the latest edition of the Saint Paul Almanac: On a Collected Path at the Black Dog Café on Thursday, April 6, at 7 p.m. This eleventh edition has a new look with new Saint Paul stories like the ones that have gained the Almanac its national reputation for curating authentic voices with a sense of place.
This year's theme is "On a Collected Path."
"The Saint Paul Almanac builds community," said executive editor and St. Catherine University professor Pamela Fletcher. "We're on a collected path, endeavoring to make a positive impact in Saint Paul by sharing stories that edify, uplift, and delight readers."
As always, this year's Almanac contains new stories, new poems, new art, and memorable Saint Paul dates and history. Also, this year's book has a new format and layout, a larger size (8.5" x 8.5") that leaves more room to display powerful, colorful art and graphics.
The 2017 edition of the Almanac features the cover art of mixed media artist Joy Spika. Spika comes from a family of metal workers, dressmakers, weavers, woodworkers, and painters. Her common media include paintings and murals. Her work has shown in the Twin Cities as well as Chicago.
Each volume of the Almanac is dedicated to two individuals, one living and one past. This year, the book is dedicated to education advocate Victoria Davis and to the memory of entrepreneur and World War II veteran Merle Harris. There is also a dedication to the families of people killed by police violence.
This year's party will feature readings and, of course, cake provided by Saint Paul's premier baker, Danny Klecko. On hand will be DJ Kool Akiem to fill the air with sound and groove.
Details
What: Release Party for Saint Paul Almanac: On a Collected Path, Volume11
When: Thursday, April 6, 2017
Where: Black Dog Café, 308 East Prince Street, Lowertown
Time: 7 p.m. Program begins at 7:30 p.m.
Readings for this event include "1984: Refugee" by Choua Yang, "Energy Transferring Over" by Brittany "Miss Brit" Lynch, "99 Sheep" by Ethna McKiernan, "Night Rider" by David Lyndale, "Where I Belong" by Joan Maeda Trygg, and "The Lost Language" by Michael Kiesow Moore.
Saint Paul Almanac exists to center the people of our community into the heart of storytelling, story sharing, and all other literary activities. We are building a world of equitable communities made strong through literature and the arts.