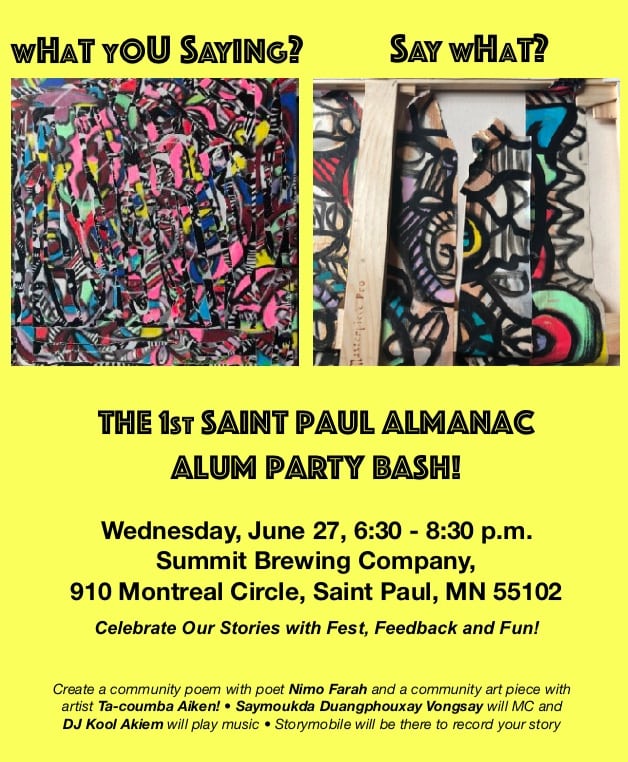 The Saint Paul Almanac Celebrates Our Stories with Fest, Feedback, and Fun
SAINT PAUL (May 18, 2018) The Saint Paul Almanac will hold its first ever Alum Party Bash to celebrate its rich and esteemed community of writers and artists as well as to listen to the hopes, ideas, and plans of the Almanac community as the book and organization move forward. The bash will happen on Wednesday, June 27, at Summit Brewing Company, 910 Montreal Circle, 6:30 to 8:30 p.m.
"It's a reunion," says founder and executive director Kimberly Nightingale. "We'd like to gather with our Saint Paul Almanac community. Hang out."
The program boasts music, light summer fare, $3 Summit beers, and nonalcoholic beverages. The evening will be accented with a short reading by three Almanac authors and feature our trademark Storymobile. Attendees will create a community poem with poet Nimo Farah and a community art piece led by Ta-coumba Aiken. The community poem and art will be featured in our next book. Saymoukda Duangphouxay Vongsay will MC the event, and DJ Kool Akiem will grace us with music. IBé, Julia Klatt Singer, and Nick Metcalf will each read a poem, and Jamela Pettiford and Kashimana Ahua will each perform a song.
"We've been a community-driven launch pad for so many writers and artists who have developed craft and creativity outside of dominant publishing regimes," says Clarence White. "We've published some of the Twin Cities' most respected authors. We've told the story of Saint Paul through many voices. This night will be a shout-out to all those voices as well as a listen back where folks can speak to what Almanac will be over the next half decade."
The Almanac will extend a wide reach as it invites writers and artists who have been published in the Almanac, those who have submitted and never been published, those who have thought about submitting but never did. Included will be Lowertown Reading Jam participants, Storymobile participants, IMPRESSIONS writers and artists, past community editors, past board members, fiscal sponsorees, past audience members, readers, and anyone connected to the Saint Paul Almanac in some way. Storymobile will wander the party and ask what partygoers want to see in our future. More books? More opportunities to get published? More art and poetry on trains? Different processes? More films? More readings? On what should the next five years of the Saint Paul Almanac be focused?
What: The first Saint Paul Almanac Alum Party Bash!
When: Wednesday, June 27, 6:30 to 8:30 p.m.
Where: Summit Brewing Company, 910 Montreal Circle, Saint Paul, MN 55102
*        *           *
Saint Paul Almanac is unparalleled in both Minnesota and in the United States, especially our community editor project. Nowhere else will you find such a dynamic, literary-centered arts organization that can galvanize a truly diverse group of individuals, who compose authentic community across age, ethnicity, gender, socio-economic class, race, and religion.  So, when we say "community," we don't give mere lip service. We build and demonstrate genuine relationships based on trust we establish along an intensive, worthwhile 12-week editorial process. This trust enables us to be stewards of priceless stories about the city of Saint Paul and the lives of Saint Paulites that grace the pages of a literary-centered arts journal, bar none.
—Pamela Fletcher, Saint Paul Almanac executive editor, writer, and St. Catherine University professor
Saint Paul Almanac is a beautiful organization that takes the stories of our community and weaves them into a powerful representation of who we are as a people. Being part of the organization has instilled in me a profound appreciation for human difference and taught me to always look for what is deeper than face value. The Almanac gives each person a platform to share stories from their heart, which aids in building the very foundation of our democracy.
—Ben Werner, Saint Paul Almanac community editor
Even though I'm a Minneapolis girl, I have great admiration for the Almanac. Their commitment to keeping the arts accessible to community is multifaceted and impressive. I'm proud to be on their advisory council.
—Carolyn Holbrook, founder and curator, More Than a Single Story
The Saint Paul Almanac has been a home for me personally to grow as an artist. I have always appreciated how community centered and generously supportive SPA is. When it came to finding a fiscal sponsor for the Somali Arts Language and Leadership Institute, I did not have to look far. I call the two organizations sisters now, with SPA providing the right mentorship and connecting with us to do sustainable and impactful work.
—Nimo Farah, Executive Director, Somali Arts Language and Leadership Institute
It's inspiring to be part of such a vibrant and welcoming community that embraces our love of Saint Paul and the words we share!
—Deb Runyon, Saint Paul Almanac community editor and board member
My relationship with the S​aint Paul Almanac has paved the way for me to blossom both as an arts administrator and ​to come into my own as an ​executive ​director of my emerging nonprofit www.BlackTableArts.com​. The S​aint Paul Almanac has provided me with immense mentorship through dialogue and has been a testament to the pathways of possibilities that arise out of reciprocal engagement with community and young change makers coming up in the 21st  century. This organization​'s refreshing commitment to stick to mission, listen when needed, and always return to community gives me hope reflecting on the question—Can an organization serve and shape community—with community​? I am excited to see what blossoms in the years to come.
— ​Keno Evol, Executive Director, BlackTableArts
Ta-coumba Aiken's artwork for the Saint Paul Almanac Alum Party Bash is double-sided front and back and double titled "What Y'all Saying?" and "Say What?" Ta-coumba's work embraces the idea that "we" are formed and influenced by our interactions with each other and our community space. "We" are in constant flow and change in our togetherness.