Contact: Kimberly Nightingale
kimberly@saintpaulalmanac.org
651-785-6268
Saint Paul Almanac Announces Our Next Executive Director!
(Saint Paul, MN) –– Saint Paul Almanac is proud to announce our selection of Pamela Fletcher Bush as our next executive director. In January 2020, she will succeed founding executive director Kimberly Nightingale.
In the words of Pamela Fletcher Bush: "I'm ecstatic that Saint Paul Almanac has chosen me to be its next executive director. I joke with Kimberly that while she has small feet and I have large feet, she's leaving me with giant shoes to fill. I feel humbled and honored that she has entrusted me with her actualized dream and vision of creating an authentic, collaborative, and democratic group process that is unparalleled. Over fifteen years, this process has built a community of steadfast storytellers, including writers, visual artists, editors, documentary filmmakers, and readers. When I joined the governing board nine years ago, this unique literary-centered arts community resonated with me so much. I stayed involved with the Almanac, serving in various capacities along the way. The teaching, writing, editing, and administration I have done over the past twenty years have prepared me for this thrilling position, which I consider my calling."
In the words of Kimberly Nightingale. "It is a real honor to have Pamela Fletcher Bush succeed me as the new executive director at the Saint Paul Almanac. I have witnessed time and time again through her many years working with us how she embraces our organizational culture of inclusion and democracy and how she thrives in such an engaging environment. I cannot imagine a better leader to carry forward the momentum blossoming within our community."
Our unique executive director selection process was based in community engagement and equity values that guide all of Saint Paul Almanac's work. Our yearlong process began with multiple listening sessions with dozens of artists and other constituents to learn what they wanted for the Almanac's future and the kind of leader they hoped would carry us forward. That community was invited again in the summer of 2019 for listening sessions with candidates who were advanced by our six-member interview team, and constituents were asked for their comments to help inform our selection.
– more –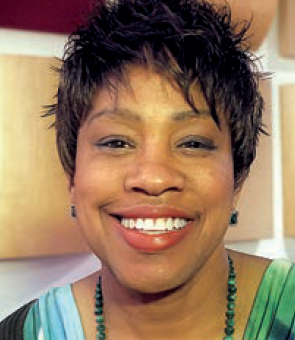 Pamela Fletcher Bush brings extensive experience as a writer, editor, educator, and arts activist to Saint Paul Almanac. A professor of English since 2016 and writing director since 2009 at St. Catherine University in Saint Paul, Fletcher Bush has served in increasingly responsible faculty positions there for the past nineteen years. Among her distinguished teaching opportunities, she received a W.E.B. Du Bois Scholar and Teacher in Creative Nonfiction award, which took her to Accra, Ghana, to teach creative nonfiction for the Pan African Literary Forum's international conference in affiliation with The New School university in New York City in 2008. During J-terms 2008–2012, she also team-taught a St. Catherine University course in Mexico. Fletcher Bush has held various teaching and advisory positions at Carleton College, Hamline University, and the University of Minnesota, among other institutions, since 1985.
Fletcher Bush's background with Saint Paul Almanac includes serving as teaching artist from 2012 to present, executive editor of the annual Saint Paul Almanac anthology from 2013 to 2017, and editor-at-large for Saint Paul Almanac: Resistance and Resilience, Volume 12 in 2019. Along with Alexs Pate and J. Otis Powell‽, she edited the anthology Blues Vision: African American Writing from Minnesota (Minnesota Historical Society Press, 2015). Her long list of awards includes St. Catherine University's Denny Prize for Distinction in Creative Writing (poetry), 2018; the Loft Literary Center's creative nonfiction residency award, 1997; a Minnesota State Arts Board fellowship, 1998; and nomination for a Minnesota Book Award for Transforming a Rape Culture (editor, Milkweed Editions, 1994).
About Saint Paul Almanac
Founded in 2005 as a literary-centered arts hub, Saint Paul Almanac operates with a mission to share stories across cultures and to cultivate dialogue that promotes understanding, relationships, and collaborative action. We engage and publish writers and other artists from African-, Asian-, Native-, Latinx, and Euro-heritage communities; communities of people with disabilities; and LGBTQIA communities. Exemplifying our commitment to equity, we recruit artists and members of these communities as board members and advisors, and we pay all artists for their work.           
Saint Paul Almanac is most readily recognized for our annual Saint Paul Almanac anthology, a collection of writing and visual art centering on Saint Paul stories that encourages conversations between people about what living in the Saint Paul community means to them. Going even deeper, work is selected by a cohort of community editors from throughout the Twin Cities, who bring equity values to choosing from work submitted by both experienced and aspiring writers and visual artists from a wide multiplicity of communities.
 Saint Paul Almanac programs also include Storymobile, our solar- and bike-powered audio/film studio, which travels to community events to record and archive Saint Paul stories told by the people who live those experiences; Knight Arts–funded Poetry in the Park in the Dark, a moveable installation of a giant solar-powered, sculptural rock that lights up with poems and artwork; and community impact documentaries such as the recently released Rondo: Beyond the Pavement, created by Storymobile youth interviewers and filmmakers in collaboration with Saint Paul Neighborhood Network's Emmy-winning filmmaker Bianca Rhodes, audio artist Katharine DeCelle, and film/broadcast artist Georgia Fort. Rondo is now being invited to film festivals across the nation. We are a fiscal-agency incubator for independent artists such as Tish Jones, Carolyn Holbrook, Keno Evol, Robin Hickman, and Nimo Farah and give artists opportunities to develop financial support for their own work and to partner with core Saint Paul Almanac projects.
###