Lots of Saint Paul Almanac events are coming up in the next days! Enjoy meeting our new executive editor—and keep reading for opportunities to write, read, and get together.
WELCOME CAROLYN HOLBROOK
SAINT PAUL ALMANAC VOLUME 13 EXECUTIVE EDITOR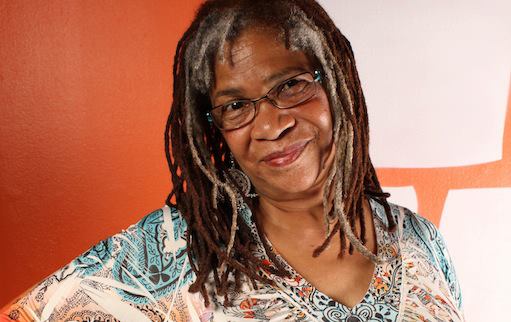 A recognized writer, arts educator, and arts activist, Carolyn Holbrook founded SASE: The Write Place in 1993 as a way to bring unheard voices and stories to the forefront of Minnesota's literary landscape. Her most recent initiative, More Than a Single Story, presents panel discussions and community conversations by writers of color, indigenous writers, and arts activists to ignite new understandings across cultures and communities. A multi-award-winning writer, Holbrook has published essays in the collections Blues Vision: African American Writing from Minnesota and A Good Time for the Truth: Race in Minnesota. She is coauthor with Arleta Little of Dr. Josie R. Johnson's 2019 memoir, Hope in the Struggle. Holbrook's newest collection of essays, Tell Me Your Names and I Will Testify, will be released by University of Minnesota Press in 2020.
SEE SAINT PAUL ALMANAC AT THE ANNUAL RAIN TAXI TWIN CITIES BOOK FESTIVAL!
Saturday, October 12 | 10 a.m. to 5 p.m.
MN State Fairgrounds – Free admission
1265 Snelling Ave N, Saint Paul
Enjoy what the Star Tribune calls "a bibliophile's dream come true." The largest one-day book gathering in the region, the book festival features dozens of exhibitors, authors, and special children's and youth programming—a massive celebration of our vibrant Minnesota literary culture.
Tuesday, October 15 ● 7 p.m.
SubText Books
6 W Fifth St, Saint Paul
Readings by Annette Marie Smith, Ben Weaver, Julia Klatt Singer, Marcie Rendon
Thursday, October 17 ● 7 p.m.
Amore Coffee
879 Smith Ave S, West Saint Paul
Readings by Louis DiSanto, Donna Isaac, Heidi Fettig Parton
Thursday, October 24 ● 7 p.m.
Eat My Words Bookstore
214 13th Ave NE, Minneapolis
Readings by Liza Docken, Ethna McKiernan, Sara Dovre Wudali, Mimi Oo, Will Tinkham, Kate Bitters
Monday, November 4 ● 7 p.m.
Golden Thyme Coffee & Café
934 Selby Ave, Saint Paul
Readings by Mary Turck, Mary Barghout, Debra Stone, Sagirah Shahid
Tuesday November 12 ● 6 p.m.
Tillie's Farmhouse
232 Cleveland Ave N, Saint Paul
Readings by Ellen Fee, Frank M. White, Erica Wallace, Lucas Scheelk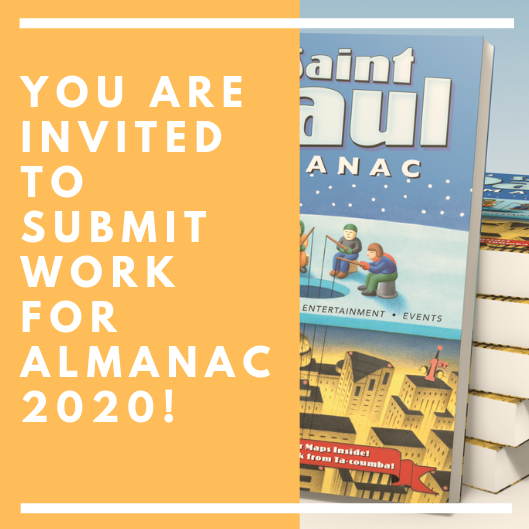 Please submit work for Almanac 2020!
The Saint Paul Almanac's annual publication is a collection of work submitted by you and reviewed by a panel of more than two dozen community editors who represent life perspectives and cultural heritages from every community in Saint Paul.
Our submissions process is open and waiting for your work right now, for a November 4 deadline! Click here.
For more info on submitting, click here.
VISIT WITH OUR STORYMOBILE TEAM
RONDO COMMEMORATIVE PLAZA CELEBRATION
Wednesday, October 16 | 4 to 7 p.m.
Old Rondo Avenue
822 Concordia Street, Saint Paul
Join the community in celebrating the installation of engraved paving bricks that commemorate friends, neighbors, and those who have built the Rondo community. Tell your own stories of dreams and remembrance to the Storymobile crew and become a part of Rondo's continuing heritage.
A QUICK LOOK BACK AT OUR RESISTANCE AND RESILIENCE BOOK LAUNCH PARTY!
Almost 300 writers, visual artists, filmmakers, musicians, photographers, and readers celebrated our latest publication, Saint Paul Almanac: Resistance and Resilience, Volume 12, on September 18th! Writer and performer Saymoukda Duangphouxay Vongsay set the stage for songs by Jamela Pettiford and readings by Almanac writers Thomas LaBlanc, Valerie Castile, and Roberto Sande Carmona. Set against the nighttime Saint Paul cityscape through the windows of CHS Field's Securian Financial Club, founder/executive director Kimberly Nightingale announced her upcoming transition from Saint Paul Almanac leadership and introduced Pamela Fletcher Bush, who will become our second executive director in January 2020. From over-the-top to bittersweet, it was an evening we won't forget. THANK YOU, EVERYONE, for your stories, your voices, your dreams . . . and for your vision of community that is at the heart of the Saint Paul Almanac.
Make the change you want to see in the world!
Support Saint Paul Almanac in creating work that shows and tells who we are and why we are here