"Somewhere in this city, someone is working
on a poem full of hope and resolve…"
— "Poem for the State of the City, April 21, 2009" by Carol Connolly
Carol Connolly, St. Paul's first Poet Laureate, passed away in November of 2020. A longtime fixture of the Twin Cities literary scene, Carol served on the Board of Saint Paul Almanac for many years. She was a huge supporter of our mission and several of her wonderful poems appeared in the pages of the Almanac. In recognition of Carol's contributions, Saint Paul Almanac has decided to create the Carol Connolly Initiative for Almanac Poets and Writers.
To honor Carol's legacy and celebrate the new initiative in her name, we are holding a poetry contest! Carol was passionate about Saint Paul and local politics; she wrote poems to commemorate mayoral inaugurations, inspire the City Council to action, and reflect on the "state of the city." In that spirit, we invite Minnesota poets to submit original work on the themes of civic responsibility and community engagement.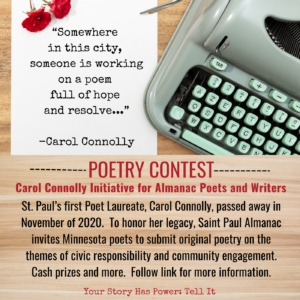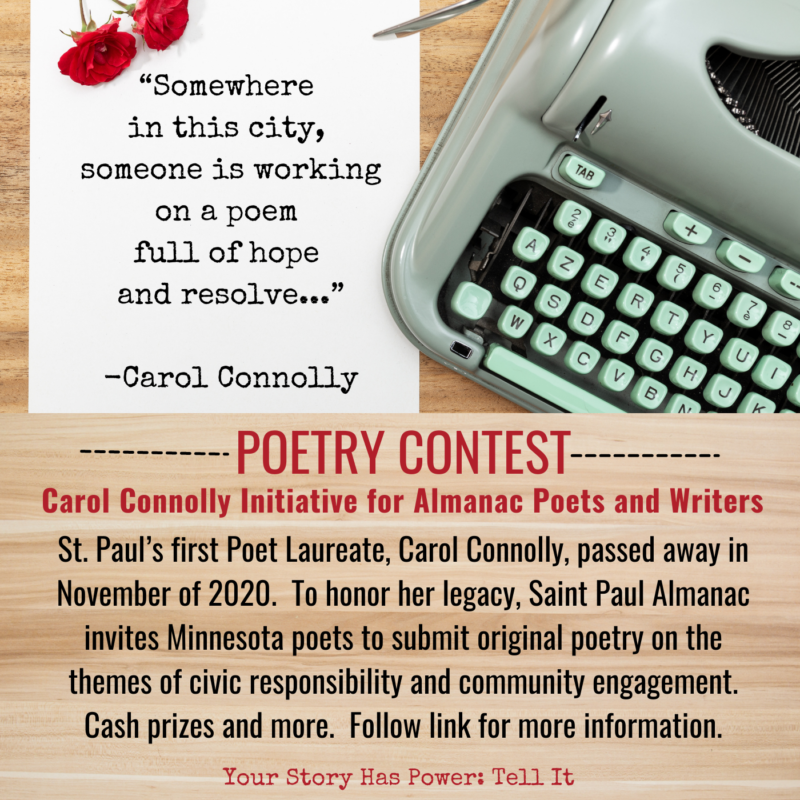 Contest Guidelines:
Must be a resident of Minnesota

You can submit up to five (5) pages

of poetry; more than one poem is fine, but total pages must not exceed five

Poems must be previously unpublished 

Submissions should be emailed to

submissions@saintpaulalmanac.org

Include contact information in your submission (name, address, phone number, email) and a brief bio

Submissions will be judged by Saint Paul Almanac staff and Board members

Deadline: 11:59 pm on Sunday, October 10
Prizes: 
We will award $100 each to the writers of the top 3 poems. These writers will also have the opportunity to work with the Storymobile crew to create a video of their poem, and will be invited to read their winning pieces at the Carol Connolly Initiative for Almanac Poets and Writers
Kickoff Party on Thursday, October 28 at the University Club in St. Paul. 
We look forward to reading your submissions—good luck!