When we left our quiet townhome in Inver Grove Heights to move to our first home on the Eastside, as a mother of two young men I was extremely nervous. I grew up on the Eastside and saw firsthand how rough some parts of the neighborhood could be. Before moving I recall lying in bed in our townhome wondering if we had made the right decision, questioning the things my sons would see, and how it would affect them. 
Days later, as we unloaded the last of our boxes, my youngest son began to notice elders and young teens continuously walking by our home with luggage and all their belongings. This is a sight he had never seen growing up in Inver Grove Heights. 
One morning while sitting at the stoplight on the way to school my son pointed out a mother and two kids sleeping near the library. As we sat in front of the school, I could tell he was emotional. He asked me in a quiet voice while looking down at his feet, "Why are people homeless, when there is enough for everyone?" Before I could even respond, my son looked directly into my eyes and asked me what I was going to do about it. I instantly felt my stomach turn and was at a loss for words. Without thinking, I told him, "For now just focus on school and we'll talk about it when you get home." To be honest, I thought about that question the entire day. 
When I picked him up from school, I could tell he had thought about the question the entire day as well. As we pulled up to our home, we both sat in the car and stared out the window for a moment. I told him to write a letter about what he had seen, how it made him feel, and his thoughts about a solution. 
That night at dinner he read the letter to our family. He barely made it through the first sentence, before crying out:
"I don't understand!
It's going to get cold soon, where are they all going to go? 
Why can't they stay in our RV? 
Or one of our extra rooms?
I am going to make it my mission to help them!
I will tell everyone I know if I have to!
This Christmas I am going to create blessing bags for them, that is my Christmas wish!"
By the end of his letter, we were all a little misty-eyed. His last question in the letter was, "Will you help me?"
At 11 years old, my son made an observation about people less fortunate than himself and had a breakthrough. That first Christmas he delivered over 200 blessing bags. He has gone out into the community on both Thanksgiving and Christmas to deliver warm clothing, blankets, tents, and hot food all over the Twin Cities. 
Just this past Thanksgiving while making his deliveries he met a man who shared a story. This man told my son that the night before he had been robbed for everything he had. He knew they were coming to rob him as they walked up the hill. He told my son he was extremely scared and didn't want to lose all his belongings, but he knew he wasn't going to win this fight. That night he prayed, he prayed he would receive new blankets, he prayed for kindness, he prayed for a blessing. The very next morning my son showed up with blessing bags and blankets. The man continued to say my son was his blessing―the blessing he had prayed for! My son gave the man a warm embrace and shook his hand. My (now) 15-year-old son was creating change, breaking through bearers of inequality, and providing hope for our community! 
I remembered that I had questioned our move, what my sons would witness living on the Eastside, and how it would affect them. I am beyond grateful for my young men and my community for teaching me… that when you use your heart, and lead with kindness you will always breakthrough!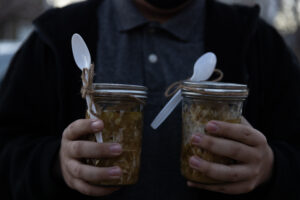 "Isaac's Blessing Bags" by Tanaǧidaŋ To Wiŋ won first place in the Saint Paul Almanac's Break Through Writing Contest in the category of creative non-fiction.