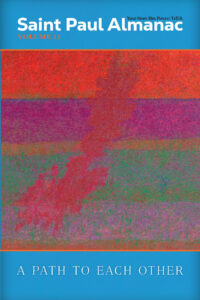 Saint Paul Almanac is excited to announce the celebration of our forthcoming edition, Volume 13: A Path to Each Other.
The literary collection features the works of ninety-three contributors and the cover art of the incomparable George Morrison, the acclaimed Minnesota Ojibwe artist. Morrison's work appears courtesy of the Minnesota Museum of American Art Collection, © Briand Morrison.
Poets and performers for the book launch celebration will include Theresa Alberti, Marc Anderson, Alice Duggan, Judy Hawkinson, Margaret Hasse, Margaret Lovejoy, David Mendez, Loren Niemi, Catherine Anayo Nixon, Clarence White, Chong Yang, Maryam Marne Zafar, Kyra Zimmerman, and the Shades of Blue Band.
Come celebrate and support the work of our Volume 13 contributors!
Come enjoy complimentary hors d'oeuvre, a cash bar, dancing, and the Wheel of Poetry!
AIN'T NO PARTY LIKE A SAINT PAUL ALMANAC PARTY