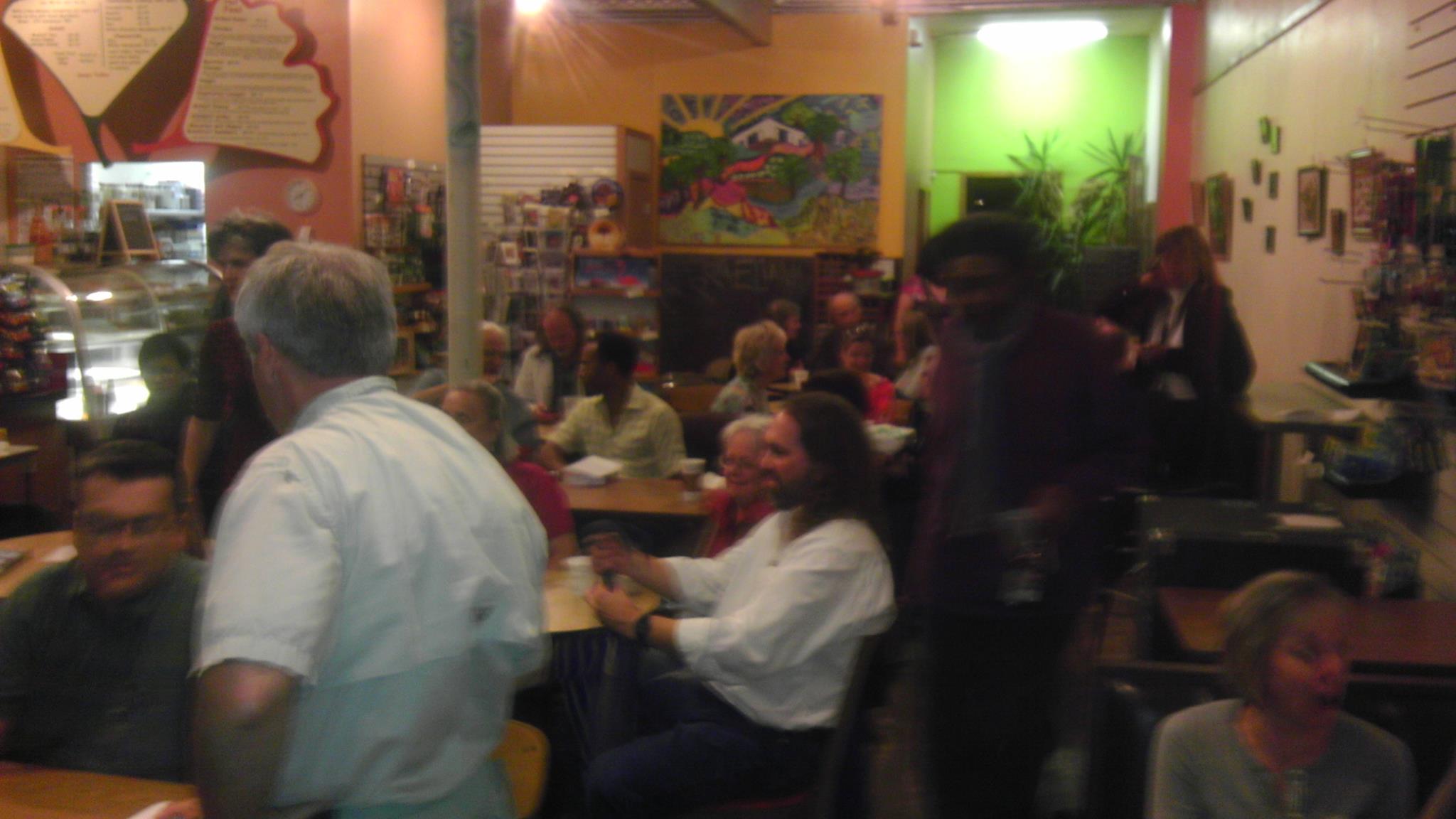 The Saint Paul Almanac Literary Festival involves over sixty writers in the Twin Cities who have been published in the Saint Paul Almanac. The readings take place in different Saint Paul venues to make them as accessible as possible. Each reading features a minimum of six readers diverse along lines of genre, gender, writing background and history, ethnicity, and age, so that each event is a celebration of the multi-faceted talent we have in Saint Paul and draws a diverse audience to create cross exposure for the writers involved. 
Both Saint Paul Almanac and Cracked Walnut believe the sharing of stories and poetry creates compassion between individuals and communities and leads to a more connected and more caring society.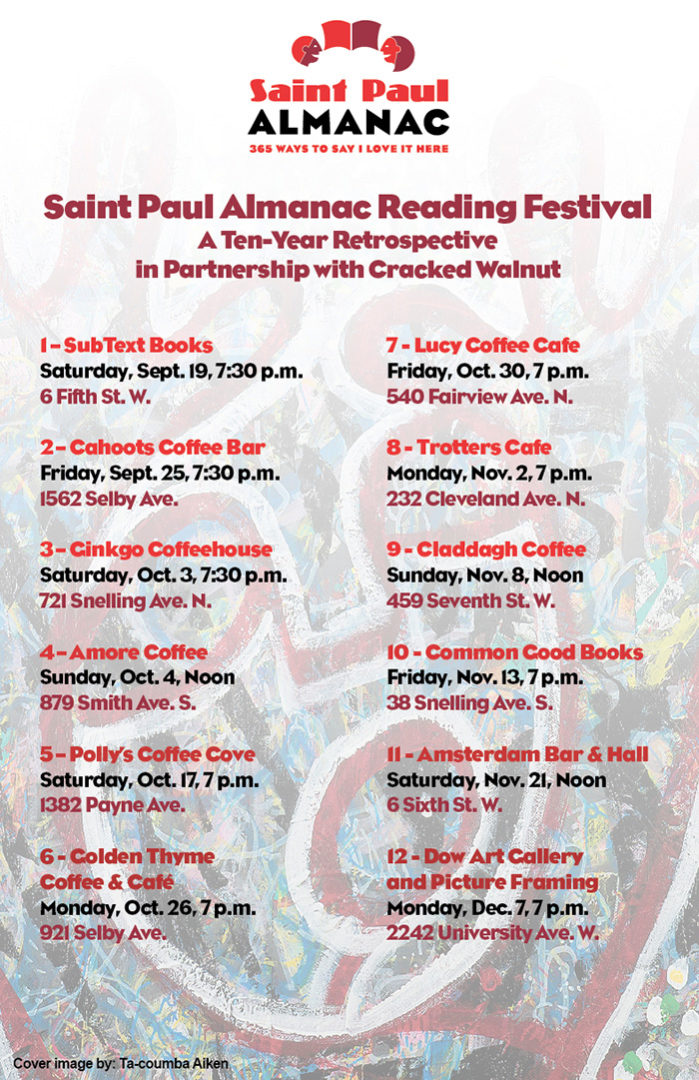 Saint Paul Almanac celebrates its first decade with the new literary collection that features favorite pieces from the previous nine journals.
Come listen to some of the writers from the new edition as well as other honored guests in a series of twelve readings happening in difference spaces in beloved Saint Paul.
1 – Saturday, Sept. 19, 7:30 p.m.
SubText: A Bookstore
6 Fifth St. W., Saint Paul, MN 55102
Jim Bour
Ronee McHendrik
Jami Leigh
David Unowsky
Steve Trimble
John Minczeski
Jim Bour, still unable to just say no, influences his grandchildren, sometimes to their parents' chagrin, south of Hudson, Wisconsin, in the woods along the St. Croix River. He tells stories, some of them true, and plans to keep doing so while he decides what to do when he grows up.
Ronee McHendrik is mother of three, grandmother of eight, and great-grandmother of two. In addition to past publications as a biomedical research scientist, Ronee is currently writing a self-help book, Don't Change, Just Bitch! She is still bogged down in the chapter, "How to relax and enjoy being a procrastinator."
Jami Leigh is a writer and yoga teacher who still lives across the river and treks back to her hometown of Saint Paul often. Since "Crossing the River" was first published, she has discovered many more places she would add to her list of reasons to return. And even though #2 of her original list stopped calling her, she continues to show up at the door hoping with all her heart that they have mocha chip that day!
David Unowsky, a lifetime Saint Paulite, was schooled at Ramsey School, Central High, and the University of Minnesota. He's been a bookseller since 1970, when he founded Hungry Mind, later known as Ruminator Books. Currently David is events manager at SubText Bookstore in downtown Saint Paul. He thinks his seventies will be a kick-ass decade.
Steve Trimble lives in the Dayton's Bluff neighborhood near Indian Mounds Park. He has researched, written, and taught Twin Cities and Minnesota history. He serves on the editorial board of the Ramsey County Historical Society. He has authored books and written several articles on Saint Paul in Ramsey County History magazine and contributes Saint Paul dates, birthdays, and quotes for the Almanac. He also collects novels set in Minnesota and plants heirloom tomatoes
John Minczeski's latest book, A Letter to Serafin, was published by the University of Akron Press in 2009. His poems have appeared in Agni, Cerise Press, Quarterly West, Mid-America Review among other journals. He works as a poet-in-the-schools, and has taught on an adjunct basis at several area colleges and universities. His awards and honors include a Bush Artist Fellowship, National Endowment for the Arts Fellowship, Loft-McKnight Award, Jerome Travel Grant, LIN Grant, The Akron Poetry Prize, etc.
2 – Cahoots Coffee Bar
Friday, Sept. 25, 7:30 p.m.
1562 Selby Ave., Saint Paul, MN 55104
Patricia Anita Young
David Tilsen
Mike Hazard
Moira Harris
Ethna McKiernan
Linda Kantner
Patricia Anita Young was born in Saint Paul and now resides in Minneapolis. She is an accounting technician who enjoys writing freelance articles.
David Tilsen is still living in a rich fantasy world surrounded by family, friends, dogs, and squirrels. He doesn't particularly like the squirrels.
Filmmaker, photographer, and poet, Media Mike Hazard loves seeing. He is artist in residence at the Center for International Education; visit www.thecie. org to learn more.
Moira Harris is an art historian and native Minnesotan. She has written about public art for Minnesota History, Public Art Review, and Ramsey County History. In 2006 she and her husband, Leo J. Harris, wrote Minnesota on Paper: Collecting Our Printed History, a Minnesota Book Awards finalist, for the University of Minnesota Press. She wrote about artists Cameron Booth and Dewey Albinson for Minnesota Modern (Afton Press, 2015).
Ethna McKiernan is a Minneapolis poet who works full time as an advocate for the homeless. Her work has been anthologized in such collections as 33 Minnesota Poets and the Notre Dame Anthology of Irish American Poetry. Her third book, Sky Thick with Fireflies, was published by Salmon Poetry, Ireland, in 2012.
Linda Kantner is a Honda Rebel–riding writer who gets her kicks riding too fast and living to tell the story. She will publish her memoir, As Told to Me, if there is any justice in the world.
3 – Saturday, Oct. 3, 7:30 p.m.
Ginkgo Coffeehouse
721 Snelling Ave. N., Saint Paul, MN 55104
Will Tinkham
Mark Connor
Colleen Casey
Cynthia Davidson Bend
Max Siqveland will be reading the work of Dr. Ivar Siqveland
Hawona Sullivan Janzen
Will Tinkham is the author of three novels: Bonus Man, No Happier State, and Alice and Her Grand Bell. He lives and writes in Minneapolis. In addition to his piece in the 2015 Saint Paul Almanac, he has published short fiction on three continents. Acting credits include the Guthrie Theater and Theatre in the Round. He can be found at www.willtinkham.blogspot.com.
Mark Connor is a freelance journalist, creative writer, and professional boxing trainer from Saint Paul. His work has been published nationally and internationally, much of it focusing on life in Saint Paul.
Colleen Casey uses language and other arts to facilitate positive transformation. From Bdote and of Mdewakanton Dakota and European American heritages, Colleen considers herself a person of crosscurrents and confluences. She loves supporting people who are strengthening their voices. She believes we are all related.
Cynthia Davidson Bend has worked as a counselor and a trainer/teacher of dogs, horses, and humans. Her publications include Arthur's Room, the story of a boy living with cerebral palsy, and his caring sister; Burning Clean, stories of love, loss, and healing; and Billy's Goat, about two country boys with unusual pets. www.cynthiabend.dgi.bz.
Max Siqveland for Dr. Ivar Siqveland
Dr. Ivar E. Siqveland was born in Michigan in 1872 and practiced dentistry in Saint Paul from 1891 until he retired in 1943. In 1899, after having saved some money from his dental practice, he was presented with a decision of whether to buy stock in his friend Henry Ford's new company or buy the first gasoline-powered car, a one-lunged Winton. He chose the car.
Born and raised in Shreveport Louisiana, Hawona Sullivan Janzen is a poet and non-fiction writer whose work focuses on the impact of grief, love and hope on the human spirit. Recently commissioned to write poetry for the St. Paul River Stewards Awards and Silverwood Park, Sullivan Janzen is co-founder of the University of Minnesota's Witness Writing Project and a Givens Foundation Creative Writing Fellow. Her poem "Darkness" was a 2014 National Poetry Month selection on National Public Radio.
4 – Amore Coffee
Sunday, Oct. 4, 12 p.m.
879 Smith Ave. S., West Saint Paul, MN 55118
Mike Finley
Tim Nolan
Lisa Steinmann
Susan Solomon
James Zimmerman
Mike Finley arrived in Saint Paul to live in 1969 and has loved it ever since.
Tim Nolan is a lawyer and poet in Minneapolis where he lives with his wife, Kate. Years ago, Tim lived in various apartments in Saint Paul, including one above the Animal Medical Clinic at St. Clair and Snelling, from which he ventured out often to the Clo-Spin Laundry.
Lisa Steinmann is a Saint Paul–based freelance writer, editor, and laundress who specializes in sorting, soaking, and scrubbing before hanging things on the line. She loves sunny mornings spent standing in the yard watching clothing flutter in the breeze. Each sock, tee shirt, and pair of blue jeans tells a story shaped by the wearer. At the end of the afternoon, it is a pleasure to gather and fold each piece, starchy-stiff and fragrant, into her arms
Susan Solomon is the editor/cartoonist of Sleet Magazine, an online literary journal.
James Zimmerman lives in Saint Paul with his wife and three children. He has had stories published in the 2013 and 2015 Saint Paul Almanacs and is the author of the book Deliverance at Hand! (Freethought House, 2013). He was a senior at Hamline University in 2013.
5 – Polly's Coffee Cove
Saturday, Oct. 17, 7 p.m.
1382 Payne Ave., Saint Paul, MN 55130
Elen Bahr
Rodrigo Sanchez-Chavarria
Elizabeth Sullivan
Wendy Brown-Baez
Alison Morse
Elen Bahr is a self-proclaimed Saint Paulite, grant writer, and aspiring children's book author. Elen and her family live in the Summit-University neighborhood, where she bakes pies, grows beautiful gardens, coordinates her neighborhood block club, and would never, ever dream of trading love for a street grid system.
Rodrigo Sanchez-Chavarria is a writer and spoken-word poet of Peruvian heritage heavily involved with Palabristas, a Minnesota-based Latin@ poets collective. He is a graduate of the Department of Chicano and Latino Studies at the University of Minnesota–Twin Cities and an involved activist in the Latin@ community. He writes about fatherhood; the duality of two cultures in English, Spanglish, and Spanish; and issues pertaining to his community and life experiences.
Elizabeth Sullivan is a writer, mother of four fun young boys, a SourcePoint Therapy Practitioner, and SomaYoga Therapy Teacher, who believes that the stories we tell can be transformed toward health and wellness. After many years telling herself the same story over and over, she has now grown the roots that stabilized her hypermobility of going and returning, going and returning, going and returning to Saint Paul, of which she is a native.
Wendy Brown-Báez's prose and poetry have appeared in literary journals and anthologies, and she has published two books of poetry. Wendy received McKnight and Minnesota State Arts Board grants to teach writing workshops in nonprofits and for youth in crisis. She is a member of the Minnesota Prison Writing Workshop. www.wendybrownbaez.com
Alison Morse's writing has been published in numerous journals and has won a Tiferet Fiction Award. Recently she edited the literary anthology Walls You Can Read, researched the Bangladesh garment industry through a grant from the Rimon Foundation, and wrote stories for the Women PeaceMakers program at the University of San Diego.
6 – Golden Thyme Coffee & Café
Monday, Oct. 26, 7 p.m.
921 Selby Ave., Saint Paul, MN 55104
Beverly Schultz Goldberg
Rose McGee
Beth L. Voigt
Norita Dittberner-Jax
Carolyn Holbrook

Beverly Schultz Goldberg is a lifelong resident of Saint Paul. Her essays have appeared in the literary journals Ars Medica and Willard & Maple, the magazine Cottage Life, anthologies Cup of Comfort and Chicken Soup for the Soul, and the St. Paul Pioneer Press. She reads her work at the Wild Yam Cabaret in Saint Paul.
Rose McGee is owner of Deep Roots Gourmet Desserts and creator of the "Sweet Potato Comfort Pie" concept—a catalyst for building and strengthening community. Her award-winning sweet potato pie was a guest in Washington, D.C., during the 2008 inauguration of President Obama, which featured Minnesota foods. She is co-author of a recently published book, Story Circle Stories, and is currently writing Can't Nobody Make a Sweet Potato Pie Like My Mama: The History of Sweet Potato Pie.
Beth L. Voigt has been writing from an early age, first drafting stories she left around the house for her eight siblings to read; later writing narratives for her mentor, Emily Crofford, who lived across the street. More recently, she has published essays in local and national publications, including Christian Science Monitor, Midwest Home & Garden, Minnesota Moments, and Parenting, and in National Public Radio's This I Believe series. Beth's passion for writing is exceeded only by her love of family, whom she writes about often.
Norita Dittberner-Jax grew up in the Frogtown neighborhood of Saint Paul and taught English in its schools. She loves walking around Saint Paul, especially Lake Como. She has three collections of poetry: What They Always Were, Longing for Home, and The Watch.
Carolyn Holbrook founded SASE: The Write Place in 1993 and merged it with Intermedia Arts in 2006. She was awarded the Minnesota Book Awards Kay Sexton Award in 2010 and a Minnesota State Board Artist Initiative grant in 2015. Her book, Ordinary People, Extraordinary Journeys was published in 2013. She won Hamline University's Exemplary Teacher Award in 2014.
7 – Lucy Coffee Cafe
Friday, Oct. 30, 7 p.m.
540 Fairview Ave. N., Saint Paul, MN 55104
Carrie Pomeroy
Susan Koefod
Camille Verzal
Adrian Daniel Schramm
Linda White
Ardie Ann Medina
Carrie Pomeroy has published her writing in CALYX, The Laurel Review, Literary Mama, Squat: The Radical Birth Journal, and the anthology Riding Shotgun: Women Write About Their Mothers, and she blogs for the Twin Cities Daily Planet. She has received grants from the Minnesota State Arts Board and the Jerome Foundation, and in 2013, she was named the Saint Paul Library system's Volunteer of the Year
Susan Koefod still remembers reading elephant joke books as a child. She writes and publishes in various genres, was born in Saint Paul, and has lived in and around Saint Paul her entire life. Her debut novel, Washed Up, was published by North Star Press in 2011.
Camille Verzal lives in Saint Paul. She has been writing in the corporate world for years but longs to earn a living as a screenwriter, short story writer, or children's book author.
Adrian Daniel Schramm has been writing and illustrating since the day his mother handed him his first crayon. He has worked as a copywriter, ghost writer, and journalist, creating content for publications both online and in print all across the United States. His true passion, however, lies in fiction, and he spends most of his time toiling away tirelessly on the Great American Novel . . . or at least something worth reading. Find out more by visiting his website at www.tiltmn.com.
Linda White's poetry and essays have appeared in the Saint Paul Almanac, Writer's Block, MNReads and A View from the Loft, and last year she was a Finalist in the Beyond the Pure Fellowship for Writers at Intermedia Arts. She runs BookMania, providing services to authors and publishers, and The Publishing Bones, a website for writers: publishingbones.com
Ardie Ann Medina is an Anishinaabe poet and playwright from Lac du Flambeau, Wisconsin. She became involved in the Twin Cities writing community soon after moving to the area in 1993. Ardie participated in the Fringe Festival for three summers and has been involved in several productions of the Twin Cities Women's Choir and SASE: The Write Place. Her poems have been published in various anthologies—Loonfeather Press, Yellow Medicine Review, and a self-published anthology, Gatherings, with fellow poets from the Loft Literary Center's Foreword Apprenticeship program.
8 – Trotter's Cafe and Bakery
Monday, Nov. 2, 7 p.m.
232 Cleveland Ave. N., Saint Paul, MN 55104
Deb Runyon
Linda Back McKay
David McKay
Sheronda Orridge
Clarence White
Patsy Kahmann
Carolyn Williams-Noren

Deb Runyon lives in Como with her three high-maintenance men, which she calls her diet plan and greatest accomplishment. She's grateful for her two years as a community editor and the experiences it afforded and looks forward to the next chapter.
Linda Back McKay is a poet, writer, and teaching artist. She is the author of several books, including a book of poetry, The Next Best Thing (Nodin Press, 2011), and the nonfiction Out of the Shadows: Stories of Adoption and Reunion (North Star Press, 2012). She lives with the intrepid David McKay and their red hot motorcycle just across the river from Saint Paul, and she hastens to add, they were both born and raised in Saint Paul.
David McKay is a media activist with a special interest in Saint Paul history. He rides a Harley Dyna low rider and is often inspired by his poet/writer wife, Linda Back McKay.
Sheronda Orridge is a longtime resident of Frogtown. She holds a doctoral degree in Holistic Life Coaching from the University of Sedona and is the owner-operator of Loving Spirit Life Coach Academy LLC. Sheronda is a mother, a community organizer, and a spoken word artist.
Clarence White is a former bookseller living in the Merriam Park neighborhood of Saint Paul. He has worked and taught in artist residencies in Saint Paul and suburban schools and was a 2011–2012 Givens Foundation for African American Literature Retreat Fellow. He is the calendar editor for the Saint Paul Almanac and the writer of This Week In Saint Paul, the Almanac's weekly arts events blog. He is also the author of The Clarence White Blog.
Patsy Kahmann currently lives near Minnehaha Falls, but she has called many places home. Born in Kansas City, she and her family eventually came to live on the frozen plains of southwestern Minnesota. Her memoir, House of Kahmanns, is about tender family bonds, forged and fractured, through hardships and happenstance. Recently retired, Patsy can now be found haunting local coffeehouses, working on her memoir, hoping to fulfill her parents' wish that she write what happened. Her birthstone is opal, like her mother's.
Carolyn Williams-Noren is the author of a chapbook of poems about motherhood, Small Like a Tooth (dancing girl press, 2015). She's also the founder and tender of a free poetry library in her Minneapolis neighborhood (littlepoetrylibrary.org). Carolyn's poem in the Almanac, "Still Life, St. Paul," lives on under the title "Sin." More on Carolyn's writing at www.williams-noren.com.
9 – Claddagh Coffee
Sunday, Nov. 8, 12 p.m.
459 7th St. W., Saint Paul, MN 55102
Kim Ode
Louis DiSanto
Dennis Kelly
Pamela Fletcher
Sarah Turner
Kim Ode is a veteran newspaper reporter and former columnist for the Minneapolis Star Tribune. She lives with her family in Edina, where the aroma of fresh-baked bread regularly wafts from the wood-fired brick bread oven in the back yard.
Louis DiSanto is a retired keeper from Como Zoo who enjoys photography, writing children's stories, classical music (especially Debussy), and long walks. He also worked as a newspaper reporter, as a playground assistant, and one summer at a cemetery. Passionate about nostalgia, Louis loves to reminisce with friends about the fun they had as kids, like taking the bus downtown to see movies, eating ice cream at Bridgeman's, and sneaking into Harkin's pool hall on West Seventh Street.
Dennis Kelly grew up in Saint Paul hopping trains on the Short Line, vaulting the fence at the State Fair, playing outdoor hockey at Dunning Field, and shooting pool at Sarge's Billards.
Editor and writer Pamela R. Fletcher is writing director and associate professor of English at St. Catherine University. She also serves as senior editor and co-facilitator of the Community Editor Project for the Saint Paul Almanac.
Sarah Elizabeth Turner received an M.F.A. in creative writing from Hamline University. Before that, she spent four years investigating complaints against the police in New York City, three months working at the Mall of America (don't ask), and three years trying to re-adjust to the Midwest. Her writing has appeared in Sleet, Versus, Prairie Gold: An Anthology of the American Heartland, Water~Stone Review, and the Brevity blog. She once got invited to a NASA launch. Sarah writes mostly creative nonfiction and can be found blogging at Sarah in Small Doses or performing improv online and in person.
10 – Common Good Books
Friday, Nov. 13, 7 p.m.
38 Snelling Ave. S., Saint Paul, MN 55105
Maya Beecham
James McKenzie
Barbara Langer Thukral
Mike Hazard
Scott Bade
Yusef Mgeni

Maya Beecham, a second-generation native Saint Paulite, was born in the historic Rondo neighborhood, graduated from Cretin-Derham Hall High School, and earned a BA in communication studies at Hamline University. Currently, she works for the education team at the Bush Foundation in Saint Paul.
James McKenzie got his first Saint Paul library card eight years ago, when he retired here to the south from Grand Forks about the same time he began volunteering at the Center for Victims of Torture. He bikes to coffee shops every day, as far into the winter as possible, where he works on the great American autobiography.
Barbara Langer Thukral lives in Highland Park with her husband and their three boys. She is fiercely loyal to Gillette Children's Hospital, as well as school volunteerism. She seeks the elusive idea of sanity through her writing, running, and yoga, as well as coffee breaks with girlfriends and wine with her sisters.
Filmmaker, photographer, and poet, Media Mike Hazard loves seeing. He is artist in residence at the Center for International Education; visit www.thecie. org to learn more.
Scott Bade is a loving father, husband, and brother who resides in North Saint Paul. He is a graduate of Metropolitan State University with an English degree and is working toward becoming a full-time author.
Yusef Mgeni is retired after serving more than forty years in leadership positions with community-based organizations serving low-income communities and communities of color. Mr. Mgeni has also contributed many years of service as a member of numerous local and national progressive civic and professional organizations.
11 – Amsterdam Bar & Hall
Saturday, Nov. 11, 12 p.m.
6th St. W. at Wabasha St. N., Saint Paul, MN 55102
Bao Vang
Margaret Hasse
Michael Kiesow Moore
Stacey Remke
Marion Gomez
Eric Larson
Bao Vang is hard at work, while many of you are asleep, as the executive producer and morning anchor at WSAW News Channel 7 in Wausau, Wisconsin. Bao's family immigrated to the United States in 1978. She was born and raised in Saint Paul and attended Harding High School and the University of St. Thomas.
When Margaret Hasse was in grade school, learning poetry by heart was part of the curriculum. The first poem she chose was a short one by Emily Dickinson beginning: "I'm Nobody! Who are you?" She moved on to ballads such as "The Highwayman" by Alfred Noyes with rhyme schemes that made memorization easier. Earth's Appetite, Margaret's fourth collection of poetry, released in 2013 by Nodin Press, relies more on image and metaphor than on rhyme.
Michael Kiesow Moore is a published and award-winning writer whose work has appeared in publications including Talking Stick, Water~Stone Review, Evergreen Chronicles, The James White Review, and the book Losing Loved Ones to AIDS. Michael received his MFA in creative writing at Hamline University. His awards include a Minnesota State Arts Board fellowship and a Loft Mentor Series Award. Michael teaches creative writing at the Loft Literary Center and curates the Birchbark Books Reading Series. He lives in Saint Paul with his cat, Cicero.
Stacey Remke is a small-business owner in downtown Saint Paul and a professor at the University of Minnesota. She has lived in the Twin Cities for over twenty-five years.
Marion Gomez is a poet and teaching artist based in Minneapolis. She was awarded a Minnesota State Arts Board Cultural Community Partnership Grant to work with Latina/o youth and was one of four poets selected by Linda Hogan and Ed Bok Lee for the Loft Literary Center's 2008 Mentor Series.
Eric Larson is a writer, performer, musician, and mindfulness coach living in Northeast Minneapolis. He graduated from Hamline University's Creative Writing Program in 2010.
12 – Dow Art Gallery and Picture Framing
Monday, Dec. 7, 7 p.m.
2242 University Ave. W., Saint Paul, MN 55114
Heid E. Erdrich
Amy Clark
Jennifer Bangoura
More writers to be announced soon.
Heid E. Erdrich is author of Cell Traffic: New and Selected Poems (2012). Her collection National Monuments won a Minnesota Book Award in 2009. Her nonfiction book is Original Local: Indigenous Foods, Stories, and Recipes from the Upper Midwest (2013). Heid is Ojibwe enrolled at Turtle Mountain. She teaches in the Augsburg College MFA program.
Amy Clark—mother, wife, artist, teacher, writer, athlete. student, singer, reader, caretaker of many animals. Tired most of the time, but happy.
Jennifer Bangoura is a lifelong resident of Saint Paul. Her close-knit family settled here in the 1890s. Jennifer earned her bachelor's degree in English with a minor in theater arts from the University of Minnesota, Morris. Jennifer is an English teacher. Loving language, she is chock-full of wit, witticisms, and puns. Her favorite pastimes are reading short stories and watching classic films. She is the mother of two wonderful children, Lali and Kashif. Jennifer attributes her love of literature to her mother, Martha.
For more information on the Saint Paul Almanac visit https://saintpaulalmanac.org/ and like https://www.facebook.com/saintpaulalmanac