An international cadre of writers to perform their work live, and invite audience to discuss efforts in the community using poetry and spoken word to change lives
The Saint Paul Almanac continues its year-round literary celebration of the capital city with inspiring spoken word performances, followed by a thought-provoking discussion about "Poetry and Activism."
The April 5th Lowertown Reading Jam, curated by internationally acclaimed artist, Desdamona, will also feature performances by Reggie Harris, Tish Jones and Ibé. The poets will perform their poetry and talk about the work they do in schools, prisons and other communities, and invite the audience to share a dialog with them on their work. The Reading Jam runs from 7 to 8:30 p.m. at the Black Dog Café, 308 Prince Street in Saint Paul.
The Almanac has been hosting the monthly Reading Jams since October 2009, and they have been steadily gaining in popularity as excited audiences spread the word about their powerful shared experiences. The Jams provide an opportunity to explore and bridge the cultural and social breadth of Saint Paul throughout the year as stories are both given and received.
The Lowertown Reading Jams continue at the Black Dog through July 2010. Each Jam is produced and hosted by a well-known writer or spoken word artist. Saint Paul "performance drawing" artist Lara Hanson interprets the readings using Japanese ink brushes. Free hors d'oeuvres are served, and the Black Dog Café offers its "Monday Madness" special featuring a large pizza and bottle of wine or a large pizza and four Summit beer taps for just $20. All Reading Jams are American Sign Language (ASL) interpreted.
Writers Wanted!
Not all of the performers at the Lowertown Reading Jams were contributors to the 2010 Saint Paul Almanac, but they and everyone who lives in or loves the capital city is invited to submit reviews, essays and poems about Saint Paul for the 2011 Almanac. Most selections are 650 words or fewer, with a small number being as long as 1,500 words. Small stipends are paid for works accepted for publication. Writers interested in having their work considered for the 2011 Saint Paul Almanac have until March 31 to submit. Multiple submissions are acceptable. The complete guidelines for submitting a piece and ideas for topics are available at saintpaulalmanac.org on the submissions page.
About the Artists: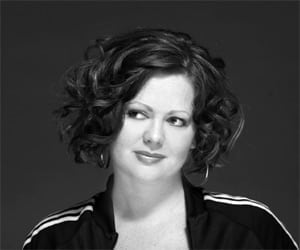 Desdamona has taken her distinct lyrics, sound and artistic stylings to audiences from Minnesota to Hawaii, from Puerto Rico to Germany; gracing some of hip hop and poetry's most illustrious stages. A multiple Minnesota Music Award-winning performer with strong standing in the male-dominated hip hop scene, she is considered one of the premier female spoken word and hip hop artists in the Midwest. Desdamona has had the pleasure of opening up for many distinguished artists including Wyclef Jean, Zap Mama, Black Uhuru, Saul Williams, Ursula Rucker, KRS ONE and several Rhymesayers artists.
Desdamona learned the power of both the written and spoken word at an early age and now looks to share, discover and cultivate that love of poetry in young artists. Generously committed to the larger community, Desdamona has worked in more than 200 schools throughout the Midwest, conducting workshops and as artist in residence. She has worked with more than 10,000 students in public, private and alternative schools, as well as colleges and universities. She has also worked in residencies and workshops in Stillwater Prison, Shakopee Prison, Red Wing Juvenile Facility and the Juvenile Detention Center in Minneapolis MN.
Desdamona is one of the founders of B Girl Be, the first international festival celebrating women in hip hop. She was a featured performer at the We B*Girlz Festival in Berlin, Germany (2008), the SheRock Festival (2008), and at the Minnesota Music Awards ceremony. She was also featured on the SummerJam Tour (2007) with legendary,
Grammy Award-winning artists Sly & Robbie. With beatbox partner Carnage (as Ill Chemistry) they headlined The 2nd Nature Tour (2008).
Reggie Harris is a poet, father, grandfather, and cultural worker who has performed throughout the Twin Cities and across the country. He is the program director of In the Belly, a collective of artists and activists that conducts critical intersiciplinary workshops within prisons, homeless shelters, domestic violence programs, alternative school and chemical dependency treatment agencies. In interdisciplinary workshops designed to promote positive notions of self, community, and social justice, the artists use poetry to address themes like identity, power, manhood, fatherhood, American dreams and the value of a woman. Harris is also cofounder of Transitions, a nonprofit organization that provides support services to marginalized populations.
Tish Jones: The founder, executive, and artistic director of a developing non-profit arts organization, TruArtSpeaks, Tish Jones teaches performance art and creative writing in schools throughout the Twin Cities area as well as in prisons and other facilities with youth programming. She is a spoken word artist, activist, educator, and organizer from St. Paul, MN.
A recipient of the Minnesota Verve Grant for spoken word artists, Jones was also the 2009 Minnesota Urban Griot Female Spoken Word Artist of the Year. Well known for her role in community partnerships throughout the Twin Cities, Jones collaborated with filmmaker Rachel Raimist in 2009 on "State of the Cities"- a spoken word film project partially funded by the Minnesota State Arts Board.
She has organized and produced many creative events throughout the Twin Cities and was recognized for her work by local publications, City Pages where she was named "Artists of The Year" and by the Star Tribune as an "Artist on the Verge" in 2007. Jones has performed on many stages, locally and nationally, as both an independent artist and as a member of the 2006 Minnesota Slam Team.
Ibé was born in Kankan, Guinea and grew up moving between Koindu, Sierra Leone; Evanston, IL; and St. Cloud, MN. He now lives in what he calls "The Middle of the Atlantic" with a mailing address in Minneapolis, MN. Ibé is the publisher of AtlanticRock.com, a web site designed to showcase and teach the world about Africans in America. He is the winner of the 2010 Midwestern Voices Award, and was a 2009 Urban Griots' Cultural Award recipient. A member of the Minnesota Spoken Word Association, he received the 2005 Jerome/SASE Verve Grant for spoken word, and in 2004 was nominated for the Minnesota Music Award for Best Spoken Word Artist. Ibé is a writer, but in the tradition of ancient Mandin griots, uses spoken word to get his message across. He is the author of Bridge Across Atlantic, a collection of poems about life between Africa and America.