The Saint Paul Almanac continues its year-round literary celebration of Minnesota's capital city with a provocative and inspiring spoken word performance by the Minnesota Quest Youth Slam Team.
The penultimate 2010 Lowertown Reading Jam on Monday, June 7, curated by Tish Jones, will run from 7 to 8:30 p.m. at the Black Dog Cafe, 308 Prince Street in Saint Paul.
The Minnesota Quest Youth Slam Team is a talented group of multi-cultural poets, writers and performers from urban Minnesota high schools who give voice to an art form that honors and brings forward the stories, experiences, dreams, convictions and perspectives often silenced by the dominant culture.
The team is made up of six youth between the ages of 13 and 19 who have competed in a series of slams since November to win a spot on the team. They're heading to the national Slam competition, "Quest for the Voice," in Washington, DC in July. A free-will, tax-deductible contribution to support the poets' trip will be accepted at the Jam.
Quest for the Voice is a program that celebrates youth voices, leadership and empowerment. Many people from across the community come together each year to make it possible – from teachers to community leaders, artists, the media, and more. Each year, local competition rounds are held all over the Twin Cities metropolitan area, with hundreds of youth competing for a chance to make the qualifying team.
The Almanac has been hosting the monthly Lowertown Reading Jams since October 2009, and they have been steadily gaining in popularity as excited audiences spread the word about their powerful shared experiences. The Jams provide an opportunity to explore and bridge the cultural and social breadth of Saint Paul throughout the year.
The final Reading Jam will be Monday, July 5, 2010. Each Jam is produced and hosted by a well-known writer or spoken word artist. Saint Paul "performance drawing" artist Lara Hanson interprets the readings using Japanese ink brushes.
Free hors d'oeuvres are served, and the Black Dog Cafe offers its "Monday Madness" special featuring a large pizza and bottle of wine or a large pizza and four Summit beer taps for just $20.
All Reading Jams are American Sign Language (ASL) interpreted.
About the artists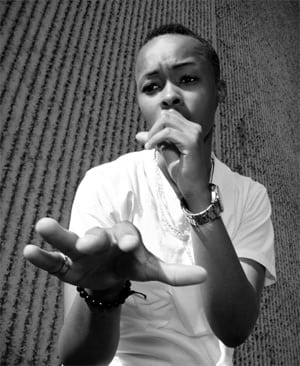 The founder, executive, and artistic director of a developing non-profit arts organization, TruArtSpeaks, Tish Jones teaches performance art and creative writing in schools throughout the Twin Cities area as well as in prisons and other facilities with youth programming. She is a spoken word artist, activist, educator, and organizer from St. Paul, MN.
A recipient of the Minnesota Verve Grant for spoken word artists, Jones was also the 2009 Minnesota Urban Griot Female Spoken Word Artist of the Year. Well known for her role in community partnerships throughout the Twin Cities, Jones collaborated with filmmaker Rachel Raimist in 2009 on "State of the Cities"- a spoken word film project partially funded by the Minnesota State Arts Board.
She has organized and produced many creative events throughout the Twin Cities and was recognized for her work by local publications, City Pages where she was named "Artists of The Year" and by the Star Tribune as an "Artist on the Verge" in 2007. Jones has performed on many stages, locally and nationally, as both an independent artist and as a member of the 2006 Minnesota Slam Team. Learn more about the Minnesota Quest Youth Slam Team at www.myspace.com/QuestForTheVoice