The Pig's Eye Post—back for the third edition
Well, we're back, with more events and literature from the capital of Minnesota Nice, Saint Paul. Believe it or not, our good friend Wikipedia has an entry on "Minnesota Nice."
(By the way, all links in these blog entries will open up in new windows which, when you're done with them, you can close and return right here without any further fuss. We're that helpful.)
Anyway, Wikipedia quotes a fancy schmancy PhD person called Annette Atkins, as defining the cultural characteristics of "Minnesota Nice" to include:
a polite friendliness, an aversion to confrontation, a tendency toward understatement, a disinclination to make a fuss or stand out, emotional restraint, and self-deprecation. It can also refer to traffic behavior, such as slowing down to allow another driver to enter a lane in front of the other person. She notes that critics have pointed out negative qualities, such as passive aggressiveness and resistance to change.
The Almanac is looking for your best "Minnesota Nice story." We'll send the winner either a copy of the 2011 Almanac and/or a cup and we'll send the runner-up whatever the winner didn't want. Send us your stories (400 words max) at stories@saintpaulalmanac.org and we'll post some of the best in the coming weeks!
Upcoming Almanac Events
The Saint Paul Almanac's Celebration through Stories readings are ongoing until early December in coffee shops around the city. The event series features contributors to the Saint Paul Almanac reading their pieces from the 2011 edition. Coming events include the EDGE Coffee House (Oct 19th), Polly's Coffee Cove (Oct 26th), and Mad Hatter Coffee Cafe and Teahouse (Nov 13th). See our Celebration through Stories event page for more information.
Amazing Upcoming Events
The 17th Annual BareBones Halloween Outdoor Puppet Extravaganza: Carnetheria
Using "larger-than-life puppets, shadow puppets, bike puppets, costumes, masks, song, dance, stilting, aerialism, fire artistry, and original music by a live orchestra", the BareBones Halloween Outdoor Puppet Extravaganza in Hidden Falls Regional Park is always an spectacular and unforgettable annual Saint Paul event. As you well know, the Almanac is totally committed to corn dogs but in this case, even if you were to attend this event and find not a single thing on a stick, we'd still be all about it.
BareBones describe this year's show—Carnetheria—as being:
based on concerns that the use of technology and energy without consideration of the possible consequences is causing irrevocable damage, not only to the planet, but to our very humanity, and is inspired by Ray Bradbury's novel, Something Wicked This Way Comes. Carnetheria is an allegorical tale wherein a mysterious Carnival represents the world and we are tempted to exploit its vast resources for temporary satiation of our desires for comfort and security.
Five shows over two weekends: Saturday October 23rd and Sunday October 24th; Friday October 29th, Saturday October 30th and Sunday October 31st. The October 30th show is ASL Interpreted. For detailed information, see www.barebonespuppets.org/halloween-2010/carnetheria/
A Prairie Home Companion with Garrison Keillor
If you've never seen the classic public radio show live, it's taking place at the Fitzgerald Theater on October 21st (with special guests Old Crow Medicine Show, Joe Ely, Sara Watkins and Andra Suchy), October 30th (with special guests Ricky Skaggs and Kentucky Thunder, Heather Masse), and November 22nd (with Minnesota native Walter F. Mondale). Tickets start at around $35 and can be purchased online at http://prairiehome.publicradio.org/tickets/
For other upcoming event listings, check out our Saint Paul Calendar at https://saintpaulalmanac.org/saint-paul-calendar/
R.I.P. Eyedea
Sadly, one of Saint Paul's shining young musical talents, Micheal Larsen A.K.A. Eyedea, passed away on Sunday, October 17, 2010. He lived with his mother Kathy, east of Downtown. Known as a battle emcee, Eyedea toured since the late 1990s, winning top prizes at Scribble Jam in 1999, the Rock Steady Anniversary in 2000, and Blaze Battle Chicago 2000. He toured widely as second emcee and support DJ for Atmosphere, and as part of the duo Eyedea & Abilities (A.K.A. Max Keltgen), his best friend since the age of 14.
City Pages' Andrew Flanagan reported that a new Frogtown open mic event, "Open Minds Open Mic", featuring Eyedea, was scheduled to take place at Coale's Bar and Grill, 719 North Dale Street, St. Paul, MN, on Wednesday, October 20th. At the time of writing this blog, it is presumed this event has been postponed. Please do watch out for this new project in the future, spearheaded by friend of Eyedea and longtime host Shahbaz Shah.
New Almanac writing from Penny Ueltschi, and Annie Wilder, Mary Legato Brownell, and Keng Lee
By Penny Ueltschi and Annie Wilder
Vladimir from the Ukraine had a big heart and would help the girls from the dish room take the garbage out. Eleanor, who worked until she was eighty-five years old, was the baker and backup kitchen supervisor who would treat everyone on the tray line to a dinner roll, dessert bar, or piece of cake. Sandy from Liberia was the comic relief in the kitchen.
Read more.
By Mary Legato Brownell
The bluffs near Shepard Road were steep, nearly
Worn away, over time, by the flooded
Sweep of the river. Minnow pools survived
Those years, there by the edge of the city
Near the cliffs…
Read more.
By Keng Lee
I am a Hmong boy who lives to eat rice.
I wonder how much rice can feed the world.
I hear the sound of Mama packing the rice from the "vab"
I see the steam from the freshly cooked rice that makes my mouth water…
Read more.
Saint Paul Facts: We got 'em, now you know 'em
Support your Almanac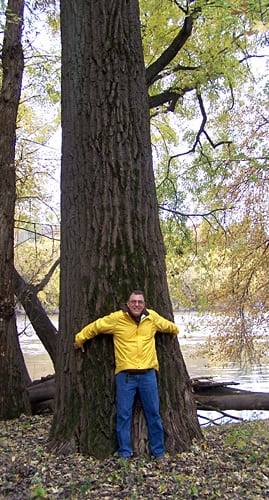 Stay in touch and tell your friends. Please join our email list. Sign up in the red box on the right column of every page on this site. We're also on Facebook and Twitter. Use the share links on this page to let your contacts know about material on our site.
Buy the Almanac. You may have a copy, but do all your friends? Or your enemies? Scientific studies have shown that prolonged reading of the Saint Paul Almanac increases both longevity and quality of life, and reduces general crabbiness! Visit our online store.
Donate to the Almanac. The Saint Paul Almanac builds community through providing forums—in print, online, and at events around the city throughout the year—to share our individual stories. Every year, 2000 students in St. Paul's public high schools receive a free copy of the Almanac. Your donation of $25 will help pay a poet, essayist, or short story writer, or make an almanac available to two Saint Paul Public School students. The Saint Paul Almanac is a 501(c)(3) nonprofit and donations to our mission are tax-deductible. If you love Saint Paul as much as we do, and recognize the value of the Almanac, help us get it out there with a generous donation. Donate online now at https://saintpaulalmanac.org/about/donate/