Poetry you can stomp on?
Here at the Saint Paul Almanac, we clearly value the written word, but there's definitely a time when it's good to walk all over it, scuff it, and jump around on top of it! For the fourth year running, the City of Saint Paul and Public Art Saint Paul have announced the St. Paul Sidewalk Poetry Contest.
The contest is open March 15 through April 17, 2011 and accepts short poems from Saint Paul residents of all ages. Winning poems will be inscribed in sidewalks as part of the City's annual Sidewalk Replacement program and winning poets receive a cash award.
Past winners have included Saint Paul Poet Laureate Carol Connolly, and other published Almanac writers including Margaret Hasse, Diego Vázquez, Jr., and Patricia Kirkpatrick. The project's lead artist is Marcus Young, Saint Paul's Artist-in-Residence since 2006. Since the program was inaugurated in 2008, 31 poems have been impressed into 268 sidewalk sites citywide:
For more information see http://stpaul.gov/poetry/ and http://publicartstpaul.org/everydaysidewalk/
---
MORE LOWERTOWN READING JAMS COMING IN 2011
The entire 2010–2011 season will be presented at the Black Dog Café, a popular Saint Paul venue for spoken word artists, and a co-sponsor of the series. Check back with us, or join our e-mail list or Twitter feed to be informed of coming events.
Apr. 11, 2011 – Marcie Rendon
May 9, 2011 – Desdamona
June 13, 2011 – Melvin Giles
July 11, 2011 – Diego Vázquez, Jr.
---
New writing from Gordy Palzer, Deb Pleasants and Diane Wilson
By Gordy Palzer
It isn't as far from Saint Paul to Nepal as you might think it is. This was all brought home to me several years ago, in the men's room of O'Gara's Bar and Grill on Snelling Avenue in Saint Paul, where I experienced an epiphany while gazing up at its fourteen-foot-high walls, and saw there evidenced a feat of heroic proportions—surely on a par, for ordinary men, that is, with Sir Edmund Hillary and Tenzing Norgay in their conquest of Mount Everest. Read More
By Deb Pleasants
Grabbing the ballet barre to support myself, I attempted to stretch out my right leg. My thigh felt like a vise was twisting it tighter and tighter. The pain was so intense, I was afraid to breathe. I hobbled out of the dance room and nearly collapsed on the hallway floor. Massaging my cramped leg, I watched those energetic adults and wondered how I, a forty-seven-year-old Black woman with no dance experience, ended up in an Irish dance class. Read more
By Diane Wilson
Pale vision on an early day:
two gray wings gliding flat
balance on the body's straight line.
A trill rises from the meadow….
Read more
---
SUPPORT YOUR HOMETOWN ALMANAC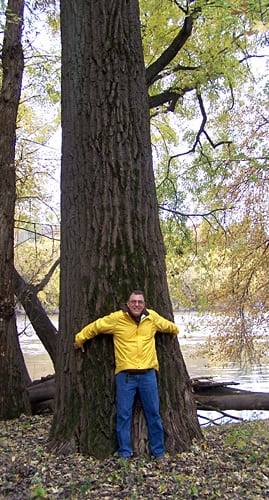 Stay in touch and tell your friends. Please join our email list. Sign up in the red box on the right column of every page on this site. We're also on Facebook and Twitter. Use the share links on this page to let your contacts know about material on our site.
Buy the Almanac. You may have a copy, but do all your friends? Or your enemies? Scientific studies have shown that prolonged reading of the Saint Paul Almanac increases both longevity and quality of life, and reduces general crabbiness! Visit our online store.
Donate to the Almanac. The Saint Paul Almanac builds community through providing forums—in print, online, and at events around the city throughout the year—to share our individual stories. Every year, 2000 students in St. Paul's public high schools receive a free copy of the Almanac. Your donation of $25 will help pay a poet, essayist, or short story writer, or make an almanac available to two Saint Paul Public School students. The Saint Paul Almanac is a 501(c)(3) nonprofit and donations to our mission are tax-deductible. If you love Saint Paul as much as we do, and recognize the value of the Almanac, help us get it out there with a generous donation. Donate online now at https://saintpaulalmanac.org/about/donate