Porky's serves its last burger
Since 1953, Porky's has been the Twin Cities' classic drive-in restaurant, the arena for more than a few mating rituals of members of the Saint Paul species. The restaurant served its last burger on Sunday, April 3rd, 2011.
Nora Truelson, who owned Porky's with her son, began working as a waitress in the restaurant in 1957 before becoming owner Ray Truelson's girlfriend, and later his wife and business partner. Truelson passed away in 1994.
The red-and-white checkered building that houses the drive-in restaurant and two of its signs are being moved from University Avenue, by new owner Steve Bauer, to his historic tourist village near Hastings, MN, the Little Log House Pioneer Village, where the Porky's shell will become part of Bauer's collection of more than 50 historical buildings including several late 1800s and early 1900s structures.
KARE 11 reports that "The restaurant's iconic neon sign of a pig in a top hat was not part of the sale. The Truelsons have put the sign in storage amidst reports they will use it for a new food concession at the Minnesota State Fair."
Local media has been full of stories of Porky's final customers, people who have come from all over the city to relive memories and say goodbye to the iconic location. On April 1st, the Star Tribune wrote:
Russ and Evelyn Rau ordered burgers, onion rings and a strawberry malt to share — just as they've done since 1959.

"When you get older, so many things from your past seem to disappear," said Evelyn, 69, who would still swing by with Russ whenever possible from their home in Inver Grove Heights.

At another table sat Jim Alexander, who grew up in St. Paul and now lives in Shoreview. He said he proposed to his wife along the back fence.

They are still together.
The Almanac's Carol Connolly receives Kay Sexton Award at 23rd annual Minnesota Book Awards
Almanac partner, Friends of the Saint Paul Public Library announced the winners of the 23rd annual Minnesota Book Awards. The annual program is a project of The Friends, in consortium with the Saint Paul Public Library and the City of Saint Paul.
At the Book Awards gala on April 16th, Saint Paul Almanac board member and Saint Paul Poet Laureate Carol Connolly received the previously announced Kay Sexton Award, for her lifelong contributions to Minnesota's literary community. In the words of Carolyn Holbrook, 2010 winner of the Kay Sexton Award,
"Carol's commitment to literature spans several decades and cuts across the many invisible lines that tend to divide us: age, race, economics, political affiliation, gender and sexual orientation."
Connolly works tirelessly for the betterment of the literary community and the community at large. She is committed to supporting other writers, exposing readers to diverse literary voices, and bringing poetry to the streets. The Award is sponsored by Common Good Books.
Mark your calendars for the Spring Saint Paul Art Crawl!
April 29th – Friday evening, 6-10 pm.
April 30th – Saturday afternoon, noon-8 pm.
May 1st – Sunday, noon-5 pm.
Where else can you see art by over 325 resident, guest and gallery artists? And, in such beautiful and historic buildings? And, best of all, it's free! Come and visit with the artists and performers who have made this grassroots event into such a success. Art lovers of all ages are invited to visit artists' working spaces to view a wide range of art and the historic architecture of Saint Paul. Special events, music and more, as well as always-surprising unexpected entertainments add to the weekend's ambiance.
This Spring will be the 31st Saint Paul Art Crawl! One of the largest events of its type in the Twin Cities and the country, the St. Paul Art Crawl is a self-guided tour of over 325 artists' studios and galleries in more than 27 buildings in St. Paul neighborhoods. The Art Crawl continues to be based in Lowertown and downtown St. Paul, but is now extending all the way up to University Avenue/Raymond Avenue, to Grand Avenue, and to Harriet Island and other locations which house artists. Details on artists, buildings and special events are available.
For more information visit www.stpaulartcrawl.org and to browse more events from our Saint Paul Calendar, visit www.saintpaulalmanac.org/saint-paul-calendar/
New writing from Daniel Gabriel, Olivia Berven, and Marianne McNamara
2011 Saint Paul Almanac contributors welcome the change of seasons:
---
SUPPORT YOUR HOMETOWN ALMANAC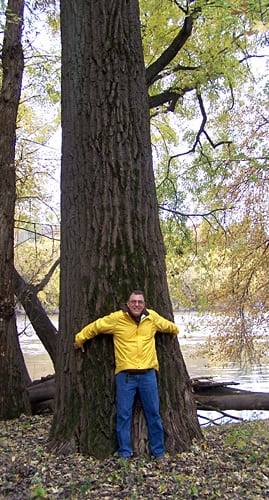 Stay in touch and tell your friends. Please join our email list. Sign up in the red box on the right column of every page on this site. We're also on Facebook and Twitter. Use the share links on this page to let your contacts know about material on our site.
Buy the Almanac. You may have a copy, but do all your friends? Or your enemies? Scientific studies have shown that prolonged reading of the Saint Paul Almanac increases both longevity and quality of life, and reduces general crabbiness! Visit our online store.
Donate to the Almanac. The Saint Paul Almanac builds community through providing forums—in print, online, and at events around the city throughout the year—to share our individual stories. Every year, 2000 students in St. Paul's public high schools receive a free copy of the Almanac. Your donation of $25 will help pay a poet, essayist, or short story writer, or make an almanac available to two Saint Paul Public School students. The Saint Paul Almanac is a 501(c)(3) nonprofit and donations to our mission are tax-deductible. If you love Saint Paul as much as we do, and recognize the value of the Almanac, help us get it out there with a generous donation. Donate online now at https://saintpaulalmanac.org/about/donate