City Paper A-List: The Almanac's Lowertown Reading Jams
City Paper A-Listed the recent Lowertown Reading Jam curated by Desdamona and had this to say about the Saint Paul Almanac's live reading events:
Although the Saint Paul Almanac publishes only yearly, the organization stays active between issues by maintaining its interactive website and putting together cool events, like the Lowertown Reading Jams. Each month, the happening is hosted by a different author of note, who is joined by other up-and-coming artists…. Authors scheduled in coming months include Melvin Giles (June 13) and Diego Vázquez Jr. (July 11).
We'll be publishing more information about the coming Melvin Giles reading jam later this week. Watch this space!
Things To Do Outside: See the city from a fresh perspective!
If you've never done it, you owe yourself a trip on a Mississippi riverboat in St. Paul, MN. Padelford Riverboats offer a calendar of sightseeing and meal-oriented cruises at http://www.riverrides.com/pages/public/calendar.html
Things To Do Outside: Free "Music in the Parks" series
The summer-long series features more than 100 performances by local musicians hosted in Parks throughout the City, including a new noon-time concert feature that boasts a series of performances at Raspberry Island. All the music performances are free, and a variety of genres are featured throughout the summer including; orchestra, blues/jazz, 50's doo-wop and popular music.
May 2011 "Music in the Parks" Calendar
Find Como Lakeside Pavilion on Google Maps.
For more information about Music in the Parks, including the full May-September Schedule, see http://www.stpaul.gov/index.aspx?NID=1357
Brand New Exhibit: "Underwear: A Brief History"
The Minnesota Historical Society is currently holding a Spring-Fall exhibit, titled "Underwear: A Brief History". The exhibit is more than a wintery collection of Minnesotan long johns and thermal bras and invites visitors to:
See the kinds of underpinnings worn by generations past, from Victorian flappers to 1970s modsters. The Minnesota Historical Society holds in its collection the business records, including product samples, of Munsingwear, Inc. View items from the collection including photos, advertisements and clothing like the union suit, women's undergarments made by Vassarette, and men's briefs with the "kangaroo pouch."
Ongoing to Sept. 11, 2011. For more information, visit www.minnesotahistorycenter.org
Last Chance Exhibit: Last month of spectacular woodturning pieces
"There is nothing more sincere and authentic than the curious roadside monuments people erect to commemorate the death of a loved one… Plastic flowers, a partially burned candle in a broken whiskey bottle, a teddy bear with one arm torn off and perhaps an illegible photograph wrapped in a torn baggie, come together, as a sacred monument. Replacing marble and bronze, the bric-a-brac of the modern world can represent our most sacred and profound feelings. As in the highway memorials, the objects represented by the images in this work become a means to access and experience the flow of my own life with some feeling and understanding." — Jim Christiansen
The exhibit in the Landmark Center's Gallery of Wood Art is sponsored by the
American Association of Woodturners, who note "The artists in this international invitational exhibit are professionals, most with work in respected museum and private collections. Their work is rooted by their connection to their medium; woodturning at this level requires deep practical knowledge of tools, techniques and an amazing diversity of woods, as well as artistic talent and dedication to the creative process."
Through June 19th. For more information, visit www.galleryofwoodart.org
Our events calendar is stocked full of ideas of things to do every day:
https://saintpaulalmanac.org/saint-paul-calendar/
Mississippi riverboat and ticket photo courtesy Sharyn Morrow. Browse Sharyn's photostream on Flickr at http://www.flickr.com/photos/sharynmorrow/
---
SUPPORT YOUR HOMETOWN ALMANAC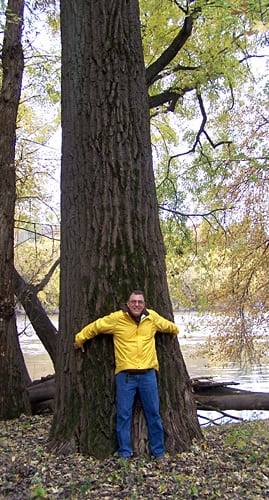 Stay in touch and tell your friends. Please join our email list. Sign up in the red box on the right column of every page on this site. We're also on Facebook and Twitter. Use the share links on this page to let your contacts know about material on our site.
Buy the Almanac. You may have a copy, but do all your friends? Or your enemies? Scientific studies have shown that prolonged reading of the Saint Paul Almanac increases both longevity and quality of life, and reduces general crabbiness! Visit our online store.
Donate to the Almanac. The Saint Paul Almanac builds community through providing forums—in print, online, and at events around the city throughout the year—to share our individual stories. Every year, 2000 students in St. Paul's public high schools receive a free copy of the Almanac. Your donation of $25 will help pay a poet, essayist, or short story writer, or make an almanac available to two Saint Paul Public School students. The Saint Paul Almanac is a 501(c)(3) nonprofit and donations to our mission are tax-deductible. If you love Saint Paul as much as we do, and recognize the value of the Almanac, help us get it out there with a generous donation. Donate online now at https://saintpaulalmanac.org/about/donate