The Saint Paul Almanac is pleased to announce the final in its 2011–2012 season of acclaimed Lowertown Reading Jams, which celebrate the rich literary history of Minnesota's capital city.
The "Many Hats" Lowertown Reading Jam will be presented on Wednesday, July 25th, 2012 from 7 to 8:30 p.m. at the Black Dog Coffee and Wine Bar, 308 Prince Street in Saint Paul. This presentation of the popular and eclectic series, curated by Katie Ka Vang, features performances by Joua Lee, Katie Hae Leo, Sai Chang, Linda Nguyễn, Kathy Mouacheupao, Iris Shiraishi and Simi Kang.
About "Many Hats"
I was first a physical theater actor, then a spoken word poet, then a performance artist, then a theater artist, then a playwright, jumped back and forth between interdisciplinary arts and performance art, and most recently worked in dance and movement. Whatever the art-form may be, I always strive to release a truth, so my heart can open a little easier in hopes that those around me can rearrange themselves more freely. This lineup is made up of people whom I admire, good people, who just happen to be creative beings; people whom I also see as wearing many hats, navigating within their different communities.
— Katie Ka Vang
Watch video of the event
About the Performers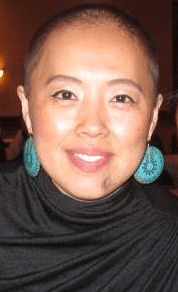 Katie Ka Vang is a performance artist, playwright, poet, and mover. She has been described as a "dynamic performer and relentless writer of truth." She has performed for Pangea World Theater (as ensemble member), Theatre Mu, Pillsbury House Theatre, Exposed Brick Theatre, Ordway Center for Performing Arts, Center for Hmong Arts and Talent (CHAT), and the Walker Art Center. In 2009 she self-released her first chapbook, called Never Said. Her work has been published in Saint Paul Almanac, Bakka Mag., Asian American Press, BlueFifth Magazine and Voices from the Asian American Experience.
Her commissioned performances and plays include wtf, Hmong Bollywood, 5:1 Meaning of Freedom; 6:2 Use of Sharpening (as a Naked Stages Fellow), Youth In Session (CHAT's Creative Drama Youth class), and Myth of Xee (CHAT's Creative Drama Youth class). She's received grants from the Jerome Foundation and the Minnesota State Arts Board, and was recently awarded a Creation Fund to complete Hmong Bollywood.
She's worked with the Center for Hmong Arts and Talent for over a decade as a program director, teaching artist, and volunteer. In 2012, she received recognition for her contributions to improving the lives of Hmong women and the community and was named Woman of the Year. She will be attending Brown University in the fall of 2012 in the MFA Playwriting program.
Joua Lee is a Hmong-American spoken word artist, media-maker, and youth worker from the Twin Cities. She is a graduate of the University of Minnesota, Twin Cities, with a bachelor's degree in Cinema and Media Culture. She champions the unheard such as voices from youth, minorities, and females. Currently, she is serving an Americorps term with the Community Technology Empowerment Project as a youth programs coordinator at the St. Paul Neighborhood Network.
Katie Hae Leo is an award-winning poet, playwright, and essayist whose work has appeared in journals such as Asian American Literary Review, Water~Stone, Mascara, Kartika Review, Midway Journal, Asian American Poetry & Writing, and Asian American Plays for a New Generation (in Sun Mee Chomet's Asiamnesia). Her chapbook Attempts at Location was a finalist for the Tupelo Press Snowbound Award and is available through Finishing Line Press. She holds an MFA in Creative Writing from the University of Minnesota.
Katie's produced plays include Four Destinies, A Single Shard, Baseball Saved Us, Hmonglish Musical (with CHAT's YLG), and the solo piece N/A. She is currently based in Rochester, Minnesota.
Sai Chang is a young woman not quite on the verge of finding herself. To do so, she must write. For her to write, she must live.
Linda Nguyễn believes in love. linda nguyễn lives in minneapolis, goes to library school in st. paul, and enjoys biking over the mississippi river on the lake street bridge. linda nguyễn hustles culture at little saigon do, schemes zine dreams with moonroot, makes prints through the living proof print collective, and has infinite gratitude for the twin cities apia summit fam. linda nguyễn prefers third person to gender pronouns.
Kathy Mouacheupao is a 2012 Bush Leadership Fellow. As the previous Executive Director for the Center for Hmong Arts and Talent (CHAT), Kathy's experience working with talented Hmong artists has inspired and convinced her that the arts hold a powerful force that has been historically ignored. As a Bush Fellow, Kathy is documenting Hmong Art History as it relates to the elasticity of the evolving culture.
Iris Shiraishi is grateful for this opportunity to harvest a few of her 2,357,911 thoughts out of her brain and toss them out into the universe. She is the proud owner of her very favorite "SPAM" cap (in honor of Hawaii) and her second favorite "Basics" running cap. She is a proud friend of Katie Ka Vang, proud spouse of Alex Lubet, and proud mom of Alyssa and Ben. She is also the Artistic Director of Mu Daiko.
Simi Kang is an Indian-American poet, visual artist, and anthropologist based in the Twin Cities. She is currently employed as an anthropologist and will begin the U of M's Sociocultural Anthropology PhD program in the fall. Simi's poetry has been published in the University of St. Thomas literature magazine, the Summit Avenue Review.
About the Saint Paul Almanac
Now in its sixth edition, the Saint Paul Almanac features essays, poems, photos, maps, and listings of events, bars, restaurants, theaters, and other cultural venues within a datebook format. Available in full color for the first time and—another first—includes gorgeous, hand-drawn, poster-size, pull-out maps of the City of Saint Paul and Downtown!
The 2012 Almanac features 129 stories and 180+ photos. Contributors include literary giants, everyday residents, students, journalists, new Americans, and lovers of Saint Paul who live in other corners of the world. Information on upcoming events, how to make a submission, and other Saint Paul Almanac news is available at www.saintpaulalmanac.org.
The 2012 Saint Paul Almanac sells for $17.95 online (including S&H) at www.saintpaulalmanac.org and is available for $14.95 in independent and mainstream bookstores everywhere, as well as at libraries and coffee houses throughout the city.
Saint Paul Almanac's generous partners and sponsors include the City of Saint Paul's Cultural STAR program, McKnight Foundation, Metropolitan Regional Arts Council (MRAC), Lowertown Future Fund, Saint Paul Foundation, Mardag Foundation, F. R. Bigelow, Minnesota Humanities Center, Traveler's Employee Arts and Diversity Committee, Friends of the Saint Paul Public Library, SPPS, Saint Paul Neighborhood Network (SPNN), Black Dog Café, Clouds in Water Zen Center, Twin Cities Daily Planet, and KFAI.
Location & Directions
The "Many Hats" Lowertown Reading Jam will be presented on Wednesday, July 25th, 2012 from 7 to 8:30 p.m. at the Black Dog Coffee and Wine Bar, 308 Prince Street in Saint Paul. RSVP on Facebook