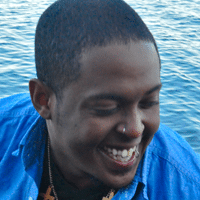 I recently had the opportunity to attend Soul Sounds Open Mic, where the featured artist was Danez Smith, who is a spoken word artist, slam poet, and author. It was an intimate crowd of about 40 people, with some attendees even dressed in Halloween costumes.
The Soul Sounds Open Mic takes place at the Golden Thyme Coffee Café in Saint Paul every week, and is community collaboration between the Saint Paul Almanac and Golden Thyme. The goal of Soul Sounds is to create a safe, multigenerational, and diverse space for people to create and share work while engaging in active dialogue that promotes connection and community.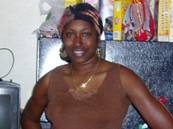 The first artist of the night at last week's Soul Sounds was Mimz, a spoken word artist who shared a poem called The Right One, about her search to find the right man. She also performed a poem about the trials and tribulations of raising her daughter to be a strong and proud black woman, which the crowd enjoyed.
As the artists blessed the stage one by one, they touched on a number of topics: from losing a child, to molestation, to saving one's self for the right person. The evening was also interactive; at least one artist asked the audience members what they thought the poem was about and what message they gained from it.
The open mic is hosted by Tish Jones, a spoken word artist, educator, writer, organizer and community engagement director for the Saint Paul Almanac. Not only does this unique open mic allow local established artist to showcase their work. It also gives emerging artists an opportunity to showcase their talents, while receiving loving and honest feedback from their community.
The environment is warm and nurturing, and artists have a chance to improve on their craft in a safe space. I have been to many open mics, and this is the first one I have witnessed that truly assists in enhancing the growth and wellbeing of the artist.
Jones said the safe nature of the open mic is a result of community demand: artists has asked for a space like this for years. Spoken word artists needed a consistent family-friendly space to fellowship with one another, she said. Participants have expanded their network, gone on to do other performances, had their work published in the Saint Paul Almanac and joined arts organizations either as a board member or volunteer.
Soul Sounds began in June 2012, and has developed and supported many artists throughout the Twin Cities. Each week, Soul Sounds Open Mic features and showcases local established artists. Previous artists have included IBé Kaba, Jake Virden, Marie Chante, Brittany Delaney, Bobby Hickman, Hieu, Mankwe Ndosi, Guante, Mimz, and Ashley Dubose, who competed on singing television show, "The Voice".
While talking to this week's featured artist Danez Smith, I asked him what he thinks is unique about Soul Sounds as compared to other open mics he has been a part of. He said performing in Golden Thymes gives him a greater sense of community and that this space is dedicated to the growth of an artist and this is also a space where views and beliefs can be challenged.
I also spoke to emerging artist Keno Evol, who said that Tish Jones does a great job of supporting and informing the community. He added that he has grown as an artist because of Soul Sounds. Soul Sounds open mics also create space for writing workshops (every first Thursday of each month), prize drawings, networking, teaching and healing.
Sheronda Orridge is the owner and operator of Loving Spirit Life Coach Academy LLC, a life coach for the Network for Better Futures, a writer, a spoken word artist, and a community organizer. She holds a variety of certifications including doula (birth coach), life coach trainer, and facilitator. She is the host of Loving Our Life, aired on SPNN. Sheronda holds two bachelor's degrees in Metaphysical Theology and Metaphysical Science, and is currently enrolled in the University of Sedona pursuing her master's in Metaphysical Science and a degree to become Doctor of Holistic Life Coaching. This article first appeared in the Twin Cities Daily Planet.