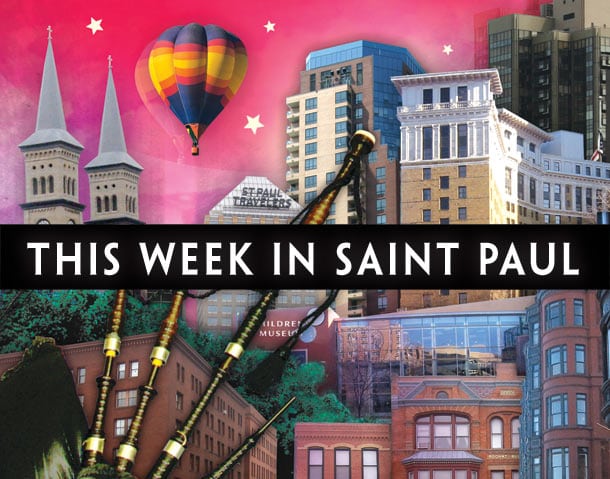 It has been a true Minnesota Winter week, with more to come. Even so, we have found several things that'll make you want to venture outside to where the coziness and heat will make it worth the neighborhood trek.
Books and Literature
Both the book and the music industries have had to come to terms with the fact that Minnesota is anything but fly-over country, in light of the wealth of great music and literature created here. Tuesday, Dec. 10, gives us a chance to take note when SubText: A Bookstore will host a reading by Jim Walsh with his new book, The Replacements: Waxed-Up Hair and Painted Shoes: The Photographic History. The book is an amazing visual record of a band many consider to be one of the best of the 1980s, and the legend of this late and great Minneapolis, Minnesota–based band has only grown since they disbanded in 1991. The reading is at 7 p.m. SubText is located at 165 Western Avenue North.
In keeping with the weekly theme of local history, there will be a book launch celebrating the vision of a man whom many see as the driving force behind the revitalization of Lowertown.
"Weiming Lu is one of America's leading visionaries in urban revitalization," says Richard Moe, President Emeritus with the National Trust for Historic Preservation.
On Tuesday, Dec. 10, Weiming Lu and the Preservation Alliance of Minnesota will celebrate the publication of Weiming's book The Tao of Urban Rejuvenation at the Landmark Center. Get insight into the past and perhaps some context for the continuing development of Lowertown. Landmark Center is at 75 West 5th Street. The event begins at 6 p.m.
Head back to SubText on the evening of Wednesday, Dec. 11, for a reading by the Saint Paul Almanac's own Carol Connolly, who will read from her work along with fellow poet Morgan Grayce Willow. In addition to serving as Saint Paul Poet Laureate and an Almanac board member, Connolly is an award-winning poet whose latest work is All This and More. Grayce's books include the poetry collections Dodge & Scramble, Between, and others. She teaches at Minneapolis Community and Technical College and The Loft. The reading starts at 7 p.m.
For years, Saint Paul–based poet and regular Saint Paul Almanac contributor Margaret Hasse has hosted a gaggle of poets and visual artists at ArtScraps on St. Clair Avenue . On Thursday, Dec. 12, in this final installment of the series, Margaret will read from her new book, Earth's Appetite. Poet Bart Galle will read from his work as part of ArtStart's Poetry Books & Art Series. There will be an open mic for others to share their poetry. ArtScraps is located at 1459 St. Clair Avenue. The reading begins at 7 p.m.
The afternoon of Saturday, Dec. 14, brings more local history, with Jack El-Hai at Common Good Books to sign copies of his new book, Non-Stop: A Turbulent History of Northwest Airlines. The book is made up of stories of the fascinating individuals behind this iconic Minnesotan airline that helped escort our country into the jet age and provided fodder for a pretty good Hitchcock movie. Common Good Books is at 38 South Snelling Avenue. The event begins at 1 p.m.
Spoken word: Soul Sounds Open Mic
Also on Thursday, Dec. 12, this week's Soul Sounds Open Mic features Chia "Chilli" Lor. Chilli was part of the social justice performing arts program Synergy. Her poems have been published in the local literary journal Paj Ntaub Voice ("Storycloth Voice") and the 2012 edition of the Saint Paul Almanac. An "emerging community organizer, poet, and hip-hop artist, Chilli has a vision of impacting the lives of youth, communities of color, and women through the performing arts." The event takes place from 6 p.m. to 8 p.m. at Golden Thyme Coffee Café, 921 Selby Avenue (corner of North Milton Street). All ages are welcome, and there is no cover charge. Bring your poems to share with a supportive audience.
Holiday Treats
Penumbra Theater's Black Nativity
One of the treasured traditions of the Twin Cities' holiday season is the performance of Black Nativity by the Penumbra Theatre. Lou Bellamy will narrate this Christmas story portrayed by some of the region's best talents and backed by the powerful voices of the Fellowship Missionary Baptist Church Mass Choir. This classic runs from Thursday, Dec. 12, through Sunday, Dec. 22. Check HERE for show times and ticket information.
The O'Shaughnessy Theater's Katie McMahon's Celtic Christmas
On Friday, Dec. 13, The O'Shaughnessy presents Katie McMahon's Celtic Christmas. This "Women of Substance" series event features Katie McMahon, the Voice of Riverdance, with special guests. Dubbed Minnesota's own "Celtic Woman," McMahon's show offers traditional Christmas carols, stories, and lively Irish dance while incorporating beautiful carols from all over the world. The event begins at 7:30 p.m. The O'Shaughnessy is at 2004 Randolph Avenue.
SPCO's Bach's Brandenburg Concertos
On Saturday, Dec. 14, the Saint Paul Chamber Orchestra will continue their annual holiday tradition with Bach's Brandenburg Concertos.
These concerts sell out quickly, so you might want to get your tickets right away! The event will be held at St. Paul's United Church of Christ, 900 Summit Avenue, and begins at 7 p.m. Check on tickets here.
Lowertown SantaCon VI
After the kids have gone to bed, the most hearty will want to check out the 6th Annual Lowertown SantaCon starting on Saturday, Dec. 14. The Capital City of St. Paul, Minnesota is once again hosting this event that will take the sting out of the weather and curb the holiday vexing, with emcee Dixie De'Lamour and the Brass Messengers leading the costumed parade from bar to bar. The event website highlights Lowertown SantaCon's accolades:
Lowertown SantaCon was voted "Best Twin Cities Pub Crawl" by City Pages, listed in City Pages' "50 Reasons We Love Winter in Minnesota," City Pages "A-List"-ed, Pioneer Press "Best of the Week"-ed, and shouted-out by DJ Mark Wheat from The Current and DJ Larry Englund from KFAI. We are a Midwestern media-accredited extravaganza of the human holiday spirit!
Festivities begin at 6 p.m. at Golden's Deli, with an all-ages section at the Black Dog Café at 7 p.m., and go all night throughout the Lowertown neighborhood of Downtown Saint Paul. Visit www.lowertownsantacon.info for route information.
Kantorei holiday concert
A great way to end the weekend on Sunday afternoon is with a holiday concert by the local choral group Kantorei. One of the premier choral ensembles in Minnesota, Kantorei has earned a special reputation for its interpretations of European choral music. This concert, "Celebrating the Mystery: Choral Music of Advent and Christmas," will "combine the ancient singing traditions of Europe with modern choral works and hymn favorites, weaving an experience that audience members have called intimate, joyous, peaceful, and reverent." The concert takes place at Saint Mary's Chapel at the Saint Paul Seminary, 2260 Summit Avenue, on Sunday, Dec. 15, and begins at 4 p.m.
Music
Saturday, Dec. 14, Lucia Newell will be at Studio Z in Lowertown. With the impending closure of the Artists' Quarter, Studio Z is one of the venues that is doing their best to pick up the slack and also provide an eclectic offering of emerging and established artists of emerging and established genres. Newell is an internationally acclaimed jazz singer whose voice noted musician and producer Ben Sidran described as having a "warm and pure jazz sound." This event features a workshop at 6 p.m. and a concert at 7 p.m. Tickets can be purchased at the door or in advance HERE. Studio Z is at 275 East Fourth Street, Suite 200.
On Sunday, Dec. 15, the Chamber Music Society of Minnesota will perform with special guest pianist Ieva Jokubaviciute at Hamline University's Sundin Music Hall. This is their first concert of the season, and pieces performed will include Lutoslawski's "Partita" for violin and piano, Suk's "About Mother" for solo piano, and Brahms Quintet for piano and strings in F minor. Sundin Music Hall is at 1531 Hewitt Avenue. For ticket information, check here. The performance begins at 4 p.m.
Kids and Family
In addition to Katie McMahon's Celtic Christmas, there are a few other things for the family this week. On Saturday, Dec. 14, at the downtown Central Library, join the crew for Saturday Live! with Snapdragon Seeds. Snapdragon Seeds is an upbeat, fun program that teaches rhymes, patterns, synonyms, sentence structure, songwriting, movement, and the power of asking questions. The library is at 90 West Fourth Street, and the event begins at 11 a.m.
Also on Saturday, Dec. 14, the Red Balloon Bookshop hosts Midwest native author and illustrator Eliza Wheeler with her New York Times bestselling picture book, Miss Maple's Seeds. Wheeler's tender story celebrates the potential found in each seed—because even the grandest tree and most brilliant flower had to grow from the smallest of seeds. The Red Balloon is at 891 Grand Avenue. The event begins at 2 p.m.
Not enough for you to do this week? To satisfy your Saint Paul busy-ness, be sure to check out other events on our Almanac Arts Calendar. Wherever you go, you're sure to find refuge from the past week's cold. Warm your hands and warm your heart. We look forward to seeing you around town!