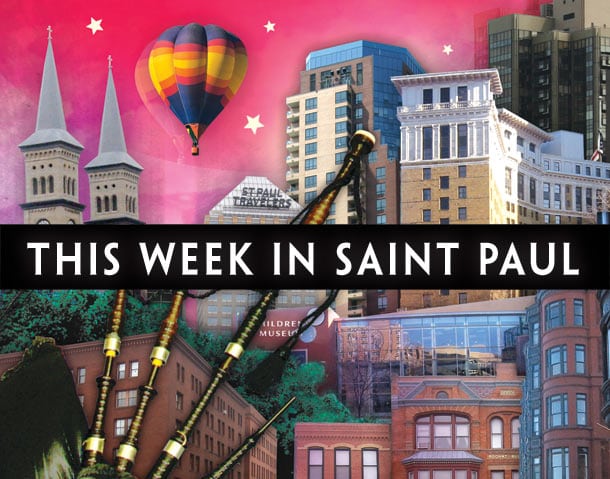 One holiday is over, but the kids are still out of school. Maybe you were able to take in "History Center Holidays" at the Minnesota History Center. If not, the festivities continue through the last day of the year. Whether you already checked that one off your list, or if your family is moving at a slightly different speed, there are several other ways to ring in the new year.
New Year's Eve Events
The Como Park Zoo and Conservatory are holding their Noon Year's Eve event on Tuesday and Wednesday from 10 a.m. until 1 p.m. The fun is complete with noise-maker making, special animal enrichment, zoo keeper talks, Story Time, and a countdown to noon with hundreds of beach balls dropped from the ceiling. Even if you are not celebrating the new year, Como is a great place to escape just about anything in our world that is moving too fast or in the wrong direction. Time for a visit. Como Zoo and Conservatory is at 1225 Estabrook Drive. The Noon Year event is free.
In addition to the Minnesota History Center and the Como Zoo, the Minnesota Children's Museum is saying good-bye to the year with their New Year's Eve 'Ohana Lū'au. 'Ohana is a Hawaiian term that means "family" with connotations of cooperative nature and closeness of blood kin. Hopefully, we have come to know about luaus from sources other than Elvis movies, but you get the idea. The event will feature Hawaiian dance and live music from Will Hale and the Tadpole Parade. You can create your own lei (traditional Hawaiian garland), construct a one-of-a-kind sand castle, make a personalized snack cup, and count down to 8 p.m. While this bends a little bit of cultural etiquette, it is a good place to think warm wishes for a new year. The fun starts at 5 p.m. and goes until 9 p.m. The museum is at 10 West Seventh Street.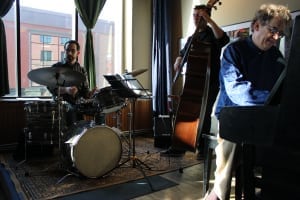 These events are timed so that the youngest can enjoy them before bedtime. Some of us older folks might not be keen on staying up so late, or just don't want to deal with the dubious New Year's traffic or some of the more energetic revelers. Maybe you want an early night—or maybe you just want an early start. Either way, the Black Dog Coffee and Wine Bar has a great New Year's event to kick off whatever you will be up to. New Year's Eve with Todd Harper and Friends will feature Open Season, an impressive collection of musicians to back Black Dog regular Todd Harper on piano. You may be starting or ending your evening at "The Dog," but Lowertown is an excellent spot to experience the changing of the calendar. This show starts at 5 p.m. and might go a little past 8 p.m., but the folks there are promising that you can get to bed by 10 if that is your style this year.
For a slightly ritzier New Year's celebration, you can head to the Saint Paul Hotel for Jazz in the Lobby Bar with JoAnn Funk. Singer/pianist and Saint Paul Hotel Lobby mainstay JoAnn Funk will be joined by bassist Jeff Brueske. The two will bring their swing mix, which includes works from eclectic sources such as "Sinatra, Nat King Cole, John Pizzarelli, Diana Krall, Jobim, Blossom Dearie and Tony Bennett to Patsy Cline, Norah Jones, Leonard Cohen and Boz Scaggs." Get gussied up and join the song and atmosphere starting at 8 p.m. The Saint Paul Hotel is at 350 Market Street, just east of Rice Park in downtown.
You can close out the year and close out an era of Jazz in the Twin Cities for the final event at The Artists' Quarter. Spend New Year's Eve with Carole Martin and Friends and take part in the last of one of downtown Saint Paul's great annual traditions. Carole is described as "the Twin Cities pre-eminent torch song singer, packing an emotional punch with sublime stage stylings." The great music is matched with a great jazz atmosphere and special complimentary hors d'oeuvres, champagne toast, party favors, and more. Call for reservations, though. This is a popular event, and space and time are running out. Call (651) 292-1359 between 7 p.m. and 1 a.m., when they are open for business to get your spot. The Artists' Quarter is at 408 St. Peter Street in downtown. Music starts at 9 p.m.
Holiday Shows
Assuming you survived ringing in the new year, you can get back out and enjoy a bit more or, if you chose to avoid the cacophony of the the previous night's celebrating, you can catch this month's edition of Sample Night Live. On Wednesday, Jan. 1, this fun variety sampler takes place at the History Theatre. Even with all the things we highlight here and in our calendar, this show is a fantastic example of the great art and entertainment offerings in Saint Paul: music, comedy, dance, spoken word, theater, and more. As always, the event will feature a visual artist in the lobby. This month's artist is Anne Miller. The History Theatre is at 30 East 10th Street in Downtown. The G-rated first half of the show begins at 7 p.m. The Unrated second act begins at 8:15 p.m.
On Sunday, Jan. 5, the Minnesota Boychoir will give two performances of their annual Landmark Center Winter Concert. The 100-boy choir's concerts are held at 1 p.m. and 3:30 p.m. Both performances are free. Landmark Center is at 75 5th Street West, across from Rice Park, in Downtown.
Also on Sunday, Jan. 5, head back to Como Zoo and Conservatory for this year's first installment of Music Under Glass. Matt Moberg offers acoustic sounds rooted in folk and Americana. Music starts at 4:30 p.m.
Of course, there is always more going on in Saint Paul, and some of it is here in the Almanac calendar. Check it out and see you around town in the new year!