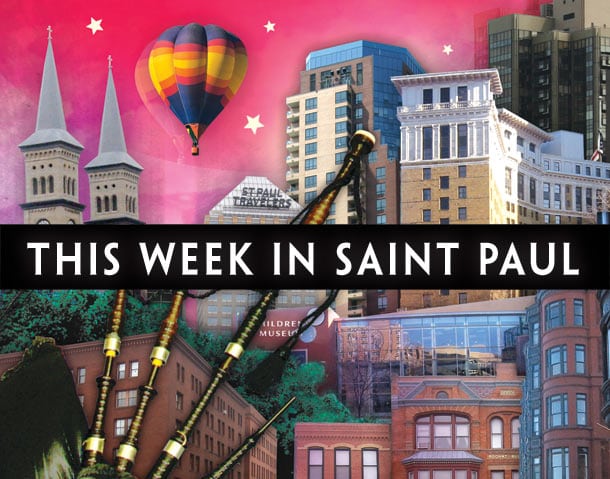 A little more than a week ago, I attended a press conference on the Central Corridor in Frogtown that announced the Victoria Theater Arts Initiative, a new project that will launch an array of arts events and programs for Saint Paul. (Read more about the event and what's in store HERE.) It was great to be out, amongst friends, even though most of the people there were folks I'd never seen before. It made me realize that getting out, even during a winter that has already been too long, makes the short days and low temperatures much easier to bear. It showed the promise of the renovation of a fantastic community space, the continuing ingenuity of the people who have already laid a foundation for great art in Saint Paul—one of the reasons I live here.
Of course, we don't have to wait for the Victoria to enjoy our artistic treasures. We don't have to go much further than the Almanac to get started.
Soul Sounds Open Mic
On Thursday, Jan. 30, get your latest poem, riff, beat, or wordsong ready, or dust off an old one that has had time to stew for Soul Sounds Open Mic. Led by extraordinary teacher Tish Jones, share, attend a workshop, and have fun. This week's Soul Sounds Open Mic features Michael Lee—a writer, performer, and youth worker. He is a recipient of a 2014 Minnesota State Arts Board Artist Initiative Grant as well as a VERVE Grant. Michael ranked ninth at the 2011 Individual World Poetry Slam and was named the 2011 "Best Individual Poet" of the College Unions Poetry Slam Invitational (CUPSI). As always, we'll meet at Golden Thyme Coffee Café at 921 Selby Avenue. The action starts at 6 p.m.
Literature
When I was an undergraduate at St. John's University in Collegeville, I had the opportunity to "study" under the author who had "restored America's faith in fiction." That author was Jon Hassler, who cited the characterization more tongue-in-cheek than with the desperate earnestness of the quote's penner. Still, Hassler could write, and he put Minnesota stories on paper with a more classical focus than Garrison Keillor. Maybe this is why people are invited to Keillor's store for a book discussion, led by his widow, Gretchen Hassler, and longtime friend Joe Plut. They will discuss Hassler's Simon's Night at Common Good Books on Monday, Jan. 27, at 7 p.m. This event is certain to be full of special remembrances, as well as inspiration and appreciation for a noted Minnesota artist. Common Good Books is at 38 South Snelling Avenue.
On Tuesday, Jan. 28, hear a completely different Minnesota story from local prohibition-era history expert Paul Maccabee. Maccabee is the author of John Dillinger Slept Here and will lead this week's History Lounge: The Original Gangsters at the History Center. This will be an evening of storytelling that will lead you in the footsteps of "1920s and 1930s bootleggers, kidnappers, and thieves and the lore behind the days when the likes of Dillinger, Babyface Nelson, Machine Gun Kelly, and Alvin 'Creepy' Karpis walked (or hid in) the streets of Saint Paul." This event is at the Minnesota History Center, 345 Kellogg Boulevard, and begins at 7 p.m.
Maybe you don't think your work has the kind of swag for Soul Sounds Open Mic on Thursdays at Golden Thyme. No matter. On Friday, Jan. 31, head back to Common Good Books and join the open mic to try out what you've been working on in your writer's solitary. Readers are invited to sign up for Poems in Progressvia email to colin@commongoodbooks.com, or in person at the store on Friday starting at 6:00 p.m, and will be chosen on a first come, first served basis. Even if you want to hear some new work from a slightly less obscure poet of the future, stop by at 7 p.m. to lend an ear and support.
On Saturday, Feb. 1, we have a rare and unique opportunity to experience stories from a seldom-heard perspective. Almanac teaching community editor and literature instructor Wendy Brown-Baez teaches creative nonfiction/memoir and fiction at Stillwater Prison through the Minnesota Prison Writing Workshop. She and other instructors will read works on behalf of writers incarcerated in Minnesota's state correctional facilities at Hamline University's Klas Center beginning at 7 p.m. This is the inaugural event for Beyond Bars: A Public Reading. The Minnesota Prison Writing Workshop extends Minnesota's vibrant literary community to prisoners by offering courses and workshops inside the state's correctional facilities. Wendy says, "This reading is an opportunity to be a bridge between the writers on the inside and the community, so we want to keep the focus on them and their work." This is a rare opportunity to hear these voices. The Klas Center is at 1537 Taylor Avenue.
Kids and Family
Three nights this week, the Saint Paul Public Libraries will offer "quality time outside" to gaze at the night sky and learn a few things about the heavens with their STAR PARTY. Join meteorologist Mike Lynch and large reflecting telescopes, including two giant 20-inch reflectors, for close-up views of Jupiter, star clusters, nebulae, galaxies, and other wonders of the winter skies. Bring warm clothing and a lawn chair, if you like. Star Parties are Tuesday, Jan. 28, at Rice Street Library, 1011 Rice Street; Wednesday, Jan. 29, at the West 7th Library, 265 Oneida Street; and Monday, Feb. 4, at Como Streetcar Station, 1224 North Lexington Avenue. Star gazing goes from 6:30 to 8:30 p.m. each night.


Join SteppingStone Theatre for Black History Month with their production by local playwright, the late Deborah Torraine: The Black Snowman. In this production:
Jacob and his brother build a snowman from the grimy snow of city streets. When they place the kente—a colorful storytelling cloth from Africa—around its shoulders, the snowman magically comes to life, and shows them stories of their ancestry and culture.
The show is complete with the usual great casting and African drumming. Shows begin Friday, Jan. 31, and run through Feb. 23. Check the link above for show dates and times. There will be a special reception in the playwright's honoron Sunday, Feb. 2, after the 3 p.m. performance. The SteppingStone Theatre is at 55 North Victoria Street.
You can visit the Minnesota History Center each weekend of February for History HiJinx: Black History Month. Join your neighbors and staff in an array of activities, see the Minnesota's Greatest Generation exhibit, and learn about Harold Brown, a World War II Tuskegee airman. Try on a parachute pack and make your own model aircraft. The History Center is at 345 Kellogg Boulevard. Activities start at noon.
Theater

In addition to SteppingStone's Black Snowman, Saint Paul stages are bringing other important stories with local ties. Many of us know the story of the Midwestern boy who, in the turbulent 1950s and 1960s, formed a lasting friendship and pen-pal connection with the great Jackie Robinson. Ron Rabinowitz moved to the Twin Cities in the mid-1960s, and the story of his childhood is being told at the History Theatre. The Incredible Season of Ronnie Rabinovitz is playing Saturday, Feb. 1, through Sunday, Feb. 23. Whether you already know the story or want to rediscover this important mid-century relationship, it will warm your heart on these cold days. The History Theatre is at 30 East Tenth Street downtown. Check the link above for dates and show times.
Music
On Thursday, Jan. 30, it's time again to head down to the James J. Hill Reference Library for the latest installment of "Loud at the Library!" If you have never been to this venue, in the eastern section of the downtown Central Library, this is a fun way to experience this beautiful public space. This month, Loud at the Library presents Aby Wolf: Wolf Lords, featuring one of the region's premier vocal talents delivering "textures that range from spare and atmospheric to stomping electro-pop triumphs." The library is at 90 Fourth Street West. Doors open at 6:30 p.m. Trivia fun begins at 7:15 p.m. Music starts at 8:15 p.m.
On Friday, Jan. 31, and Saturday, Feb. 1, "Keys Please" invites special guest Julie Johnson to their annual concert at Studio Z. Keys Please is pianist-composers Carei Thomas, Todd Harper, and Paul Cantrell. This genre-hopping collaboration promises "an evening of sonic surprise, wonder and beauty." Studio Z is at 275 East Fourth Street, Suite 200. Performances begin at 8 p.m. both nights.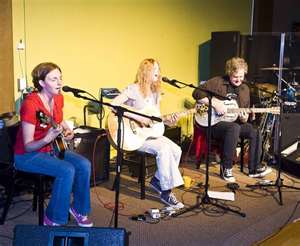 Saturday, Feb. 1, is the first Saturday of the month, which means Nikki Matteson and Rich Rue from Nikki and the RueMates will be at the Black Dog Coffee and Wine Bar. They bring their acoustic blues rock, country blues, soulful old-timey, and psychedelic folk to Lowertown once again. The Black Dog is at 308 Prince Street. The show starts at 8 p.m.
After all of this, if you still are looking for something to do, there are plenty of ideas in the Almanac events calendar. It's too cold to stay inside. Check out what's happening in Saint Paul and your winter will not be as long. See you on the town!