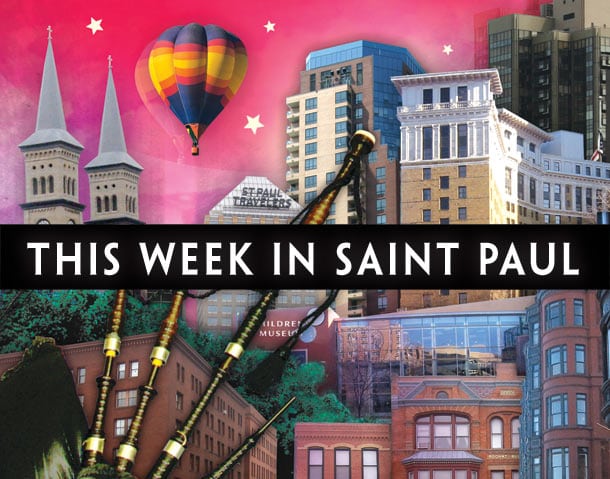 Welcome to single-sort, curbside recycling, Saint Paul! We are following the simplest of recycling adages: keep it simple and people will use it. If I can fit all of my recycling into one bag, will I have room for more art in another? Saint Paul is reducing, reusing, and recycling. I hope this affords us more creative spaces and the time to fill them with talent. I've listed a few examples here.
Town of Words and Letters
April is National Poetry Month. I'm not sure why someone picked April. Maybe it is because the month matches the tone of what I like to call the Barrett/Browning/Dickinson station of verse. The blooming spring tricks us into believing poetry is about love, except for the stuff that is about death. We've seen a broad range around town from a lot of great poets. On Tuesday, April 15, one of our esteemed poets and the Saint Paul Poet Laureate, Carol Connolly, will host this month's edition of Reading by Writers.
Tuesday's reading will include some icons of poetry, well established nationally to decades of acclaim. They include Robert Bly, Louis Jenkins, Freya Manfred, and Thomas R. Smith. As Connolly says, "This combination of poets brings a depth of history, activism, beauty, and wisdom from world citizens grounded in the Midwest."
If you know the work of these poets, you owe it to yourself to show up; if you are young enough or new enough to the literary world, you owe it to yourself to show up. You won't often find this kind of star power concentrated in any one point on earth. Show up at 7 p.m. for music and 7:30 p.m. for the reading at the University Club, 420 Summit Avenue.
Soul Sounds Open Mic is one of the gardens where the next generation of poetry icons is being cultivated. This is not hyperbole. We have some nationally recognized, award-winning spoken-word artists among us, and Tish Jones is one of the leaders of an emerging collective of brilliant voices. This Thursday, April 17, like every Thursday, folks will gather at the Golden Thyme Coffee Cafe. To celebrate National Poetry Month, they will honor the reason for gathering: the poet. Bring your favorite poem from your favorite poet or the favorite of your own work or, better yet, bring poem number 17 from your 30/30 challenge. (Many of us are writing a poem a day each day of National Poetry Month, and Thursday is the 17th.) Or, as Tish says, you can "just listen as we fill the space with new, old, polished, and imperfectly perfect poems." Things get started at 6 p.m. Golden Thyme is at 921 Selby Avenue.
If you are not reading poetry this month, hopefully you are writing some or just wanting to hear some great writers and speakers. If you need it in smaller, more convenient doses, take a lead from veteran Lowertown Reading Jam curator and widely admired local poet and teacher, Heid Erdrich. She is doing a bit of curating on Twitter for National Public Radio's Tell Me More. Follow the hashtag #TMMPoetry. Read a few. Submit a few. I am.
Music

Get ready to clap, move your body, and move your brain around the lively music of Orkestar Bez Ime (pronounced or-KESS-star behz EE-meh). Their lively music transports us to the fictional land of "Rogaria," population six, through the sounds of the Rom people of eastern Europe. As on every third Thursday of the month, they will be at the Black Dog Coffee and Wine Bar. The music gets underway at 7:30 p.m. The Black Dog is at 308 Prince Street in Lowertown. I dare you to sit still and not have fun.
The legendary Donald Washington Quartet will be at the Black Dog on Friday, April 18, to weave sublime and intimate landscapes. Washington will be joined by Kevin Washington on drums, Brian Roessler on bass, and Eric Jackobson on tuba. It is not every day that we get to hear a saxophone talk, and if you head down to the Black Dog on Friday, you will hear the other instruments talk back. I wonder what they will say.
Word just came across my desk that, due to a late cancellation, Almanac photo editor and web manager Nigel Parry will be performing with his band, Pocket of Resistance, at the Black Dog Café on Monday, April 14, at 7 p.m. No cover. Come hear folk-world-punk fusion from within the Almanac family! Listen to his track "Peacemakers" below:
[soundcloud url="https://api.soundcloud.com/tracks/23211046″ params="color=ff5500&auto_play=false&hide_related=false&show_artwork=true" width="100%" height="166″ iframe="true" /]
The music series at Ginkgo Coffeehouse has established the venue as a favorite for folk and bluegrass performers. This spring, they have a full and amazing lineup, and also on Friday, April 18, singer-songwriter Ellis will return to the Ginkgo stage along with songwriting duo Moors & McCumber.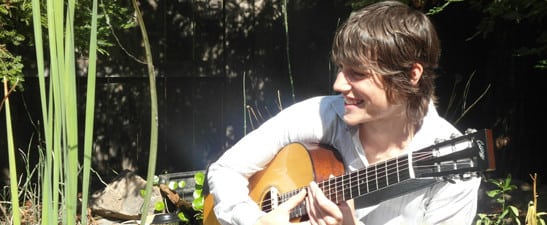 Following her appearance on "A Prairie Home Companion," Ellis was flooded with with a wave of gushing fan mail as fantastic as the clash of water metaphors I just used. Metaphors aside, her voice is clear, her songs are true, and her show will put you in a nicer, better place than the busy week that brought you there. Moors & McCumber bring a fun mix of smoky mountain and bluegrass that often slips into harmonies reminiscent of the Crosby-Nash collaboration. David Crosby used to call this unplugged music "wooden music." You can hear and feel the vibrations and energy starting at 8 p.m. (although you might want to grab your tickets and a java earlier). Ginkgo is at 721 North Snelling.
The next day, Saturday, April 19, Ginkgo will host two shows. The first features Sweet Rhubarb. Their melodies and harmonies are indeed sweet. Influenced by several American music traditions, this trio sports three song-penning musicians with three strong voices. Sweet Rhubarb opens at 7 p.m. At 9 p.m., the space will be taken over by Yellow Plate Hotel, who play with a tender darkness with a mellowed grit. They sample a bit of Americana with what they call "themes of love, separation, and desire."
Theater Seats
Exiled American spoken-word poet Kosal Khiev fled Cambodia with his family as a one-year-old. He did not ride a plane again until 2011, at the age of thirty-two, when he was forcibly sent back to Cambodia. The film Cambodian Son documents his life post-deportation, following him from the streets of Phnom Penh to the stages of London during the 2012 Cultural Olympiad, all amid his rising fame and complicated identity. "Armed only with memorized verses, he must face the challenges of being a deportee while navigating his new fame as Phnom Penh's premiere poet," says the filmmaker. This screening is part of Director Masahiro Sugano's special North American educational/promotional tour. It will be held Tuesday, April 15, hosted at Hamline University–Klas Center (third floor) in the Kay Fredericks Room, 1537 Taylor Avenue at 7 p.m. The screening will be followed by a discussion. This is a fascinating story with a fascinating subject.
The Minnesota Opera is currently playing The Magic Flute at the Ordway Theater. This version of the classic Mozart work was created by director Barrie Kosky and the British theatre group 1927. Follow the journeys of Prince Tamino in a production that comes to life with a mixture of film animation and live performance. Check here for show dates and times. The Ordway is at 345 Washington Street in Downtown.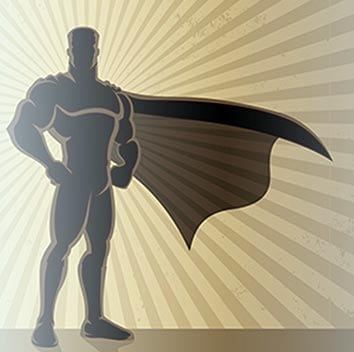 Did you ever wonder where Superman came from? The usual answer is Krypton. But he was really the creation of two Cleveland, Ohio, teenagers, Jerry Siegel and Joe Shuster. The History of Invulnerability tells the story of the creation of the comic book icon and notes that Kryptonite was not the sole vulnerability of Superman. The Minnesota Jewish Theatre Company production run starts Saturday, April 19. Check here for details on dates and showtimes. Shows are at the Hillcrest Center Theater, 1978 Ford Parkway.
There is a lot more going on, and you can find even more art, literature, and fun on the Almanac arts calendar. It's not quite as powerful as Superman, but I hope that it is one thing that makes your week easier.