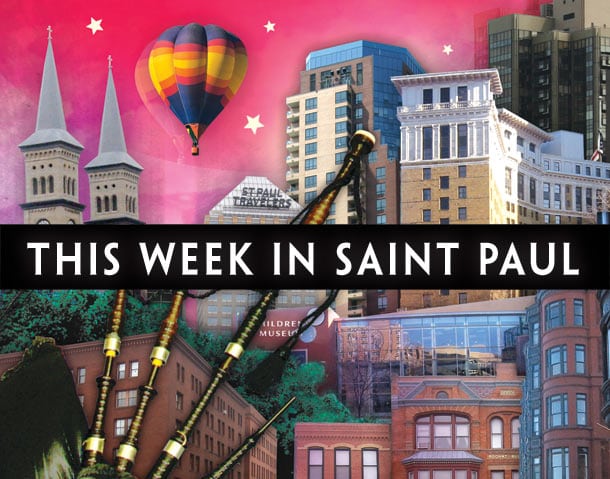 Last Wednesday, May 14, The Saint Paul Almanac took home top prize in the Travel category at the Midwest Book Awards. We were finalists in the categories of Culture, Midwest Regional Interests: Text, Reference, and, thanks to our awesome web man Nigel Parry, Publisher's Website.
This is the work of a great community, an Almanac family that is proving its value in a lot of different corners of the our Saint Paul world, and beyond. We are proud, not so much for the awards, but more for the unique and amazing work we do with a rare assembly of community members who continue to create something special.
Words in the Almanac Family
It is time again for Carol Connolly's "Readings by Writers," a delightful parade of established writers. On Tuesday, May 20, Carol will host writers such as May Lee-Yang—a poet, noted playwright, and veteran of Saint Paul Almanac's Lowertown Reading Jams—and Mary Ann Grossman, who has written more about the local literary scene than anyone.
Also in this lineup of stars are Cass Dalglish, Miriam Karmel, Jeanne Lutz, Margaret Shryer, and Faith Sullivan. Carol is one of the few people who can consistently gather such literary heft month after month. It's worth the visit. These evenings always start with music from violinist Mary Scallen and flutist Jim Miller from 7:00 p.m. to 7:30 p.m. The readings follow. "Readings by Writers" is held at the University Club, 420 Summit Avenue. Authors will have books for sale after the reading.
On Thursday, May 22, Soul Sounds Open Mic will host a special edition featuring RACDB, an effort to create a "Rondo Renaissance" on University Avenue in Saint Paul, along the Green Line light rail line from Griggs Street to Rice Street. This community event will be a catalyst for efforts directed at developing a Historic Rondo Arts, Cultural, and Heritage District. It is a chance to participate in creating the words of a narrative that will bring positive change and vitality to an evolving community.
Books and Literature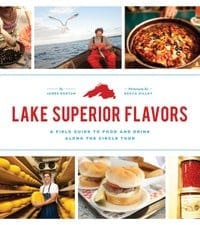 The folks at Heavy Table are interested in small, neighborhood restaurants with a flair for "ethical eating," and they like to celebrate the delicious, the creative, the honest, and the heartwarming. On Wednesday, May 21, two of the crew from the online publication will be on hand at the Saint Anthony Park Library with their book Lake Superior Flavors: A Field Guide to Food and Drink along the Circle Tour. Author James Norton and photographer Becca Dilley will be on hand to give a literary and pictorial tour of Lake Superior, some of the local food, and the landscape that makes it so special. This event is co-sponsored by our friends, The Friends of the Saint Paul Public Library and Mississippi Market Natural Foods Co-op. The Saint Anthony Park Library is at 2245 Como Avenue West. The event begins at 7 p.m.
On Thursday, May 22, SubText will host a poetry performance by two Minnesota poets, Athena Kildegaard and Su Smallen. I say "performance" because I know that Su Smallen doesn't read her poems. She says that she doesn't want to be looking down at a page when she is talking to people, but she is pure poet. He work is lovely, clever, and very smart. According to Minnesota poet laureate Joyce Sutphen, Athena Kildegaard's work will "make a lot of people sigh and wonder where they went astray on the road of love." The two poets together are sure to inspire a lot of love and love poetry. Meet Smallen and Kildegaard at 7 p.m. SubText: A Bookstore is at 165 Western Avenue North.
Families
What are you doing Thursday? The newest branch of the Saint Paul Public Libraries will be opening in the Arlington Hills Community Center. Thursday, May 22 is the day to celebrate the opening and meet your neighbors. They will have dance and music performances, storytimes, gym games, a jump castle, a climbing wall, face painting, a Minnesota Viking autograph session, and more. Mayor Chris Coleman will speak at 5:15 p.m. This new, beautiful building is at 1200 Payne Avenue (at Maryland). The event begins at 4 p.m.

How about some music fun? The Saint Paul Chamber Orchestra provides several opportunities to sample their work for free. To make their art accessible to audiences, they are not forgetting about the children. On Saturday, May 24, Start the Music! Pounding Percussion: Meet the Percussion Family is a chance for children ages 3–6 to experience the instruments of the orchestra, get familiar with the music, and sit for a mini-concert that lasts about as long as a preschooler's attention span. There are two shows, one at 10:15 a.m. and another at 11:15 a.m., but the doors open and the fun starts forty-five minutes beforehand. Fun, music, and refreshments are at the The Music Room at SPCO Center, 408 Saint Peter Street, Third Floor in Downtown.
Music
If we sing, good weather will come. At least that might be the philosophy behind this month's start to Music in the Parks, with performances in our parks each Sunday through Thursday until the beginning of September. It is an eclectic, family-friendly lineup of some of our area's most entertaining bands, ranging across genres of jazz, concert, Middle Eastern, marching, orchestral, and more. Some dates will have theater and variety performances. Most of the performances are at the Como Lakeside Pavilion, but the bands are making use of several of our other great park locations, including Lowertown's Mears Park. Check out this week's lineup or for the rest of the summer here.
On Friday and Saturday, May 23 and 24, the Saint Paul Chamber Orchestra will be playing a concert highlighting the work of Benjamin Britten. "The Turn of the Screw" is a rarely performed masterpiece of Britten's and is presented as part of the orchestra's Britten festival. Check out Saint Paul's renowned SPCO at the Ordway Center. Both shows are at 8 p.m. The Ordway is at 345 Washington Street, Downtown across from Rice Park.
EELS is the concept and muse of singer/songwriter/musician Mark Oliver Everett. Sometimes, listening to him will make you think you are hearing what would happen if Tom Waits and Elton John had a musical child. Other times, there seems to be this channelling of Gram Parsons, Alt-Indie-like. Maybe there are some more contemporary references, and according to critics the sound is even more varied than those two references, but you can find out for yourself on Sunday, May 25, when EELS will be live in concert at the Fitzgerald Theater. The show begins at 7:30 p.m. The Fitzgerald is at 10 East Exchange Street.
Film
Golden Thyme Coffee Shop has been hosting an amazing film series, Fourth Fridays at the Movies. The folks at Golden Thyme have been unearthing classic gems of African and African American filmmaking from the past and bringing them to to the public each month. This month's screening is of the 1947 film "Junction 88," a story of star-crossed love and the hope that love will win. The social hour starts at 6:30 p.m., and the movie begins at 7 p.m. Golden Thyme is at 921 Selby Avenue.
I would like to say that I have told you all you need to know, but really, to do that, you need to read your copy of the Saint Paul Almanac and check the Almanac arts calendar because there are more than a few award-winning performances going on around town.