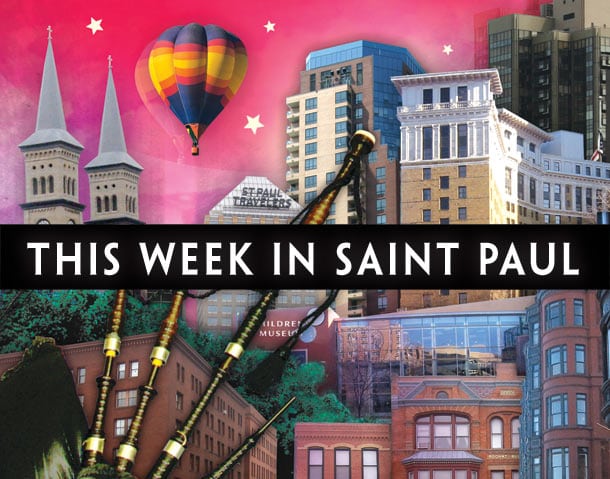 After last weekend, you might be thinking there couldn't possibly be any art or culture left in the Capital City. Okay, I guess you know better than that. For a lot of young people, this is the first full week off from school and the weather has been cooperating—except for a couple of rained-out baseball games and a picnic—and everyone needs to be out of the house and busy. This week's TWISP (This Week in Saint Paul) is the fix.
In the Almanac family
After a couple of decades living in Saint Paul, it is probably time I embrace more local traditions, even if they were carried across the pond by many who grew this city. I am talking about Bloomsday, the celebration of James Joyce's Ulysses. I can be forgiven, in part, because the first celebration did not happen here until the early 1970s, long before I discovered any interest in poets, dead or alive.
Thankfully, "Almanac's own" and Saint Paul Poet Laureate Carol Connolly will present a Bloomsday edition of her Readings for Writers series. On Tuesday, June 17 (a day after the traditional celebration), Carol will trot out a deep roster of artists. They include: bagpipe player Mike Faricy; award-winning poet Michael Moos, whose books include Dog Music and Bark; poet and Midwest Book Award finalist Cary Waterman, the author of five books, including her latest, Book of Fire; poet, actor and director, Matt McConnell, the author of Does the Sky Go On Forever (whose work will be read by Gene Bjorklun); Minnesota Book Award–winning poet Kate Green, whose newest book is Tourist in the New Land; prize-winning poet and former Hennepin County District Court Judge Franklin Knoll; Cullen Bailey Burns, whose two books of poems Slip and Paper Boat were both finalists for Minnesota Book Awards; Jim Rogers, poet, noted essayist and director of the Center for Irish Studies at the University of St Thomas, whose new book is Northern Orchards: Places Near the Dead; and poet and actor Molly Culligan who will read Molly Bloom's soliloquy from Joyce'sUlysses. It is a long list for a big day. Readings for Writers is at the University Club, 240 Summit Avenue. As usual, music starts at 7 p.m. Authors take the stage at 7:30. Authors' books will be for sale at the event.
Emerging Saint Paul artists are creating their own lore and tradition. The relatively new and growing circle of poets will meet Thursday, June 19, as they do each Thursday, at Golden Thyme Coffee Cafe for Soul Sounds Open Mic, hosted by star spoken word artist Tish Jones and featuring Indiana-born artist TOO BLACK. He came to his stage name out of a desire to challenge the perceptions of blackness and humanity in general. He counts George Carlin and Malcolm X among his many influences, and he is a part of poetry movement called Street Poets Collective. Like a preacher in a rocking church, TOO BLACK has a working dialogue with the audience and draws from personal experiences and past and current events. Come share your own work, listen to colleagues' work and see TOO BLACK perform. Golden Thyme is at 921 Selby Avenue. Open mic gets started at 6 p.m. Everyone is welcome.
On Friday, June 20, Storymobile will be at Ober Center, 376 Western Avenue, from 2 to 6 p.m. for Peace Celebration, an event that continues a grassroots tradition of uniting the commuinty around the common goal of peace and solidarity. There will be free food, games, entertainment, other fun, and, of course, stories.
Words and letters
On Tuesday, June 17, Books & Bars discusses Herman Koch's The Dinner. Books & Bars is "reinventing the book club" in a fun way. This week's open book club/show will be at The Amsterdam Bar & Hall, 6 West 6th Street (at Wabasha). Fun starts at 6:15 p.m. Have a pint and a page—or just a page and some fun.
On Wednesday, June 18, John Brandon will be at Common Good Books to read from his new collection of stories, Further Joy. Short stories fit into a busy summer schedule, and and Brandon gives us varying landscapes and characters in what the New York Times calls "snappy and eccentric" dialogue to show the lives of people on the verge of finding out what they can get away with and what they can't. Common Good Books is at 38 South Snelling Avenue. The reading is at 7 p.m.
Summer continues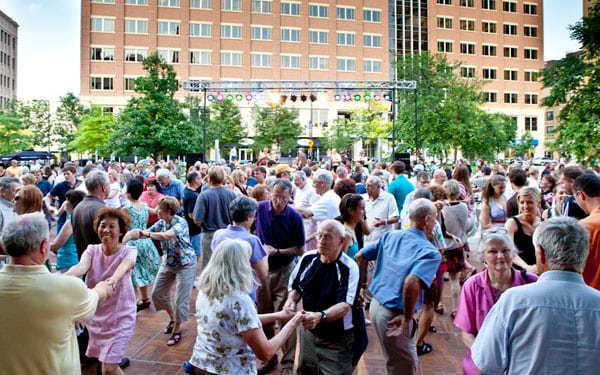 Thursday, June 19, kicks off the Ordway's Summer Dance Series. It's an opportunity to get a quick dance lesson and then dance in one of the popular styles of the past century to a live band under the night lights in Downtown's Rice Park. This week is R&B and Soul-Steppin'. The dance lesson starts at 6 p.m. with the TC Steppers and Kevin Johnson. Music starts at 7:15 p.m. with the band Ray Covington & The Maxx Band. Rice Park is between Washington and St. Peter Streets and 5th and 4th Streets, and is surrounded by the Ordway, Landmark Center, the Central Library and the Saint Paul Hotel.

It is still festival time. This week is GermanFest. Held at one of the city's newest artist conclaves, the Historic Schmidt Brewery, home of the Schmidt Artist Lofts, GermanFest is different from many Oktoberfest events. There will be beer, but this event is a celebration and showcase of German and German American culture and its place in our community. The festival is free and will be held on Saturday, June 21, from 10 a.m. to 10 p.m., and Sunday, June 22, 10 a.m. to 7 p.m. The days will be filled with music, food and other entertainment. There will also be a VIP Pre-party on Friday, June 20, where you can sample a brew and dance the night away. Doors open at 5 p.m. and music starts at 7 p.m. The Historic Schmidt Brewery is at 882 West 7th Street (Old Fort Road).
Remember, you can still check out Music in the Parks, Groovin' in the Garden and Music Mondays at Como Zoo and Conservatory (1225 Estabrook Drive), and Music in Mears, this week with Benjamin Cartel opening for Farewell Milwaukee (Mears Park, 221 East 5th Street).
Music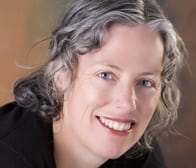 On Tuesday, June 17, The New Ruckus presents Composer Night at Studio Z. Composer Night is an opportunity for composers to present their work, chat with the audience, receive feedback, and connect with others with a passion for musical adventure. This month's artists are Catherine Dalton and David Andree. The event begins at 7 p.m. Studio Z is at 275 East 4th Street, Suite 200, in Lowertown. The event is free and friendly.
Along with places like the Black Dog Cafe and Wine Bar and Studio Z, Señor Wong's is one of the places that is helping keep jazz in Downtown and Lowertown.
On Saturday, June 21, hear Say Lovey in Señor Wong's lounge. Say Lovey's members bring their influences of jazz, rock, gypsy, classical and blues to create souped-up jazz standards and originals. Señor Wong Restaurant & Cocktail Lounge is at 111 Kellogg Boulevard East. The music starts at 8 p.m.
Theater
There is a fair amount of good theater happening in Saint Paul this summer. One treat is the free production by the Classical Actors Ensemble of Love's Labor Lost. This summer, they will be performing several outdoor productions, including one at Merriam Park Terrace on Sunday, June 22. This is a Shakespeare comedy about the King of Navarre and his court who must choose between the virtues of a contemplative life and the pleasure of a beautiful princess. Merriam Park is at 2000 St. Anthony Avenue, just west of Prior Avenue and south of the freeway. The show starts at 2 p.m. The event is free but donations are welcome if you are able.
Keeping the young folks busy and engaged
We have mentioned before the libraries' Library After Dark at the Rice Street Library (1011 Rice Street, Mondays after closing, 8 p.m.) for teens only. We have a few other ideas this week for teens.
The Saint Paul Public Libraries are hosting Fontmaking Workshops for teen artists. Renowned typeface designer Chank Diesel will lead participants as they create a letter of the alphabet that they can download, combine with others in the workshop and use for themselves. Chank will talk about being a self-employed, creative individual and give a slideshow of some if his work. There are four sessions: Monday, June 16, 4 p.m., at Hayden Heights Library, 1456 White Bear Avenue; Tuesday, June 17, 4 p.m., at Rondo Community Outreach Library, 461 North Dale Street; Wednesday, June 18, 4 p.m., at Rice Street Library, 1011 Rice Street; and Thursday, June 19, 5 p.m., at Arlington Hills Community Center/Library, 1200 Payne Avenue.
On Tuesday, June 17, teens can head over to the Merriam Park Library for Irish Dance with Sarah Weaver. Here is an opportunity to learn some reels, jigs and traditional circle dances, hang out with other young people and get ready for the fun at The Dubliner, Celtic Junction or just about anywhere else in Saint Paul. Don't wait for St. Patrick's Day. The music and movement start at 6:30 p.m. The Merriam Park Library is at 1831 Marshall Avenue.
The Libraries' Summer Reading Program is underway. There are two more launch dates and a whole summer of literary adventure. Your library is sponsoring a way to stave off boredom and to provide many avenues for fun for early readers to teens. Read (alone or with someone else) and complete fun activities, and earn book prizes and enter drawings for prizes. Check out these great events over the summer and learn more at your local library branch. You spent all year using your brain for school; it's time to use it for fun! Remaining launch dates include Monday, June 16, 2 p.m., at West 7th Library, 265 Oneida Street, with Amazing Jeffo and Tuesday, June 17, 10:30 a.m., at Riverview Library, 1 East George Street, with Mr. Norm's Reading Magic Show.
The Red Balloon Bookshop also has a lot going on with its book events and book clubs. They have a Teens Read Book Club, which meets monthly and currently has a waiting list; a Guys Read Book Club, which will be talking about The Boundless by Kenneth Oppel next week (so get a copy today and join the club); a Girls (and Moms) Book Club, which met last week; and, this week, the well-known Chapter & Verse Book Club. They pick a kids and young adult book each month. This month's selections are the slightly creepy and hilarious Grasshopper Jungle by Andrew Smith for young adults and The Noisy Paint Box by Barb Rosenstock for younger children. Chapter & Verse meets on Thursday, June 19, at 6:30 p.m. The Red Balloon is at 891 Grand Avenue. Participants are also encouraged to bring another title that "stretches your boundaries."
The Red Balloon also holds many kids' book events. Be sure to check out this week's author events at the store, which include one on Sunday, June 22. As part of the Red Balloon's Summer Reading Series, they will present four young adult writers on the Fierce Reads Tour. Join authors Leigh Bardugo (Ruin & Rising), Ava Dellaira (Love Letters to the Dead), Emmy Laybourne (Monument 14: Savage Drift), and Jennifer Mathieu (The Truth About Alice)! Each fabulous author will be discussing her book and answering questions. This event starts at 5 p.m. There will be refreshments!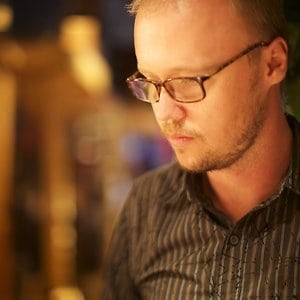 Here's something you might want to do no matter how young or old you are. "Breadcrumbs" is a fun, public art, photography project developed by Karl Warnke, Katherine Jean Anderson, and Alauna Yust. Breadcrumbs features photo clues and clues from locales around the Saint Paul skyway system along the Green Line.
Keep your eyes open for crumbs in unexpected places and see where they lead you! Look for clues — otherwise known as "crumbs" — between Capitol River Council (101 5th St. E) and Christo's at Union Depot (214 4th St. E). Crumbs will be hanging both inside the skyway and outside on street level. Breadcrumbs is a playful community art project for all ages to enjoy.
General skyway hours for downtown Saint Paul are 6 a.m.–2 a.m. seven days a week. The outside crumbs will be available for viewing 24/7 so the night owls can enjoy, too.
Had enough. Of course not. Two last things to do. One, look at all the other amazing things to do on the Almanac arts calendar. Two, make sure you have your tickets for the June 27 Saint Paul Almanac edition of Twin Cities Public Television TV TAKEOVER. The week looks great. Share and enjoy it with our neighbors and guests! Keep excited and keep TWISPing!