The Saint Paul Almanac is pleased to announce the tenth in its 2013–2014 season of acclaimed Lowertown Reading Jams, which celebrate the rich literary history of Minnesota's capital city and the widely popular genre of spoken word.
The "Dreams for the Beginning of the Beginning" Lowertown Reading Jam will be presented on Wednesday, July 23, 2014, from 7:30 to 8:30 p.m. at the Black Dog Coffee and Wine Bar, 308 Prince Street in Saint Paul. All ages, no cover, donations welcome. Food and beverages for sale.
"Dreams for the Beginning of the Beginning"

Featuring performances by
Mankwe Ndosi • Davu Seru • Irna Landrum • Funkzilla and Company
Stanley Kusunoki • with emcee Robert Karimi

A system of rule and oppression that does not value and wears out its source, its fuel, is destined to destroy itself—or at least be transformed radically (at its root). We need innovation, quirk, wonder—unconventional thinkers and dreamers to call forth, dance forth, sing forth, and live into existence a more generative future.

Host Mankwe Ndosi has invited writers of the body, mind, and spirit to imagine life after capitalism. What will we discover? Can it be done? Join under-read/undercover powerhouse writers Stan Kusunoki, Davu Seru, Funkzilla and Company, and Irna Landrum for an evening of possibility.
About the Performers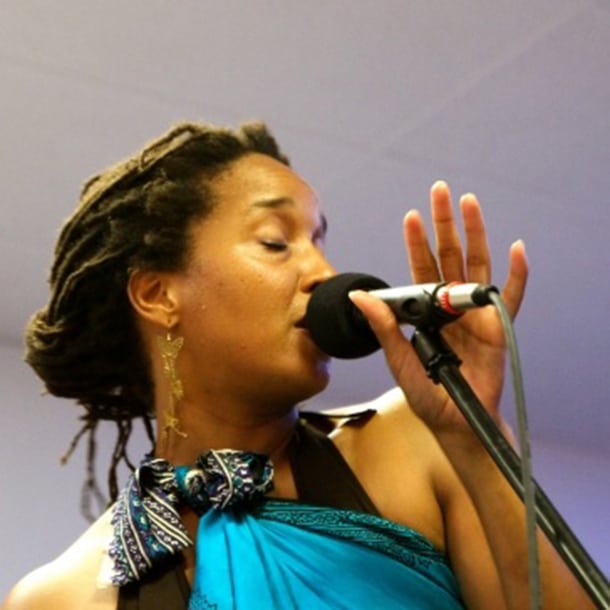 Mankwe Ndosi
works the Twin Cities, Chicago, and internationally as a music maker and cultural catalyst. She weaves performance genres including improvised music, a capella rhythm and harmonies, hip-hop, afro soul, dance, performance art, and sung prayer/ritual. She infuses creative practice into healing, sustainable economic development, education, and new village community building.
Davu Seru
is a PhD candidate specializing in African American literary history and cultural criticism at University of Minnesota. He is also a jazz drummer and improvising musician who hopes one day to write the book on Black time.
Funkzilla and Company
is an up-and-coming artist, one of the 2014 Naked Stages grant recipients, and a current fellow at Pillsbury House Theatre in Minneapolis. He has been in various productions by Mu Performing Arts and The Center for Hmong Arts and Talent, including Hmonglish Musical; W.T.F.; Family Portrait: Love and Saving Face; and many more.
Irna Landrum
is a bit of a renaissance woman who comes to the Twin Cities by way of New Orleans, Louisiana. When she was in the sixth grade, she wrote a story about a woman who died in an accident on the way home. Her teacher took it as a personal threat. Though it's not what she's primarily known for, since then she's known she has a way and power with words.
Stanley Kusunoki
is a teacher, poet, writer, arts advocate, and musician. He has served on panels for the Minnesota State Arts Board, and was on the board of directors for S.A.S.E., The Write Place. He has been a liaison between artists and school faculty through the Perpich Center for Arts in Education. He was the recipient of a Loft Asian Inroads mentorship, and a mentor for the Asian American Renaissance "Writers' Block" and Intermedia Arts "Exchanges" mentorship programs. He was the recipient of a Minnesota State Arts Board "Cultural Collaborations" Grant (with support from the Jerome Foundation) for The Beringia Project (with Jamison Mahto). He has taught poetry to children through summer camps and elementary school residencies sponsored by the Loft, S.A.S.E., The Write Place, and the Perpich Center for Arts in Education. Kusunoki is currently the High Potential Teacher/Coordinator at Red Oak Elementary School in Shakopee.
At root a storyteller and community engagement specialist, Robert Farid Karimi mixes humor, rasquache aesthetics, and performance to communicate poems and stories that feed audiences an interactive cross-cultural collision of joy, pop culture, and personal history in theatres, grocery stores, backyards, and off-Broadway. His writings have appeared on NPR and in newspapers, literary journals, and anthologies, most recently Asian American Literary Review. A national poetry slam champion, he has been featured throughout the country at venues such as the Nuyorican Poets Café, Def Poetry Jam, The Chicago Theater, and The Loft. His visual work and public engagement artwork is exhibited at museums and community artspaces worldwide. Throughout the last twenty-two years, he has designed and led arts education opportunities for all ages; taught university performance workshops; mentored the next generation of arts leaders; and shaped the voice of mixed culture arts and literature around the world. Creative Capital, the NEA, the MAP Fund, Zellerbach Foundation, and MSAB have invested in his recent projects, all of which include a community of multidisciplinary artists. He works at ThePeoplesCook as an arts educator, public engagement deviser, playwright, director, and community arts consultant. He has lived and worked in Minnesota since 2006 and is originally from the San Francisco Bay area. For more, go to www.ThePeoplesCook.org or www.Kaoticgood.com/bio.html.
Location
The "Dreams for the Beginning of the Beginning" Lowertown Reading Jam will be presented on Wednesday, July 23rd, 2014, from 7:30 to 8:30 p.m. at the Black Dog Coffee and Wine Bar, 308 Prince Street in Saint Paul.