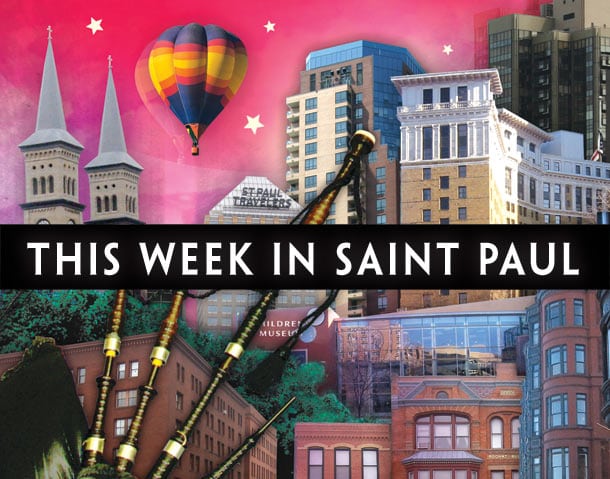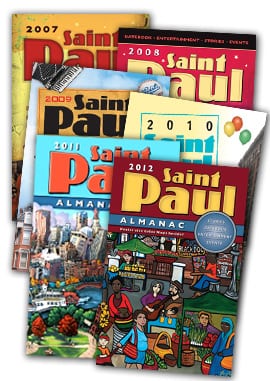 We are marking the days until the second Thursday of September, the same Thursday each year on which we hold one of the best parties in Lowertown. It is the Release Party for the 2015 Saint Paul Almanac, and it will, again, be a very fun night at the Black Dog Coffee and Wine Bar. While the 2015 Almanac is getting put together at the bindery, we are asking you to do the opposite with old editions of the almanac. Yes, you can still get an old edition of the tome and take it apart, THEN MAKE SOMETHING WONDERFUL OUT OF IT! We are asking artists and people who fail to think of themselves as artists to take an old edition of the Saint Paul Almanac and re-image it into newly imagined pieces of art. SAINT PAUL ALMANAC: RE:BOOKED. Display your work at the AZ Gallery, and WIN A CASH PRIZE. There is still time to participate — in this project or in other ways. The book art will be on display through September at the AZ Gallery and during the Thursday, September 11 Book Release Party. If you are interested, contact Lisa at lisa@saintpaulalmanac.org and put "RE:BOOKED" in the subject field. In the meantime, our Almanac arts calendar is filled with things to keep us busy.
In the Almanac Family
Attend the second of the series of workshops for those of us who want to get help with our writing and storytelling craft with Pamela Fletcher. The St. Catherine's University professor will be at Golden Thyme Coffee Cafe on Tuesday, July 29. She will sit down with you and analyze, encourage, and INSPIRE. Pamela says, "Your story has immense power, so tell it to someone today!" Again, folks will meet at 4 p.m. until 6 p.m. Golden Thyme is at 921 Selby Avenue. There is also another workshop on Tuesday, August 12.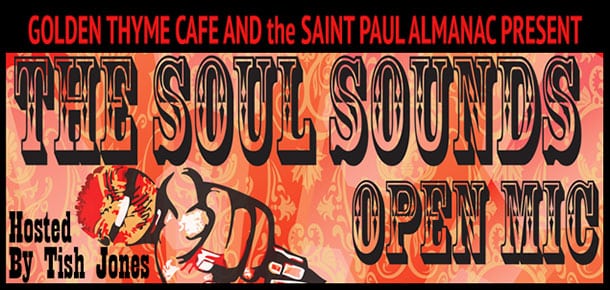 This week at Soul Sounds Open Mic the night is all about odes. On Thursday, July 31, the open mic will highlight this form that allows you to show your appreciation for someone, something, or some place that moves you. As always, the Soul Sounds crew will bring energy full of intelligence, spirit, and passion to the practice. It all starts at 6 p.m. at Golden Thyme. Bring your ears, your heart, and your voice!
Words and Letters
The summer is usually a slow time for literary events. SubText: a Bookstore seems to be making up for that this weekend with two events that will bring a number of writers to the store.

On Friday, August 1, SubText will host five poets from Blue Light Press, which describes itself as a "publisher of poems that are visionary, imagistic and push the edge." Featured Authors:KB Ballentine holds an MFA and teaches English, theatre arts, and creative writing. Her work "weaves an astounding tenderness in vision and voice." Diane Frank, an award-winning poet and author of six books of poems, leads workshops for young writers and is also a documentary scriptwriter with expertise in Eastern and sacred art. Helga Kidder is cofounder of the Chattanooga Writers Guild and poetry group leader. Her "stirring and skillful" work has appeared in The Louisville Review, The Southern Indiana Review, The Spoon River Poetry Review, and Comstock Review, among many others. Mary Kay Rummel is said to spin words into mysticism and magic. She was once part of a convent but left when "words whispered in that wind/telling her to go forth and read, to never ask again." Patricia Barone's work has "memorable imagery, engaging perceptions, and heightened language we have a right to expect in genuine poetry." This reading is at 7 p.m. SubText is at 165 Western Avenue below Nina's Coffee Shop.

Sunday, August 3, is "Local Author Day" at SubText. The afternoon is filled with appearances by local authors starting with fiction writer, artist, photographer, and tasty biscotti maker Kristi Belcomino at noon. At 12:30, hear psychologist, writer, and "playgroundist" Rachel Awes. Mayr Boros, a spirituality writer who works with art and labyrinths, will read at 1 p.m. Memoirist, studio artist, and social justice advocate Marly Cornell is on at 1:30. At 2:00 is Steve Jacobson, a poet whose vocational pursuits began in physics and mathematics. Poet and photographer Sarah Hayes explores human experiences, relationships, and nature at 2:30. At 3:00, memoirist Jim Martin takes to the podium. To close out the afternoon, writer, editor, and teacher Emily Urness, who has taught several places including the Loft Literary Center, will share her poetry at 3:30.
Music
The air continues to be filled with music as Music in the Parks continues, as does Como Zoo's Groovin' in the Garden as well as Music in Mears and Nine Nights of Music at the History Center. It is a wonderful week to enjoy music inside, too.
At the Black Dog Coffee and Wine Bar on Tuesday, July 29, Paul Storms brings his rolling, open-tuned acoustic slide guitar to join the bluesed-up colloquially existential songs of Jim Bohen. Jim is the author or coauthor of some five hundred songs and has an affinity for the blues. Paul, a longtime Twin Cities guitar teacher and the master of many styles, will also share some of his instrumental arrangements. They go on stage at 7:30 p.m. The Black Dog is at 308 Prince Street in Lowertown.
The last time I laid hands on a banjo, it belonged to Paul Metzger. His is not a regular banjo. It's amazing, with more strings than I knew what to do with. It is a precious instrument that he uses to bring what Cecile Cloutier calls a "maximalist aesthetic" to sound and composition. He has also been referred to as an alchemist of music. On Thursday, July 31, he makes an appearance for the Khyber Pass Thursdays with his twenty-three-string modified banjo, guitar, and Spontaneous Composition Generator. The music starts at 9 p.m. Khyber Pass is at 1571 Grand Avenue, just east of Macalester College.
Dennis González is a poet, linguist, painter, teacher, musician, and trumpeter. He composes hymns based on American, South African, and Norwegian religious melodies. This sounds like the kind of potion that created the gumbo out of which jazz emerged. On Saturday, August 2, he will be joined by Chris Bates (double bass), Brandon Wozniak (tenor saxophone), Nathan Hanson (tenor and soprano saxophone), and Pete Hennig (drums) at Studio Z. González's Hymn Project sprouts from his master mind, and he has become one of the most important voices in American improvised music. He draws from strong roots to bring powerful sounds to his compositions. He will be showing his wares starting at 8 p.m. Studio Z is at 275 East Fourth Street, Suite 200 in Lowertown.
On Sunday, August 3, The O'Shaughnessy hosts Tori Amos, who appears as part of their Women of Substance series. She is touring with her fourteenth studio recording, which is said to be a "return to her core identity" as an artist. Amos says, "When you stop putting yourself on the line, and you don't touch your own heart, how do you expect to touch other people?" This tour proves she has something to share. The O'Shaughnessy Auditorium is on the campus of St. Catherine's University, 2004 Randolph Avenue. The event starts at 7 p.m.
Summer of Movies
There are a lot of movies this summer, under the stars and in the air conditioning. Opportunities include Outdoor Summer Movies, sponsored by The Friends of the Saint Paul Public Library in the Central Library courtyard. We can enjoy Movies in the Park. We've had 4th Fridays at the Movies at Golden Thyme. A few neighbors have even set up screens in their back yards. The Minnesota Museum of American Art is making an interesting contribution to the summer viewing.
On Friday, August 1, the MMAA will host First Friday Films: Really Short Film Festival — "What is MN?" which will showcase videos made earlier this summer by whoever wanted to participate. Using a full range of equipment, sometimes as simple as a smart phone, the museum has collected enough footage to fill an hour and a half of image and sound from a patron/artist gaze. Screenings start at 6:30 p.m. and go until 8 p.m., leaving enough time to head down to Lowertown First Fridays. The MMAA is at 141 East 4th Street (at Robert Street).
Family, Young and Old and in Between
On Thursday, July 31, Red Balloon Bookshop and St. Paul Public Library present Eric Litwin, author of Pete the Cat: I Love My White Shoes, in concert at the new and lovely Arlington Hills Community Center/Library. They invite us to "sing, dance, and fall in love with literacy!" at this outdoor event, a rocking fest of interactive songs and stories based on Litwin's new series, The Nuts: Bedtime at Nuthouse. If the weather is bad, they will head inside. Inside or outside, you and the kids will be out of the house and into some fun kid tunes and books. This event starts at 6 p.m. Arlington Hills Community Center/Library is at 1200 Payne Avenue.
It is time for the Circus Juventas Summer Show. Each year, the Summer Show is reserved for the most advanced performers in the most advanced acts. This year's show is "Neverland." Joining Pan and Tink are contorting mermaids, fairies floating in mid-air, somersaulting lost children, and, of course, Hook and his Jolly Roger-waving pirates. Circus Juventas calls this show an "epic battle of high-flying, death-defying aerial acrobatics that threaten the very existence of Neverland." This promises to be a most exciting display created by skilled and accomplished young people in our area. Performances begin Friday, August 1, and continue through August 17. These shows are very popular, and seating under the big tent for some performances is limited. Check here for dates, availability and show times. You will find the tent at 1270 Montreal Avenue.
I wish I could tell you that this is everything for this week, but I am glad to inform you that in Saint Paul, this is not all that is happening this week. Remember, there is always the Almanac arts calendar to fit the event to your mood and taste. While we're getting ready for September's book release party, you can keep the art paths warm, and maybe our paths will cross. I hope so.
Have a great week!