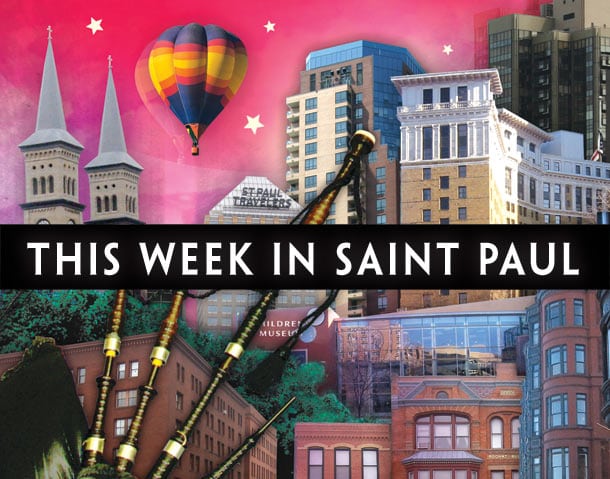 The most important thing you do this week is something that is happening on Tuesday, August 12, all over Saint Paul at a place close to you. In fact, it is happening all over Minnesota. It is primary election day. In spite of the many efforts to encroach on voting rights, Minnesota still remains one of the less problematic places to exercise that legal and moral entitlement. If you are wondering about when, where, or how to vote, check out the Secretary of States web site. Voting is one of those ways in which we can leave a positive mark in our community. Engaging in the arts is another.
In the Almanac Family
This week's Soul Sounds Open Mic features artist Michelle Be. Michelle brings a variety of genres, vehicles, and forms to her quest to bridge science and spirituality in her art. She is a spoken-word poet, visual artist, theater artist, and musician who has performed as close as Lowertown and as far away as Germany. She recently performed her original one-woman show, Continuum:2013. As always, Tish Jones will lead the Open Mic and set the tone for loving and constructive feedback, and folks will meet at Golden Thyme Coffee Cafe, 921 Selby Avenue. The fun is on Thursday, August 14, at 6 p.m. And as always, your words and kind ears will rock the place.
On Thursday, August 14, Storymobile will be at Boyd Park next to the YWCA and kittycorner from SubText: a Bookstore and Nina's Coffee Shop from 7 to 9 p.m. The event will be led by social and culture scholar Mahmoud El-Kati and will be a conversation and community writing about "The Myth of Race and the Reality of Racism." This program was featured at SubText earlier this year and is back by popular demand due to its ability to energize and educate. The two hours will start with a 10-minute intro to a conversation about "The Myth of Race and the Reality of Racism" as Mahmoud has done in the past at Subtext, followed by a 50-minute group discussion. The second hour will feature professional writer and professor of literature Pamela Fletcher, who will guide people into their own reflections of the discussion — either writing or video recording — with 15 minutes of guided writing activity, 10 minutes more of writing, and then the remainder of the hour sharing. Storymobile will be stationed on the Selby Avenue side of the park. This is a chance to share your story as well as explore an important part of the American story.
Saturday we will be treated to two visits from Storymobile. Starting at 9 a.m., Storymobile will be one of the units in the University Unity Parade. This is a growing tradition that brings together both the Frogtown and Old Rondo neighborhoods in a celebration that began even before the Green Line's glimmer of luster. This year's parade begins at 10 a.m. at Maxfield School, 380 Victoria Street North, and winds up Victoria to University, then east to Mackubin, north to Edmond, west to Grotto, and west on Minnehaha to the West Minnehaha Recreation Center. Storymobile will be there to collect your story.

Later on Saturday, we will be back at Little Mekong Night Market. Last time we were there, we gathered many great stories, including a few heartfelt tales of love, hope, and promise. We also were able to absorb a wonderful evening shared with great food, great atmosphere, great music, a few cinema shorts, and great people. It's a nice way to share a summer night. The Night Market is at the 400 area of University Avenue and goes from 5 p.m. to 10 p.m. Stop by, even if you've given us a story. (You are always welcome to share more.)
Words and Letters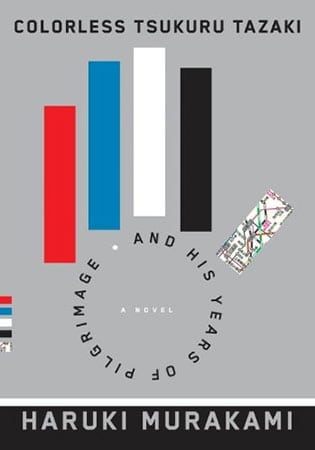 Who says nothing happens on a Monday? Below, we are sending you to a cool event in Mears Park put on by young artists at SPNN, our local cable access. Afterward, you can head over to Common Good Books for Lit Up Late. Along with a few other independent booksellers in the Twin Cities, they are giving you a chance to be among the first to get your hands on Colorless Tsukuru Tazaki and His Years of Pilgrimage, a best-selling title that sold over a million copies the first week it was on sale in Japan. The line forms at 11:30 p.m. Common Good Books is at 38 South Snelling Avenue.
This is one way to celebrate the resurgence of our independent bookstores in our city.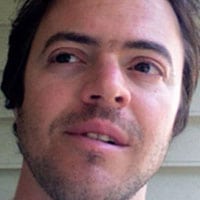 You can visit another to answer the question that your mind never thought to ask: What is behind the photographic art of those mesmerizing giant squid portraits? Moses Harvey was a nineteenth-century eccentric in Newfoundland who first photographed the near-mythic giant squid. Matthew Gavin Frank's creative historical narrative is written with the kind of translucence that captures us in the photographs of creatures, as we will be captivated by Harvey. You can see Frank at SubText: a Bookstore on Tuesday, August 12. The reading begins at 7 p.m. SubText is at 165 Western Avenue, at Selby.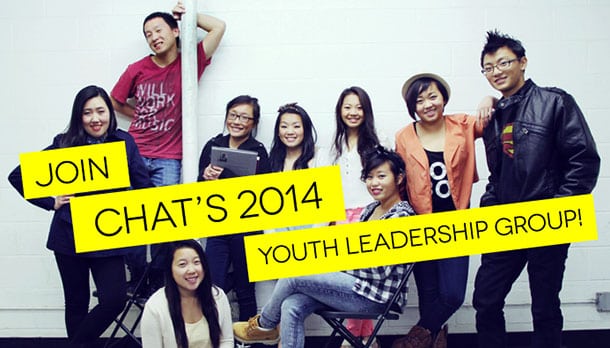 In conjunction with the Unify University parade, CHAT (Center for Hmong Arts and Talent) will sponsor CHAT's Unify University Open Mic. Sign up by 11:30 a.m. Performances begin at noon and run until 3 p.m. Both signup and seating are first-come-first serve, so get there as soon as you can! The open mic is at West Minnehaha Recreation Center, 685 West Minnehaha Avenue.
Theater
Penumbra Theatre continues to be a place that is developing the next generation of artists as well as the market of ideas in the arts. This week, they are giving us an opportunity to meet the next generation of activist artists!
ALOUD is a three-day festival that features original new work by young artists as part of their "Theatre for Change" series. These three stagings are directed by Lisa Channer and feature different artists each night who have been studying the past three summers in Penumbra's Summer Institute, a three-year leadership development program that trains young people to use their passion for the arts to promote social justice and equity.
Each evening features different artists. Friday, August 15, will feature Mansuda Arora, Alexsis Simmons, Awazi Jaafaru and Grace Coehlo. Saturday, August 16, features Rhaveana Rockette, Haley Brockman, and Toria Hill. Sunday, August 17, showcases the work of Hunter Reeve, Jamier Sumrall, Bianca Williams, and 2015 Saint Paul Almanac Community Editor Ismail Khadar.
These shows are not only about the promise of the future. These are accomplished artists who are shaping today's discussion about the world in which we live. Their refined artistic voices can be further engaged in discussions after each show. The shows begin at 7 p.m. The Penumbra Theatre is at 270 North Kent Street in the Hallie Q. Brown Community Center.
Outdoors
If your ears and eyes have been perked, you know about Movies in the Park. This week, there's more on the Screens Under the Saint Paul Sky.
Start out the week with some energetic and talented young people for Saint Paul Neighborhood Network's (SPNN) 3rd annual Munchies, Movies and Music. The SPNN Youth Action committee will host this event at Mears Park on Monday, August 11, from 6 to 9 p.m. Between 6:00 and 7:00, enjoy free food catered by The Bulldog Lowertown and visit with sponsors including the Minnesota History Center, Saint Paul Public Library's Createch Studio, The Science Museum of Minnesota, and The Canvas Teen Arts Center. Then settle in for live performances that include rappers, jazz trumpet players, spoken-word artists, rock bands, and a dance team. At 8 p.m., they will screen videos from local young artists that include personal vignettes and cover a range of genres and topics. It's all free. Mears Park is at 221 East Fifth Street, between Sibley and Wacuta Streets.
On Friday, August 15, head to the Urban Flower Field, where Public Art Saint Paul will screen Field of Dreams. Some of us Saint Paulites might remember this as the site of the Pedro Luggage store. A couple of months ago, I received a tour of this project-under-construction, officially called Pedro Park, with much of the landscaping and planting still underway. I even had the opportunity to talk with one of the people getting dirty hands making it nice for our summer enjoyment. This is a lovely location touching the edges of Lowertown and Downtown. Bring a blanket and order food provided by Lunds, Keys, and Sawatdee. Bring a friend or a few friends. Pedro Park is at Tenth and Robert Streets. We'll gather at 7:30 and see the movie when it gets dark.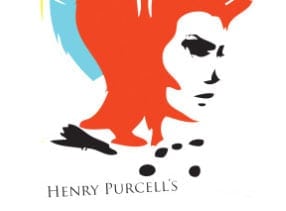 Mixed Precipitation calls their staging of King Arthur: A Picnic Operetta a punk retelling of Henry Purcell's 1684 English Baroque opera. They have been doing this for six seasons, and there are two chances in Saint Paul for the whole family to see this production. On Friday, August 15, they will be at the Eleanor Graham Community Garden, 1335 Ashland Avenue, at 7 p.m. Catch them on the East Side on Saturday, August 16, at Skidmore Park Community Garden, 1085 Fourth Street, at 4 p.m. RSVPs are strongly encouraged, and the shows run a very family-friendly hour and fifteen minutes.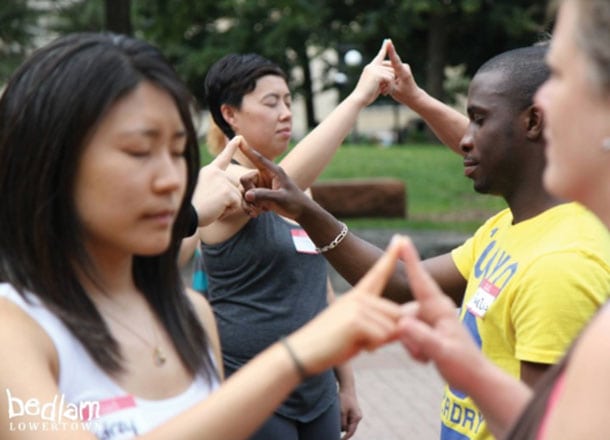 Also come to Lowertown this weekend for The Big Lowdown: Lowertown Playground. Last year's event was just what the title promises: a super interactive theater playground in several spots in Lowertown. You are led around in groups of friends and strangers to several innovative theater shorts. My favorite from last year was something called The Dead Post Office. I am curious to see what the multitude of artists have in store for us this year. If you dont mind a small bit of walking and getting some air, this is an hors d'oeuvres plate of fun and aesthetic stimulation. Shows are from Friday, August 15, through Sunday, August 17. The tour of fun starts at 7 p.m. each night.
Festivals
If you are going to be outside, you may as well get to the festivals.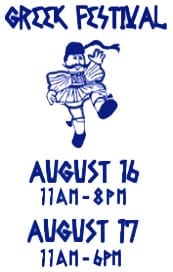 You will certainly miss a treat if you don't get to The World's Finest Greek Festival. I don't know how it measures up to the other Greek festivals, and I have not asked my friends who have lived in Greece to make comparisons, but the annual event at Saint George's Greek Orthodox Church has great music, great food, and great traditions to keep a lot of people coming back. This year's festival will feature: The Greek Dancers of Minnesota, church tours, and discussions of Greek Orthodox Christianity, as well as Greek vocalist Dino Adamidis. Children's activities will include face painting, games, and an inflatable bouncy moon walk. Church tours will be given every hour. The church and festival are at 1111 Summit Avenue, at Lexington. The festival is Saturday, August 16, and Sunday, August 17. The fun gets underway at 11 a.m. on both days. Also, the church is welcoming contributions of canned goods to support their community food shelf.

Also on Saturday, from noon to 6 p.m., the State Capitol grounds will be the site for IndiaFest. Sponsored by the India Association of Minnesota, the event will feature food, exhibits, and a bazaar. You will also be able to immerse yourself in classical, semi-classical, Bollywood, and regional solo and group performances as well as partake in fun family activities like kite flying, chess, cricket, and carrom board. You will find the happenings on the Capitol Mall, Martin Luther King Boulevard between Cedar Street and John Ireland Boulevard.
We have one more festival this week, at the Como Zoo and Conservatory. In a nod to Japan's annual Obon holiday, Como will hold the Japanese Lantern Lighting Festival. Events begin at 3:30 on Sunday, August 17, with lantern lighting at dusk. The Como Conservatory has stationed stone lanterns as well as hundreds of floating paper lanterns throughout the Japanese Garden pond and the Frog Pond. Art, music, food, martial arts, and cultural traditions will lead into the lantern lighting, creating a vision of peacefulness and harmony. The Zoo and Conservatory are at 1225 Estabrook Drive. The event ends at 9 p.m.
Music
The week would not be complete without a little music. Our friends at Studio Z are keeping it busy with their All Original Jazz Series. On Thursday, August 14, Studio Z will host the Chris Lomheim Trio. Lomheim is a pianist who was a protege of the late Bobby Peterson. He has recorded and played with with the Reid Kennedy Trio, the Illicit Sextet, Dave Karr, and more. The doors for this event open at 7:30 with music starting at 8 p.m. Studio Z is at 275 East Fourth Street, Suite 200 in Lowertown.
Don't ask me if there is anything else I can think of that you should do. Just look at the Almanac Arts Calendar. So, go vote and go for art. It should be another great week, and I hope to see you on our fine town!