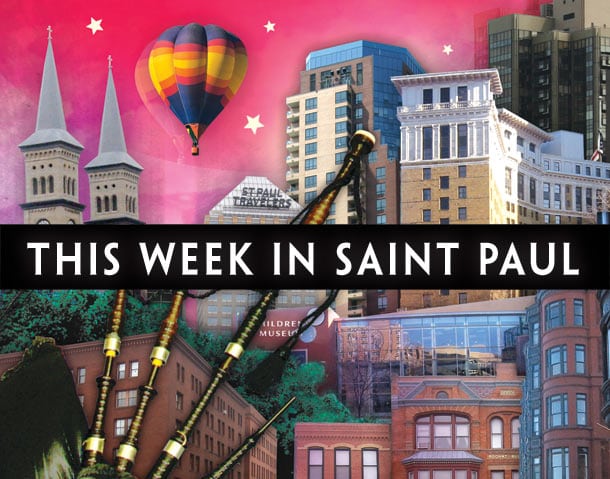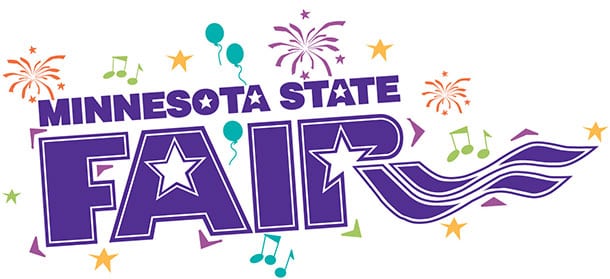 I have noticed the State Fairgrounds getting busier and busier. Folks have been breaking in the place, and the anticipation is enough to ward off the pangs that come with the last gasp of summer. Over the next two weeks, a lot of people, young and old, will be back to school. Something will be different soon, if nothing else than a temporary reprieve from the change of scenery, staving off the fits of boredom that visit youngsters and some of us grownups who insist to a parent or caretaker, "There's nothing to do!"
Of course, the best answer to that, for both young people and old, is to say, "Go pick up your copy Saint Paul Almanac. Maybe the retort will be that the Almanac is too old. In that case, they will have to wait until the usual second Thursday in September, the 11th this year, when the new Almanac is launched down at the Black Dog Coffee and Wine Bar. If that is too long to wait, then they will have to look here for something to do.
In the Almanac Family
This week's Soul Sounds Open Mic will feature Jeremy Bey. Bey is a visual artist and writer/storyteller. He currently works as both an independent artist and a Juxtaposition Arts roster artist. He is a Givens Black Writers fellow, a John Biggers Seed Project fellow, a 2014 Intermedia Arts' Creative Community Leadership fellow, and a recipient of the CURA Artist Neighborhood Partnership Initiative Grant. Bring your work to share or just listen to great stylings from the gathering. Tish Jones will lead the way. Soul Sounds is at 6 p.m. at Golden Thyme Coffee Cafe, 921 Selby Avenue (at Milton Street).
Words and Letters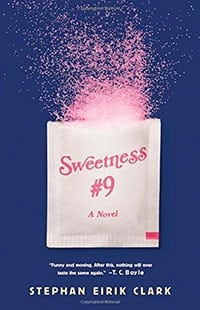 More than just sometimes, what we eat is not food. In his first novel, Stephan Eirik Clark plays on one aspect of the pseudo food revolution in Sweetness #9. This allegorical tale unfolds as a chemist sees the handiwork of his trade work its effect on the world, including how this new artificial sweetener, "Sweetness #9," is causing maltransformations in the bodies and minds of his wife and children. Clark takes the edge off the soul-searching he induces in his protagonist and ourselves with a great bit of humor. Clark will be at Common Good Books on Tuesday, August 19, at 7 p.m. The bookstore is at 38 South Snelling Avenue. Don't come hungry.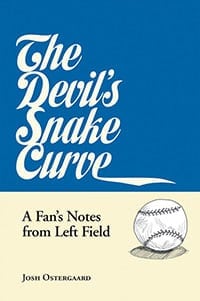 The world is full of allegories, and no better ones can be found than in baseball. Not just for sports fans, it's book club time again. Back during the Hot Stove League days of winter (for those of you who don't know, that's when baseball fans pine for spring and the first crack of the bat) SubText: a Bookstore hosted several events with baseball books. One of them brought Josh Ostergaard and his book The Devil's Snake Curve. Josh will be back, this time with the Friends of the Saint Paul Public Library's Books and Bars. As any good baseball book will do, it intertwines good literature, American history, economics, politics, and baseball. According to its publisher, it reads as if Howard Zinn was channeled to create this first book of Ostergaard's. As MinnPost's Amy Goetzman puts it, "It would not be inaccurate to describe Josh Ostergaard's first book as a baseball trivia book. But to do so would trivialize his intentions." It would also trivialize the impact. This month, Books and Bars is meeting on a Wednesday, August 20, at the Amsterdam Bar and Hall, 6 West Sixth Street in Downtown. The social time starts at 5:30 and the discussion starts at 6:15 p.m.
Music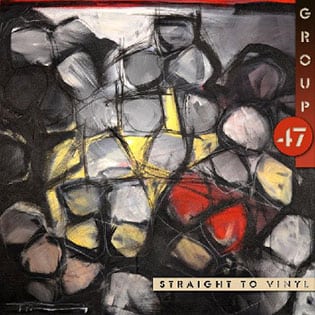 It is a month before the Selby Avenue Jazz Fest, but Saint Paul is keeping the notes wafting in the air in the meantime. One act keeping the seat warm, and keeping the sounds in Saint Paul, is Steve Kenny. Steve Kenny's Group 47 will be at Studio Z on Thursday, August 21, as a part of Z's "All Original Jazz Series." Kenny brings with him a posse that used to haunt the Artists' Quarter in days past. It includes Thomas Strommen on saxophone, Will Kjeer on piano, Adam Tucker playing bass, and Alex Burgess on percussion. Kenny's skills on trumpet have landed him in studios and on stages with many greats. According to the StarTribune, he's a hilarious emcee, too. The doors open for the Studio Z event at 7:30 with music at 8 p.m. Studio Z is at 275 East Fourth Street, Suite 200 in Lowertown.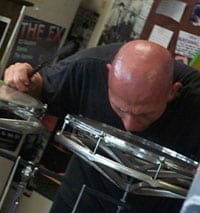 The reputation of Khyber Pass Thursdays continues to grow. This week, also on Thursday, they will host another icon of the local jazz scene, Milo Fine. His talent is evident in his longevity and his mastery of many instruments. Milo has played drums since 1961 (informal studies with Elliot Fine) and plays piano, B-flat clarinet, alto clarinet, and E-flat clarinet. Milo touts "Recognition over fame/Publicity over hype/Support over worship," which says that even if you have not heard him, you should. He will be joined by Charles Gillett and Joseph Damman on guitars and Elaine Evans on violin and pocket trumpet. Khyber Pass Thursday gets underway at 9 p.m. and is at 1571 Grand Avenue.
(See more below in "Family, Youth, and Kids" and "Things You Haven't Thought Of.")
Family, Youth, and Kids
On Monday, August 18, Z Puppets Rosenschnoz returns to the Central Library for The Secret Life of Puppets. Kids aged first grade and up will get hands-on experiece with Z Puppet's workshop puppets. You can learn the techniques and tricks that professional puppeteers use that you can use yourself to make, have, and give fun. The library is at 90 West Fourth Street across from Downtown's Rice Park. The fun starts at 6:30 p.m.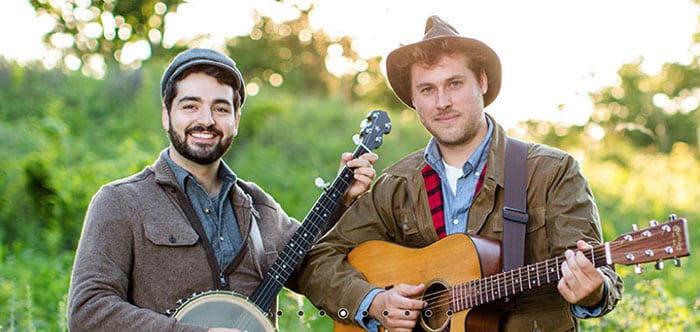 More music and fun. On Tuesday, August 19, you might want to head over to the Minnesota History Center with or without kids. As part of their Nine Nights of Music series, the History Center will host the Okee Dokee Brothers. The group does have a new kids album called Through the Woods, but this is a plain old American folk shindig for anyone wanting some good, outdoor fun. Pre-show activities run from 5:30 to 7:30 p.m. with lawn games, bubbles, and toys! At 6:30 p.m. you can get a little bit of pre-show dance instruction. Live music starts at 7:15. It all takes place on the History Center lawn, at 345 Kellogg Boulevard West.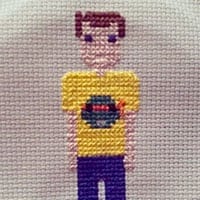 The Saint Paul Public Library is hosting a great teen activity they are calling Old School Selfies. Participants will learn about decorative arts — paper cutting and cross-stitch — to create their own updated versions of silhouettes and cross-stitch selfies. You have five chances to catch this program at various libraries around town. Monday, August 18, Hayden Heights Library, 1456 White Bear Avenue, 4 p.m.; Tuesday, August 19, Rondo Community Outreach Library, 461 North Dale Street, 4 p.m.; Wednesday, August 20, Rice Street Library, 1011 Rice Street, 4 p.m.; Thursday, August 21, Merriam Park Library, 1831 Marshall Avenue, 1 p.m.; and again Thursday, August 21, Arlington Hills Library, 1200 Payne Avenue, 5 p.m.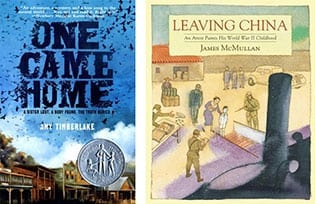 The Chapter and Verse Book Club meets the third Thursday of every month at Red Balloon Bookshop. This Thursday, August 21, they will discuss two books with history themes: One Came Home by Amy Timberlake for middle grade readers and Leaving China by James McMullan for teens. Book club starts at 6:30 p.m. The Red Balloon is at 891 Grand Avenue. Call (651) 224-8320 with questions.
Things You Haven't Thought Of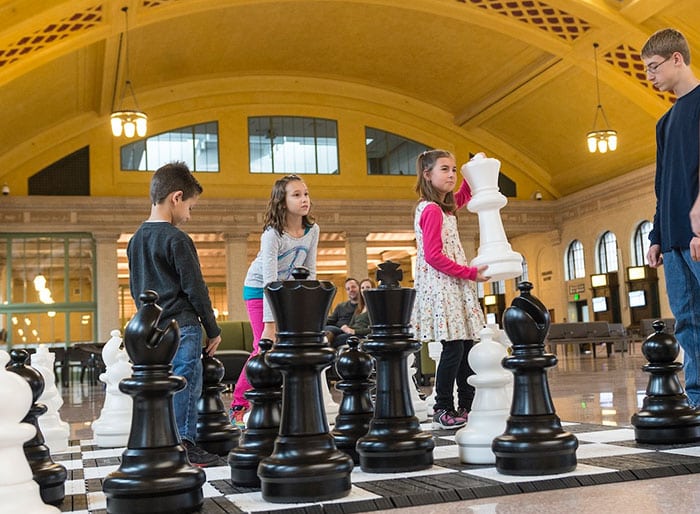 Here's another idea for the kids—and for you. Every Wednesday, the Union Depot sponsors a Life-Sized Board Game Night. This August 20, come play giant-size versions of many of their favorite games including Chess, Checkers, Kinect Four, Dominoes, Jenga, Tic Tac Toe, and others. The event is free. You are welcome to bring your own games (although I think lawn darts are no longer allowed) and a few friends. Games start at 4 p.m.
If it's not past your bedtime, stay for music on the plaza. Starting at 7 p.m., Bedlam Theatre will stage Collective Noise: Week Five. This is a six-week-long music series that celebrates "summer lovin', community togetherness and beautiful jams!" Organized by a collective of area college students and artists known as Bedlam's Collective Noise, it promises to bring as much energy as you would imagine from young musicians and artists revolving around our renewed hub of transportation.
Bedlam is at 213 East Fourth Street.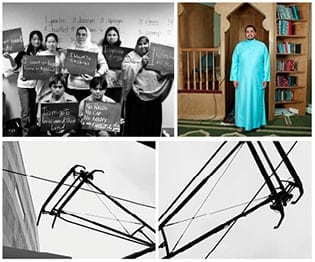 On Thursday, August 21, help in a storytelling exercise with the Green Line Theater team of Ashley Hanson, Jessica Huang, and Wing Young Huie. They are creating a performance that goes with From There to Here, an exhibit at the Minnesota Museum of American Art that they say "explores the ways that public transportation intersects with community and connects people to places and the opportunities they offer." At this opening reception, as you interact with the exhibit and with the artists and the story, you can also participate in developing the script for a public performance at light rail stations at the closing of the exhibit. The opening begins at 7 p.m. The MMAA is at 141 East Fourth Street, at the corner of Fourth and Robert Streets.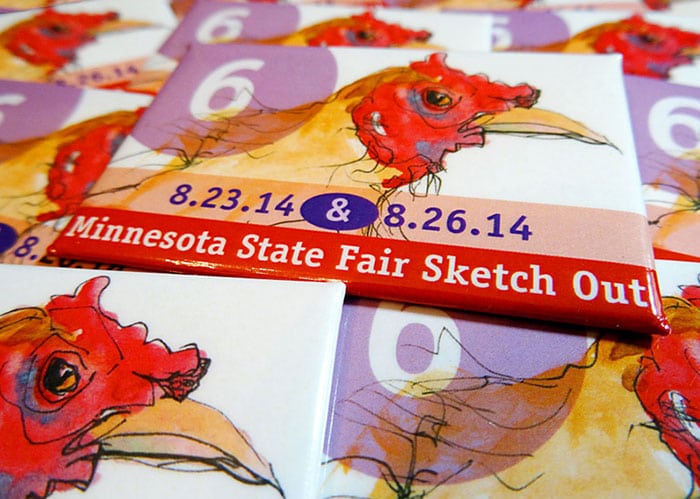 Finally, the Minnesota State Fair begins on Thursday, August 21. There is a lot of art. Crop art. 4H art. Juried art. Music. Performers. Even the barkers on the Midway. On two dates this year, artists will gather for the The Sixth Minnesota State Fair Sketch Out. You can join fellow sketchers of all abilities and ages to span the Fairgrounds to render the perfect collection of Minnesota State Fair scenes. This is a great idea and is led by Almanac artist Ken Avidor, who will organize an exhibit later in the fall to showcase the great work. Click the highlighted link above for details. This week, sketchers will gather on August 23. The State Fairgrounds are at 1265 Snelling Avenue North. The meeting place is at the food court between the Food Building, the Skyride start, and the Agriculture Building, near Cooper Street and Dan Patch Avenue.
Have a great week. As usual, there is more fun to be found in the Almanac arts calendar.