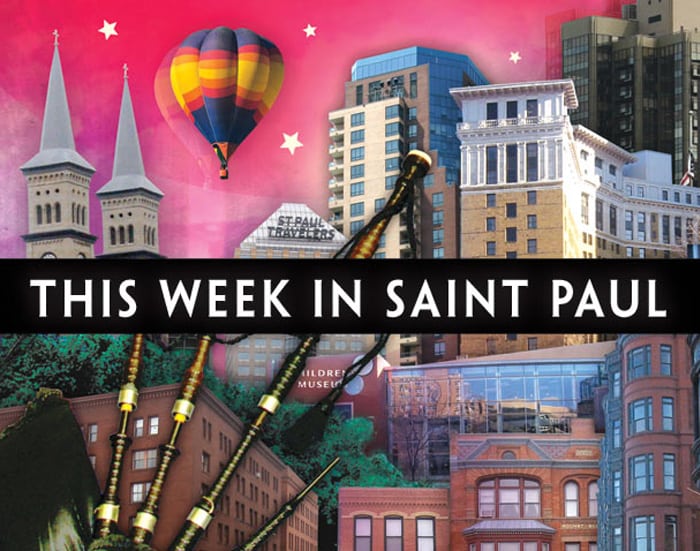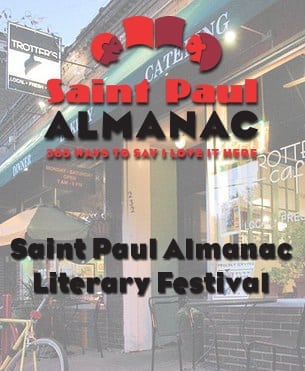 Last week was a big arts week for Saint Paul, with the first three readings of the Almanac Literary Festival and the the Fall Art Crawl. We are pretty busy this week too. There are more events in the Literary Festival and the second The Way We See It: A Fresh Look at Vision Loss, a groundbreaking anthology from Vision Loss Resources created with the help of the Almanac's unique editor process.
In the Almanac Family
The Literary Fest continues. It kicked off at Cahoots Coffee Bar with the smart words of poet Mike Finley. This week features three more readings. The first is at Trotter's Cafe on Thursday, October 16, at 7 p.m., and features Rebecca Roepke, Rebecca Ramsden, (Cracked Walnut curator) Satish Jayaraj, Robert McClain, and Ardie Buckholtz Medina. Trotter's is at 232 Cleveland Avenue North. On Friday, October 17, come to Coffee Bene for the next reading, featuring Maryam Marne Zafar, Wendy Brown-Baez, Kinzy Janssen, and Kathryn Kysar. This reading begins at 7 p.m. Coffee Bene is at 53 Cleveland Avenue South. The last Festival stop this week is at Polly's Coffee Cove on Saturday, October 18. Reading will be Mameneh George, Sara Dialey, Norita Dittberner-Jax, Mark East, Jeff Smieding, and IBé. Polly's is at 1382 Payne Avenue. The event starts at 12:30 p.m.
The Way We See It Comes to Saint Paul
Everyone can tell their story. That is what the Saint Paul Almanac has been demonstrating to the world for a decade. This past year, the Almanac was approached by Vision Loss Resources to help them publish their stories. Using the unique Almanac process of inviting and cultivating stories, grassroots editing, and publishing, the Almanac helped Vision Loss Resources create a one-of-a-kind anthology that, besides being a precious keepsake for this vision loss community, also amplifies the voices of a range of people and their families who deal with blindness and barriers to vision. These authentic voices offer a great perspective into a world on which most folks stand on the periphery.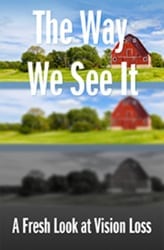 The Way We See It: A Fresh Look at Vision Loss is an anthology written by people aged 12 to 92, including a professor, a dancer, a golfer, and many others. As illustrator and author Warren Hanson said, it is "about our disabilities, and our abilities to put them in their proper place." He says, "Through the eyes of these people who have lost their sight, we see clearly the enduring power of the human spirit." This anthology contains sixty-five original stories, essays, and poems "that will open our eyes."
In her piece "Seeing for Real," author Maureen Pranghofer talks about Hollywood's portrayal of blindness. She says, "Like so many other Hollywood depictions, life isn't really complete until the one who is blind becomes sighted. People have the mistaken notion that every blind person longs to be sighted, that once vision is restored everyone lives happily ever after. I'm here to tell you that for me that was not the case."
One of the book's editors, the Almanac's Pamela Fletcher, will be joined by the anthology's other writers. Hear the story straight from the authors. On Saturday, October 18, SubText: a Bookstore will host writers who contributed to the anthology. This promises to be an epic gathering that will open up a new door in your mind. The stories begin at 2 p.m. SubText is at 165 Western Avenue, at Selby.
Other Words and Letters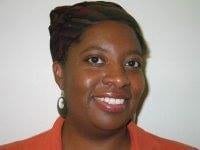 Last week, we got a glimpse of Sherrie Fernandez-Williams's work at one of the Literary Festival's readings. This week, she appears at SubText: a Bookstore to read from her new memoir, Soft. Fernandez-Williams walks a path seeking freedom from Brooklyn to the Midwest, tracing landscapes of sexuality, freedom, motherhood, and unconventional faith. Fernandez-Williams has an MFA from Hamline University and honors from the Loft, the Givens Foundation on African American Literature, and the Playwright's Center, as well as an SASE/Jerome Award. This book is published by the local North Star Press. The reading is Wednesday, October 15, at 7 p.m. SubText is at 165 Western Avenue.

Also on Wednesday, October 15, The Dancing Goat Coffee House is the place to be as they host a reading by Jaquira Diaz as part of the Writer's Think Tank Reading Series, an event cosponsored by The Metropolitan and Haute Dish of Metropolitan State University. Diaz will read from "Baby Lollipops," her notable essay in Best American Essays 2012, with a question and answer period to follow. Diaz says she writes "for girls everywhere who are like the girls we were, troubled and angry and lost, who turn to books for a little bit of salvation or redemption or reprieve, in hopes that the story will find them." She is a Pushcart Prize winner whose work has appeared in Best American Essays 2012, Best American Nonrequired Reading 2014, and Best American Essays 2014, and anthologized in Pushcart Prize XXXVII: Best of the Small Presses. Her work appears in Ploughshares, The Kenyon Review, The Sun, The Southern Review, Salon, Five Chapters, The Rumpus, and The Los Angeles Review of Books, among other publications. The Dancing Goat is at 699 East 7th Street, near Metropolitan State University. The reading is at 7 p.m.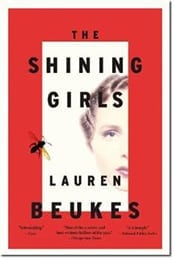 Just a heads-up and a head start for next week. Crack your copy of Lauren Beukes's The Shining Girls for the next Books & Bars. The club will meet at Amsterdam Bar and Hall. Don't have your copy? Head to your local independent bookstore or your library now, so you won't be left behind. The event is Tuesday, October 21. Socializing starts at 5:30 p.m. at the corner of Wabasha and 6th Streets.
Theater
The stages are alive in this new fall season of theater productions. One notable production is at Penumbra Theatre, and the other is at Park Square Theatre.

Penumbra's "On the Way to Timbuktu is described as " a poetic journey through the life and consciousness of a black intellectual woman as she interrogates race, gender, sexuality and power." Petronia Paley wrote and performs this one-woman play that explores how the African in a colonized context has powered so much art and turmoil. There are eight performances of this production, beginning Thursday, October 16, at 7:30 p.m. and running through Sunday, October 26. Check here for dates and showtimes. Penumbra Theatre is at 270 Kent Street.

Park Square is currently showing 33 Variations. The story is a metaphor for life as described by a fictionalized relationship between the competitive Beethoven and Katherine. Does the drive to create more complex variations on a simple waltz describe a broader question of life or personality? The answer might be at the theater. Live music and a lively cast highlight this production. See dates and showtimes here. Park Square is at 20 7th Place in Downtown.
Music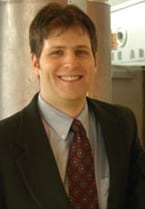 If you know my relationship with music, you might find it odd that I failed music appreciation in college. It was a blessing in disguise in that it led me to take a theater class that I loved. I did not escape without learning that the Baroque period came before the Classical period. That is, the music that we think of as classical from the Baroque is older than the other "classical" music. So, it might seem an irony that there could be new Baroque music. The Baroque Room in Lowertown is showing that it is a pleasant irony, if it is one at all. They host an ensemble called Flying Forms that plays new works by composers creating new Baroque works. This Monday, October 13, they will be playing the music of composer Nissim Schaul at his CD release event. New Music for Old Instruments: Music for Baroque Instruments by Nissim Schaul is the product of a decade-long collaboration between Schaul and Flying Forms that is based in Baroque textures and traditions. It employs unconventional playing methods that yield unusual sounds and push the limits of the instruments, which makes me anticipate some flavor of rock and roll wilting stiff Victorian collars. This free event starts at 7 p.m. The Baroque Room is at 275 East 4th Street, Suite 280.
Lowertown will remain undull on Wednesday, October 15, as Alma Andina brings a South American Electro Cumbia, Salsa, and Merengué sound to Bedlam Theatre. Their director, Vladimir Garrido, is from northern Chile, and they play Andean and Latin American music. Old wine in new skins, they bring a little bit of electric to old instruments and traditional tunes. The show starts at 9:30 p.m. and goes until midnight. Bedlam is at 213 East 4th Street, across from Union Depot.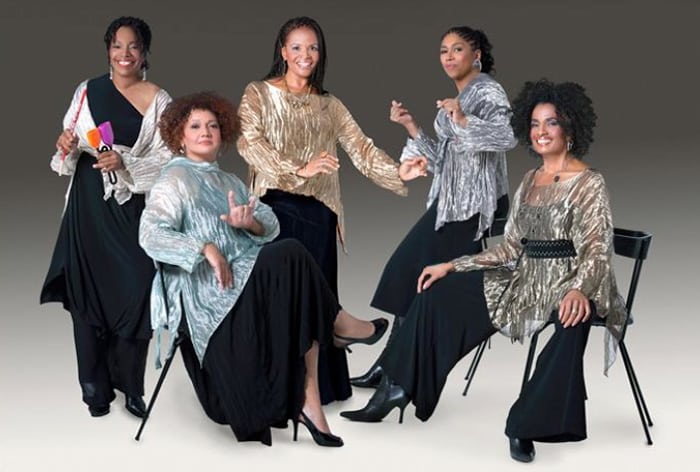 Years ago, Sweet Honey in the Rock came to town for a couple of days. I remember the musical icons, voices of an important identity, when I was at the Hungry Mind Bookstore singing along with a book that I thought would be a great holiday present for my mom. Their current tour celebrates the fortieth anniversary of their music that marks an even deeper and longer history of American triumph. On Thursday, October 16, Sweet Honey in the Rock will be at The O'Shaughnessy. Later, that night after their visit to the bookstore, I heard them in concert. It made me a degree more alive, and it can do the same for you. The event begins at 7:30 p.m. The O'Shaughnessy is at the campus of the University of St. Catherine, 2004 Randolph Avenue.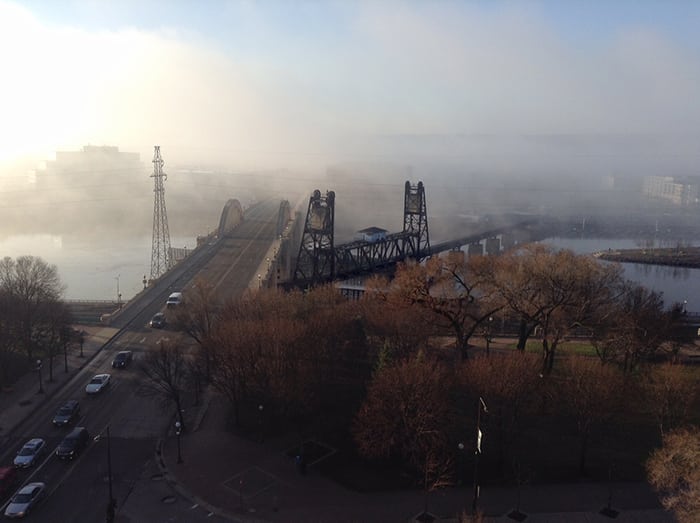 I would like to say, "that's it, no more stuff," but there are even more items on this busy menu and it is all tasty. Just because Art Crawl is over does not mean the city rests. That's why you must check out the Almanac arts calendar. You don't want to be left out. The air is becoming more crisp, but all these places are warm with activity and people. See you on the town and have a great week.