Did I see you last week at one of the amazing happenings in Saint Paul? Okay, maybe we were just too busy to cross paths, or maybe I was enjoying my mom's food way too much, or maybe we just didn't look up from one of the grooves we were in while an artist or two was laying it down for us. Yes, we are busy, but maybe this week we can catch some friends along this artists' way.
Cousins of Almanac
This month, TruArtSpeaks is holding FREE Spoken Word Workshops at various locations in preparation for the 2015 Be Heard MN Youth Poetry Slam Series. Nationally known and Twin Cities' own spoken-word artist Guante will facilitate gatherings to help everyone hone their chops, not just for the slam series but because your art, your voice, and the day's issues are important. The first Saint Paul date is Wednesday, December 3, at the Rondo Library, 461 North Dale Street, at University Avenue. Sign up here. The workshop runs from 3 to 5 p.m. If you can't make this one, there are others. Check the link above.
More Words and Letters
On Tuesday, December 2, award-winning poet and rising literary star Jamaal May will be at Hamline University's Giddon's Learning Center. May is a Visiting Writer at Hamline's MFA program. He is a Detroit native whose work is texturally personal and echos a love for his home town that he illuminates, found in the unexpected places where most choose not to look. The reading is at 7 p.m. in Room 100E. The next day, Wednesday, December 3, poets Katrina Vandenberg and Doc Burkard will stage a public interview with May. This is a great opportunity for insight, a great conversation between artists. This event is also at 7 p.m. in Room 100E. Hamline University is at 1536 Hewitt Avenue.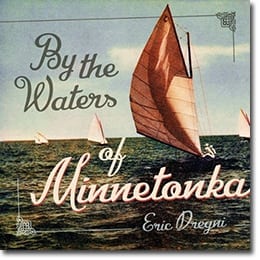 On Thursday, December 4, is a reunion of sorts. I met Eric Dregni when I came to work at David Unowsky's Hungry Mind Bookstore. David, the godfather of Twin Cities author events, these days is at SubText, and is bringing our former coworker Eric and his latest book By the Waters of Minnetonka on Thursday. With his projects over the past two decades, Dregni has been able to carve out spaces of cultural observation that have been hip since before the concept was commoditized in recent years. What he shares is as much a historical survey as it is a survey of our imaginations, as we peer into the worlds of nostalgia and sometimes a little kitsch. In Minnetonka he gives an interesting history and the unique place the once-vacation town has in the local landscape, along with some of the dark past and present that haunts the shores. The reading begins at 7 p.m. SubText is at 165 Western Avenue, at Selby, below Nina's Coffee Shop.
Bargains Too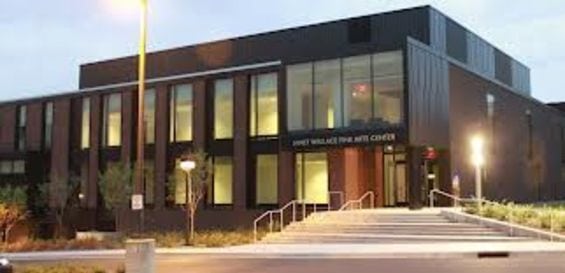 Last week, we found a few ideas that might give us some way to feel good about how we do our holiday shopping. We have a few more ideas this week. The first find starts on Tuesday, December 2, when Macalester printmaking students will be selling their work. Go to the Janet Wallace Gallery between 3 and 6 p.m. and find some great original art work. Macalester College is at 1600 Grand Avenue.
Fast forward to the weekend. This weekend, head over to 2220 Bayard Avenue for the Fifth Annual Holiday "Handmade by Us" Winter Sale. Check out the work of local artists with a wide variety of winter, holiday, and one-of-a-kind items including knitwear, handmade ornaments, upcycled mittens and winter wear, holiday cards, jewelry, clay creations, paintings, homemade treats, and much more! Also included are the collections of HI-DI-HI and Moshiki. See the wares on Friday, December 5, from 9 a.m. to 6 p.m.; Saturday, December 6, from 9 a.m. to 5 p.m.; and Sunday, December 7, from 10 a.m. to 4 p.m.
They are having a "Plaid Friday" at the Black Dog Coffee and Wine Bar. Also, the Black Dog celebrates fifteen years in Lowertown this month. They are celebrating in a lot of ways including a commemorative art sale and show. Stop by this weekend and check out events all month and find something to take home and share. The Black Dog is at 308 Prince Street.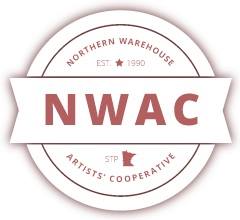 In the same building at the Black Dog on Friday, December 5, and Saturday, December 6, is the Northern Warehouse Artists COOP Holiday Bazaar. Shop at the Northern Friday night during the monthly Lowertown First Fridays and all day Saturday.
Also in Lowertown on Friday and Saturday, check out Three Sisters Eclectic Arts for their Holiday Bazaar/First Friday. Three Sisters is an art gallery, gift shop, and artistic experience that features Minnesota artists and artisans. They are located on the first floor of the Jax building at 253 East 4th Street in Lowertown. They'll be around for much of the shopping season, too. Check here for hours and even more dates.
On Saturday, December 6, head to Ginkgo Coffeehouse for their annual Art & Craft Fair. Shop owner Kathy Sundberg says, "This is a group of talented artists, offering a wide variety of well-made, affordable items. It's a great way to find one-of-a-kind items and support the local arts community!" It's a fun, easy shop stop. Ginkgo is at 721 North Snelling Avenue in the Hamline Midway area. Artists will be there from 9 a.m. to 4:30 p.m.
Make the rounds from Lowertown to Hamline Midway to the Tangletown area of the Macalester Groveland neighborhood for more sights and the third annual Tangletown Art Crawl. It's that area just west of Macalester College, and they are opening up eight house and storefront studios for a walk-through. This year, they have grown to eight locations with thirty-seven artists. All of the locations are within a short walk of Mims Photography at 1746 Grand Avenue. The Art Crawl will take place from 10 a.m. to 5 p.m. Find the locations and the lists of artists here.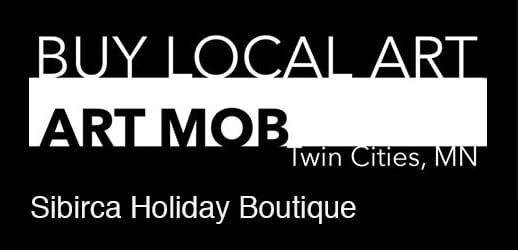 Also, there is one more weekend of the
Sibirca Holiday Boutique.
If you have filled your eyes with visual wonders and maybe your bags with stuff, you might also want to head to Union Depot on Saturday, December 6, for the treats and holiday exercise. There is just enough time for the Annual Holiday Bake Sale and Tree Lighting Celebration with the debut of Bee Line Honey treats. The Depot is hosting several top Twin Cities bakeries and there will be musical performances throughout, headlined by Kat Perkins. Festivities run from 10 a.m. until 4 p.m. Part of the proceeds will benefit Share Our Strength's No Kid Hungry Campaign. Union Depot is at 214 East 4th Street.
Better Way to Do the Holiday
After your art crawl for bargains, you will want to have a seat. SteppingStone Theatre has a seat for you. Friday begins this year's run of The Best Christmas Pageant Ever. This production invites us to do a little amateur deconstruction of the meaning of Christmas through the story of the littlest, meanest angle of the crew. All but the surliest family members will have fun and laughs. There are plenty of angels, church ladies, firefighters, and Bradleys. The production runs through December 23. Check here for dates and show times. SteppingStone is at 55 North Victoria Street.

Also on Friday, December 5, Dreamland Arts is hosting a production of There Will Be Dinner: A holiday horror story . This Theatre Corrobora show is a holiday horror comedy depicting a 1960s love triangle. You might find the person next to you giggling while you help the cast look out for "Commies." Or maybe you will laugh too. Find out for yourself. The show begins at 7:30. Dreamland is at 677 North Hamline Avenue.
More for Kids

In addition to SteppingStone's start of the run of The Best Christmas Pageant Ever, there are other theater experiences for kids. On Saturday, December 6, Dreamland Arts is the place for Children's Stories from India, performed by Zaraawar Mistry with live music by Greg Herriges. Mistry is a veteran of the Guthrie and Children's Theaters and uses his program to share cultures with children and adults. This is a forty-five-minute performance for anyone age three and older. The show starts at 11 a.m. Dreamland is at 677 North Hamline Avenue.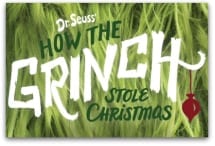 What else is there to do with kids? The Red Balloon Bookshop has a couple of big events on Saturday, December 6. First they have invited the Children's Theater for "a very (un)merry Grinch Storytime!" Hear the Dr. Seuss story and have your picture taken with the Grinch. This happens starting at 10:30 a.m.
Later that day, join the crew at the Balloon for A "Yippie-i-oh" Christmas with Kate DiCamillo! The world-famous but very local author will be there with her books Leroy Ninker Saddles Up: Tales from Deckawoo Drive, Volume One and Flora and Ulysses: The Illuminated Adventures. This is a ticketed event. For details on tickets, check here. The event starts at 2 p.m. The Red Balloon is at 891 Grand Avenue.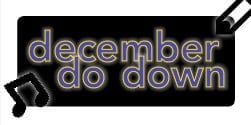 Now, something for the old young people. This month is "December Do Down" with the Saint Paul Public Library. The Do Down is an ingenious engagement opportunity for teens that gives them a chance to hone their skills with different creative technologies while taking a bite out of library fines. Participants will receive $5 off on their library fines with activities that include:
Make a Vine stop-motion animation
Take a green-screen selfie
Make tangle-free earbuds
Cut a decal using a Cameo Silhouette
Play a video game using MaKey MaKey
Make a duct tape accessory
Draw a picture using a Cameo Silhouette
Draw with a 3D pen
Make your own Shrinky Dink item
Make an LED greeting card
Make something five feet tall with materials provided
Make a beat with an iPad
Do Down is a great time to get your hands on some very cool equipment and even make some holiday gifts with your own hands. Maybe you or the teens you know have no fines on their account. I know at least one teen who does. Fine or no fine, come to the library for the experience. Check here for locations, days, and hours.
Music
Oh, you were wondering if there was any music this week. There is. You might want to spend more time in Lowertown for the Jazz at Studio Z series with the Babatunde Lea Quintet. Babatunde Lea is a percussionist whose work spans more than four decades. Lea draws from African culture to connect with audiences in very powerful ways. He says, "It is my wish that my music will empower people to look within and become agents of peace and change in their hearts, in their families and in the world at large." He and his mates will begin with a workshop at 6 p.m. followed by a concert at 7 p.m. in the studio. Studio Z is at 275 East Fourth Street, Suite 200.
There is no slowing down for the holidays. That's true for artists and their stories. Just check out the Almanac arts calendar for the proof–and to see what you are doing this week. Head out. Bring a friend. Bring a frenemy, if there is such a thing. (Love comes in many shapes and sizes, after all.) Hope I see you on the town.