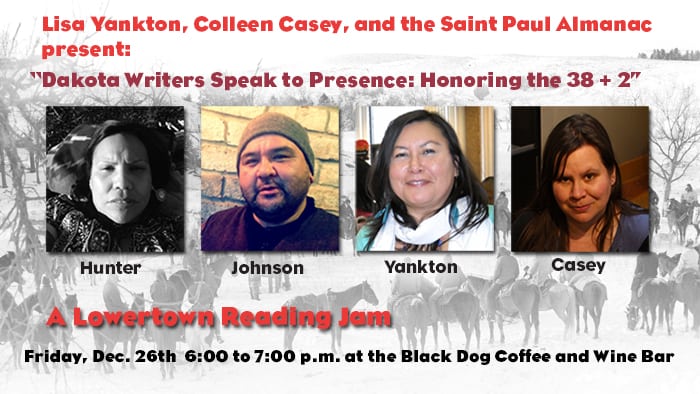 "Dakota Writers Speak to Presence: Honoring the 38 + 2"
Lowertown Reading Jam will be presented on Friday, December 26, 2014, from 6:00 to 7:00 p.m. at the Black Dog Coffee and Wine Bar,
308 Prince Street in Saint Paul. All ages, no cover, donations welcome. Food and beverages for sale.
On the 152nd anniversary of the largest mass execution in the history of the United States: the hanging of thirty-eight Dakota men in Mankato for their role in the U.S. Dakota War, contemporary Dakota writers speak to Presence. We speak several generations after the U.S. Dakota War and the United States government's expulsion of Dakota from Minnesota. We speak, even as we are often erased or misrepresented in mainstream media and culture. We are here. Please join us as we reflect, remember, and share.
Featured writers include Lonna Hunter ♦ Richard Merlin Johnson Jr. ♦ Lisa J. Yankton ♦ Colleen Casey, and other special guests.
Lonna Hunter is from the Tlingit and Sisseton Wahpeton Oyate Nations. She is a passionate lobbyist, community organizer, radical feminist, and artist. She is a truth teller who stands for justice, and her integrity lies with aligning herself with the most vulnerable and marginalized in our world. Lonna is a storyteller of her people; she utilizes culture to heal the deepest wounds of her people, herself, and her family.
Lonna's past awards and honors include the 2006 Gold WATCH Award recipient, 2007 Minnesota Women's Press Changemaker Award, 2008 Minnesota Women's Consortium Woman of Distinction Award, 2012 Tribal Law and Policy Institute-Bonnie Heavy Runner Victim Advocacy Award, Center on Women and Public Policy Feminist Leadership Fellow with the Humphrey School of Public Affairs, and most recently in 2013 Lonna was awarded the Creative Community Leadership Fellow at Intermedia Arts in Minneapolis. Lonna is a mother to Shiana, 23, and Stella, 4; Kunsi-grandmother to Malachi, 2; and life partner-wife to John Hunter.
Richard Merlin Johnson Jr. is an Isanti Dakota who was always told by his family that he and his kin were direct descendents of the thirty-eight Isanti who were hung in Mankato, Minnesota, 152 years ago. In the 1960s his father, Richard Sr., was one of the organizers of the Alcatraz occupation and Director of the then-budding L.A. Indian Centers. His father's teachings and activism had a great impact on Richard's art, traditional values, and activism. Richard is a poet, writer, actor, painter, traditionalist, and activist. Richard Jr. is also Chumash Californian Native and Chicano from his mother, Suzanne Johnson's, bloodline.
Lisa J. Yankton is a member of the Spirit Lake Dakota. During the Dakota War, her great-grandmother fled from Minnesota to North Dakota with two children. As a Community Editor of the Saint Paul Almanac, member of the TGIFrybread Writers Group, and an award-winning poet, Lisa uses her writing and presence to create positive change.
Her community activities include coordinating the Dakota Conference, leading the Brooklyn Historical Society, teaching math at MCTC, and serving on The Circle Newspaper Board. She is a Fellow at The Creative Community Leadership Institute at Intermedia Arts. Lisa is the mother of two lovely daughters. In the evening, Lisa can be found gazing at members of the Milky Way.
Colleen Casey is from Bdote and of Mdewakanton Dakota and European-American heritages. She sees herself as a person of crosscurrents and confluences. Colleen uses language and other arts to facilitate positive transformation in personal, educational, and community contexts. A community editor with the Saint Paul Almanac, she loves story and supporting other people's journeys of voice. She believes we are all related.