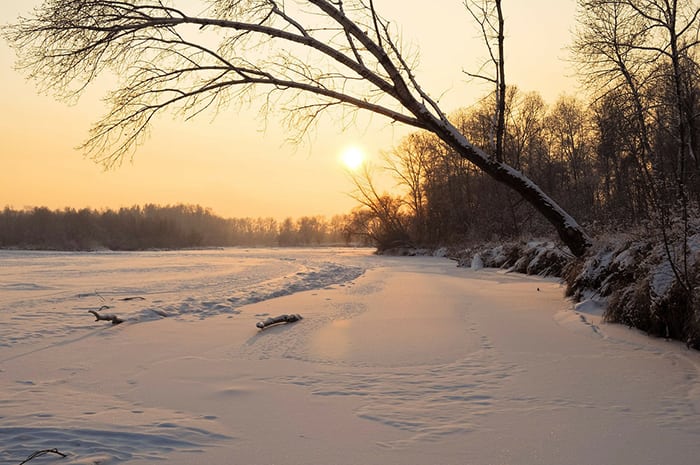 We are halfway through Chanukah, on the verge of Christmas, and peaking at Kwanzaa around the next calendar corner, not to mention the other thirty-odd holidays that my friend Mooks tells us fall in December. If you have been looking at the Almanac arts calendar, you know how busy this world has been.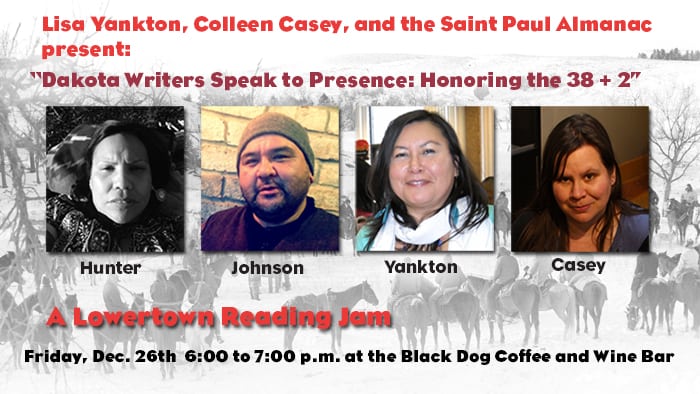 Whether it is the end of your holiday, the beginning, or somewhere in the middle, or if you are just waiting for them all to be over, maybe you can put your head, heart, and conscience in a place of memory and remembrance. On Friday, December 26, we will gather at the Black Dog Coffee for Lowertown Reading Jam: "Dakota Writers Speak to Presence: Honoring the 38+2." On the 152nd anniversary of the largest mass execution in U.S. history, Saint Paul Almanac Community Editors Colleen Casey and Lisa Yankton have asked two other Dakota writers to join them to remember the thirty-eight Dakota men who were hanged near what is now Mankato, Minnesota. These women, along with Lonna Hunter and Merlin Johnson Jr., will "Speak to Presence" through words of memory and legacy of people who were expelled from Dakota territories following the U.S. Dakota War.
Colleen Casey is from Bdote and of Mdewakanton Dakota and European-American heritages. She uses language and other arts to facilitate positive transformation in personal, educational, and community contexts.
Lisa Yankton is a member of the Spirit Lake Dakota. During the Dakota War, her great-grandmother fled from Minnesota to North Dakota with two children. Lisa is a member of the TGIFrybread Writers Group and an award-winning poet who uses her writing and presence to create positive change.
Lonna Hunter is from the Tlingit and Sisseton Wahpeton Oyate Nations. She is a passionate lobbyist, community organizer, radical feminist, storyteller, and artist who utilizes culture to heal the deepest wounds of her people, herself, and her family.
Richard Merlin Johnson Jr. is an Isanti Dakota who was always told by his family that he and his kin were direct descendents of the thirty-eight Isanti who were hanged in Mankato. He is a poet, writer, actor, painter, traditionalist, and activist who has been inspired by his father, Richard Sr., who was one of the organizers of the Alcatraz occupation.
Learn more about these writers and the event here. The Black Dog is at 308 East Prince Street. The Reading Jam starts at 6 p.m. this month. This event will be a great way to resolve the old, wise year. Hope you can join us.
Music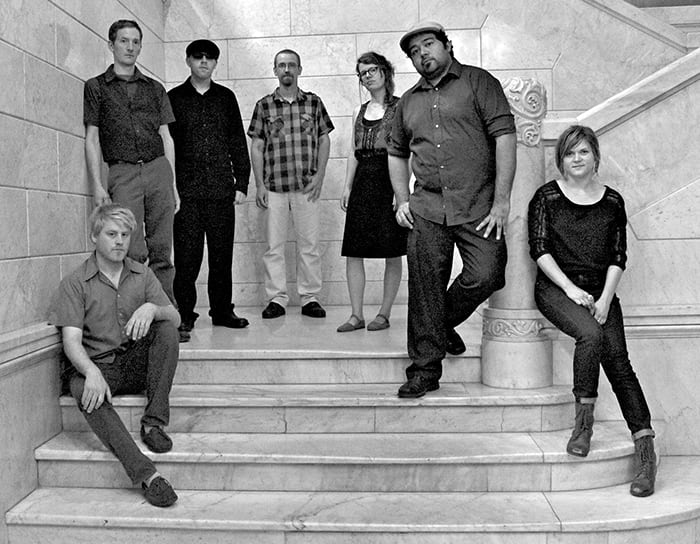 Have you ever been to a movie and wished that you were in that place you viewed on the screen? Chances are that mood came as much from the music backing the action as it did from the action itself. That is the kind of music that The Poor Nobodys bring to any stage or studio. On Tuesday, December 23, the septet will be at the Black Dog with sounds that adorn landscapes in real movies and are offered to accompany any narrative you have running through your life. Come to the Dog and sit for a while. The show is sure to take whatever story your life is making and turn it into an epic tale—because it is! The Poor Nobodys are scheduled to start playing at 7:30 p.m.
The weekend brings several great shows that will help you wind down from the hectic previous weeks. On Saturday, December 27, you have some great choices. At Studio Z young saxophonist and composer Aaron Hedenstrom will hold a workshop for other musicians, composers, and enthusiasts starting at 5:30 p.m., followed by a CD release party at 7 p.m. Aaron is only twenty-six years old but has already received enough acclaim and awards to earn respect in jazz circles. Saxophonist Quamon Fowler says, "Aaron is an excellent player, composer, and arranger whose ideas flow out of him like water." Big band or solo, he has a great sound. His album is called A Moment of Clarity and it sees musical daylight in this show and workshop at Studio Z, 275 East Fourth Street, Suite 200.
If it's not big-band jazz that you want but a big voice that starts deep in the soul and launches out into the atmosphere, you will want to head to Bedlam Theatre Saturday, December 27, for Pippi's Holiday Jazz Party. Pippi Ardennia is the voice and the heart behind PipJazz Foundation, helping young musicians develop their chops with a voice and style reminiscent of greats like Billie Holiday, Ella Fitzgerald, Sarah Vaughn, and Dinah Washington. Of course, she has her own style, full of the variety and power. This is a party, so eat, drink, have fun, and visit with other music lovers and cool folks. Also, with any advance $12 donation made to PipJazz, you can enjoy this event for free. Be sure to print your confirmation email. Go to http://pipjazz.org/ to donate! This show also starts at 7 p.m. Bedlam Theatre is at 213 East 4th Street across from Union Depot.

Making the night's choice of Saturday, December 27, even more difficult is a show happening at the East Side Freedom Library: Douglas R. Ewart and his multidisciplinary ensemble, Quasar. Quasar includes amazing poet, vocalist, and spoken-word crafter Mankwe Ndosi; Zimbabwean dancer, choreographer, and actor Leah Nelson; extraordinary and amazingly versitile cellist Jacqueline Ultan; consumate pianist and teacher Carei Thomas; eclectic eccentric sonic manipulator Stephen Goldstein; and Douglas R. Ewart. This show conjures the spirit of our own Reading Jams, with a little more emphasis on the music and dance than the word. Quasar adds poetry and dance to the music they make, which includes mbira, bells, percussion, cello, piano, gongs, laptop, iPad, crepuscular stick, didgeridoo, flutes, English horn, and more. Their September performance left an enduring impression on the artists and audience. This is another way to help your year end well. They start at 8 p.m. The East Side Freedom Library is at 1105 Greenbrier Street.
On Sunday, December 28, the Como Zoo and Conservatory is starting this year's Music Under Glass series. This cold-months series under the warm haven starts with a performance from an extraordinary guitarist who can also make several other stringed instruments sing, Dean Magraw. Dean, who has a powerful solo reputation, has a dynamic style that reflects his extensive collaborations with the likes of Japanese shamisen prodigy Nitta Masahiro, classical violinist Nigel Kennedy, South Indian vocalist and vina virtuoso Nirmala Rajasheker, epic songstress and storyteller Ruth MacKenzie, Irish supergroup Altan, radio and film celebrity Garrison Keillor, jazz bassist Anthony Cox, and countless others. This series of concerts will happen throughout Saint Paul's cold months under the glass of the conservatory. Beer, wine, pop, and light snacks will be available to purchase. Music starts at 4:30 p.m. Como Park Zoo and Conservatory is at 1225 Estabrook Drive. Concerts are free.
Finally, another string story. I have a sweet memory of sitting at a friend's house when she pulled out her Fluke ukulele. She strummed a few strums, then handed it to me. I used my best guitar knowledge to pluck out something, enough to get me through a familiar song. It was sweet. Then I handed it to her, and she let out a sweet, heart-melting dynamic vocal and instrumental ballad that made me instantly want a ukulele of my own.
That memory brought to mind the resurgence in the past decade of the instrument that has escaped the mawkish appropriations of Hawaiian culture. It has its own dynamic story, and the pages of that story make its way to Lowertown when Keldon Ancheta comes to the Black Dog on Monday, December 29. (I know that is next week, but I wanted to make sure you had time to mark your calendar.) He is part of a generation that is taking the instrument from its relegated status as cute, mute musical adornment to a music that should be taken seriously. Get a better idea from this video piece from Bring Me the News. Keldon is becoming a Lowertown fixture. Get an even better idea at this show that starts at 7:30 p.m. The Black Dog is at 308 Prince Street.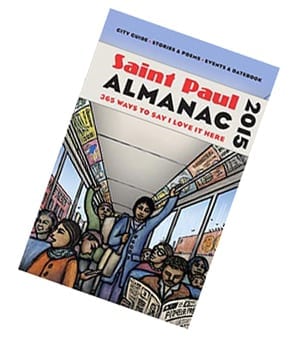 I thought things would be slower this week, but it's not necessarily true, as we just found out. We are nearing the end of 2014. Sometimes we might feel a little tired, but no matter. From here on out the days are getting longer, and while it might not be warm yet, we have that to look forward to. As always, don't forget the Almanac arts and culture calendar. Don't forget your neighbors. Don't forget that if you need one or two or three more gifts, get your easy-to-wrap Saint Paul Almanac!
We've had a good year. I've enjoyed spending it with you. I'll give one more shout out before the new one starts, so have a great week until then, and go have some art!