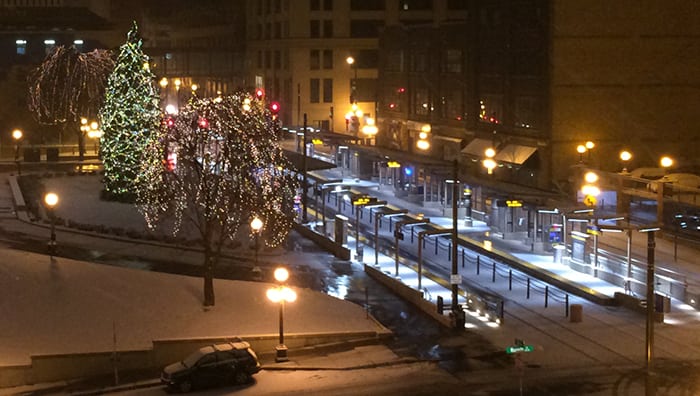 I have this strategy where I wait until the new year has come—weeks after we have ventured into the next year—before I buy my pocket calendar. My next wall calendar has been fixed behind the old one for some time, my Minnesota Farmers Union calendar that I pick up each summer at the Minnesota State Fair. The pocket calendar is a different story. I wait because they go on sale at some places. Thankfully, I do not have to wait to put items on the Almanac arts calendar. It's always handy. Here are a few things I've jotted down to bring in the New Year!
Here's the count-down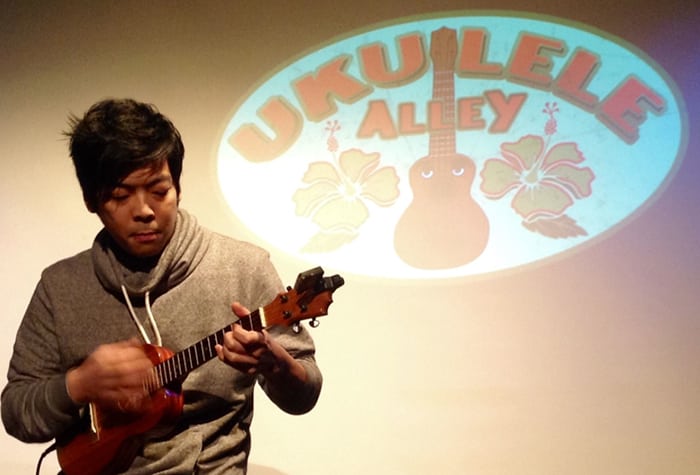 MONDAY I told you about Keldon Ancheta and his cool ukulele. Here's the reminder: Keldon is at the Black Dog Coffee and Wine Bar today, Monday, December 29. He is part of a generation that is taking the instrument from its relegated status as cute musical adornment to a music that should be taken seriously. Get serious outloud with the uke starting at 7:30 p.m. The Black Dog is at 308 East Prince Street in Lowertown.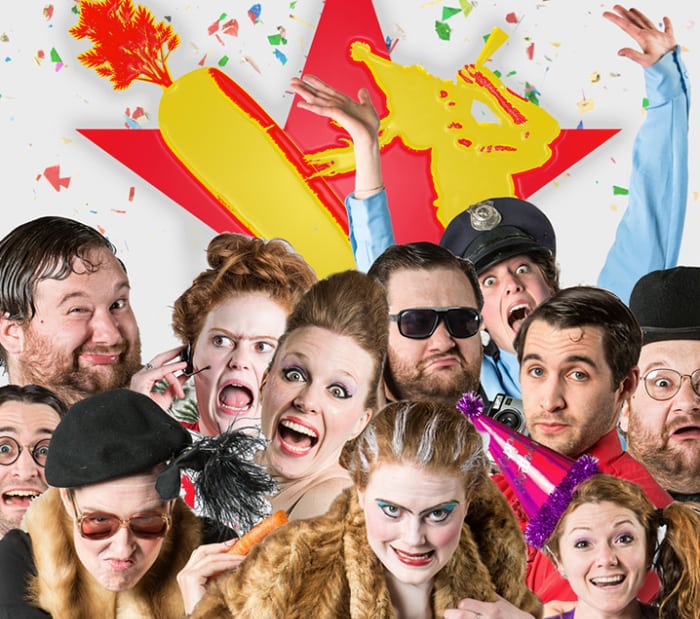 TUESDAY Bedlam Theatre will be busy with a couple of events to prime us for Wednesday's revelry. At 8 p.m. on December 30, Dangerous Productions presents HAPPY CRAZIEST NEW YEAR. It is a night—actually two nights, New Year's Eve too—of hard to explain variety, full of "comedy, games, immersive interactions, drinking, dancing, clown, and puppetry in this final choose-your-own adventure performance." They have been doing this for a few years and this is the last year of this wonderful menagerie for the whole family. Get your special tickets here. Bedlam is at 213 East Fourth Street across from the Union Depot.
Afterward stick around Bedlam for Ode to the Roddes and the Stelth Ulvang band. Ode to the Roddes, an Overby Family Band, is from Sutton, Alaska, and they are real family. They play hits from the 1920s through the 1940s; jug band music with roots in folk, jazz, blues and swing. Seth Ulvang, from Denver, Colorado, is the barefoot piano-player and multi-instrumentalist for the band Lumineers . He'll pair his light, whimsical and soulful travel tales with the old-timey (can I really say that?) folk from the Roddes family. They start around 10 p.m., after Dangerous cleans up.
NEW YEAR'S EVE What's the best way to change into the new year? There are a thousand things to do and thousands more people with whom to do it. Whatever, choose wisely. I have a few ideas that might be smart picks. You be the judge.
You could start out at Union Depot for Union Depot Board Game Night. Starting at 4 p.m., you can play giant-size versions of many of your favorite games including chess, checkers, Kinect Four, dominoes, Jenga, tic-tac-toe or even bring your own game. There are ping pong tables too. It's free and fun for everyone. Union Depot is at 214 East Fourth Street.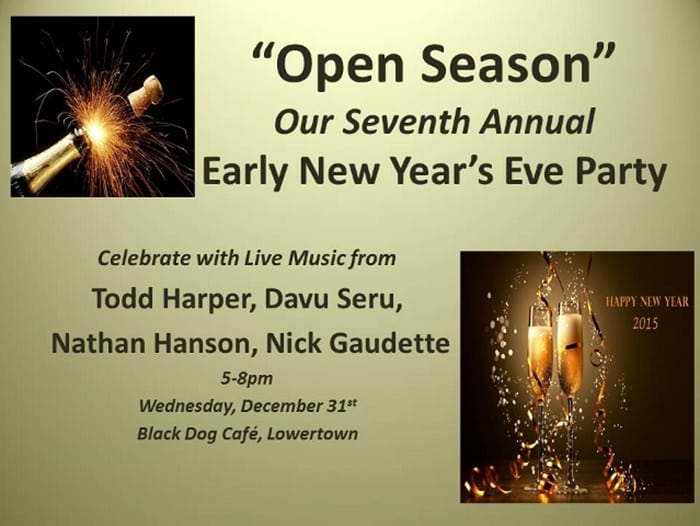 Next, head over to the Black Dog Coffee and Wine bar for the seventh annual Open Season New Year's Party. It is billed as the New Year's event that will get you to bed at a sane time. It can also be the perfect playtime before a ton of other activities. The Dog will have fun, food and music from favorites Todd Harper, Davu Seru, Nathan Hanson and Nick Gaudette. The party runs from 5 to 8 p.m. The Black Dog is at 308 East Prince Street.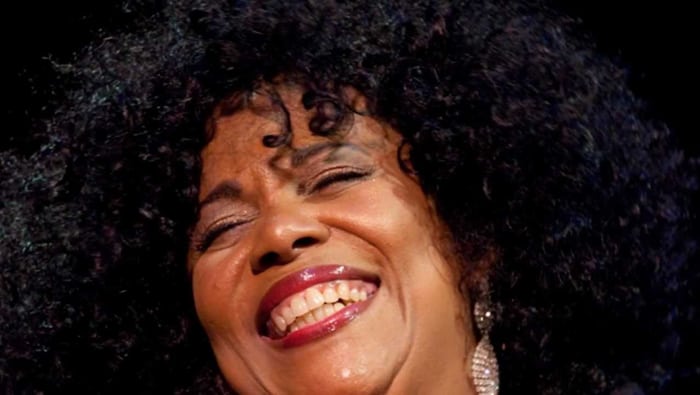 Want something fancy? Head downtown for A Very Pippi New Year at Landmark Center. Pippi Ardennia, who just had a great show at the Bedlam, will be with with Judi Gronseth and Patricia Lacy-Aiken for a swanky live New Year's bash. Groove to the sounds of Motown and more. "This will be a wonderful and uplifting concert to bring in the New Year," said Ardennia. Dress up and boogie. Tickets are here and the Landmark is at 75 West Fifth Street across from Rice Park. The party starts at 7:30 p.m.

Motown too far to travel for the New Year and you need a sound a little closer to home? Check out Chase & Ovation with a salute to the music of PRINCE! Come to the Minnesota Music Cafe and "party like it's 1999." Join the crowd with the faux Purple One. Everyone from Prince's former bandmates to his sister say that Chase & Ovation are as real as it gets without the man himself in the house. "You won't believe your ears," says Bobby Z and "Spot on exactly how we played it!" says Matt (Doctor) Fink. They will be joined by Dan Ristrom & The Throwdown. The doors open at 8 (p.m.) and dance until late. Minnesota Music Cafe is at 449 Payne Avenue on the East Side.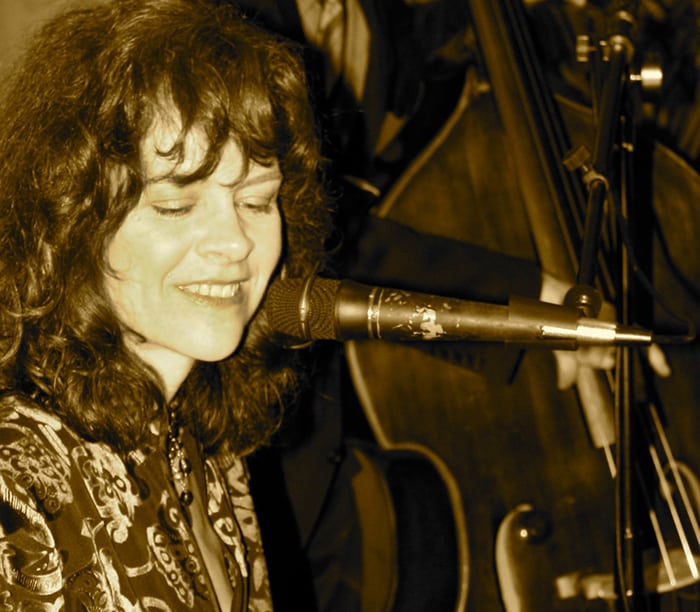 We have tributes to Motown and Prince. How about one for Frank Sinatra? Saint Paul Hotel Lobby Bar fixture and jazz pianist and musical stylist JoAnn Funk will offer up her Midnight "A Tribute to Sinatra" with special guests, Nathan Norman on drums and Steven Marking on baritone. Funk carries an intimate piano vocal style with a versatility that covers the work of many classic jazz stylists, but tonight is for the Chairman of the Board. The music starts at 8 p.m. The Saint Paul Hotel is at 350 Market Street, downtown, on the east side of Rice Park.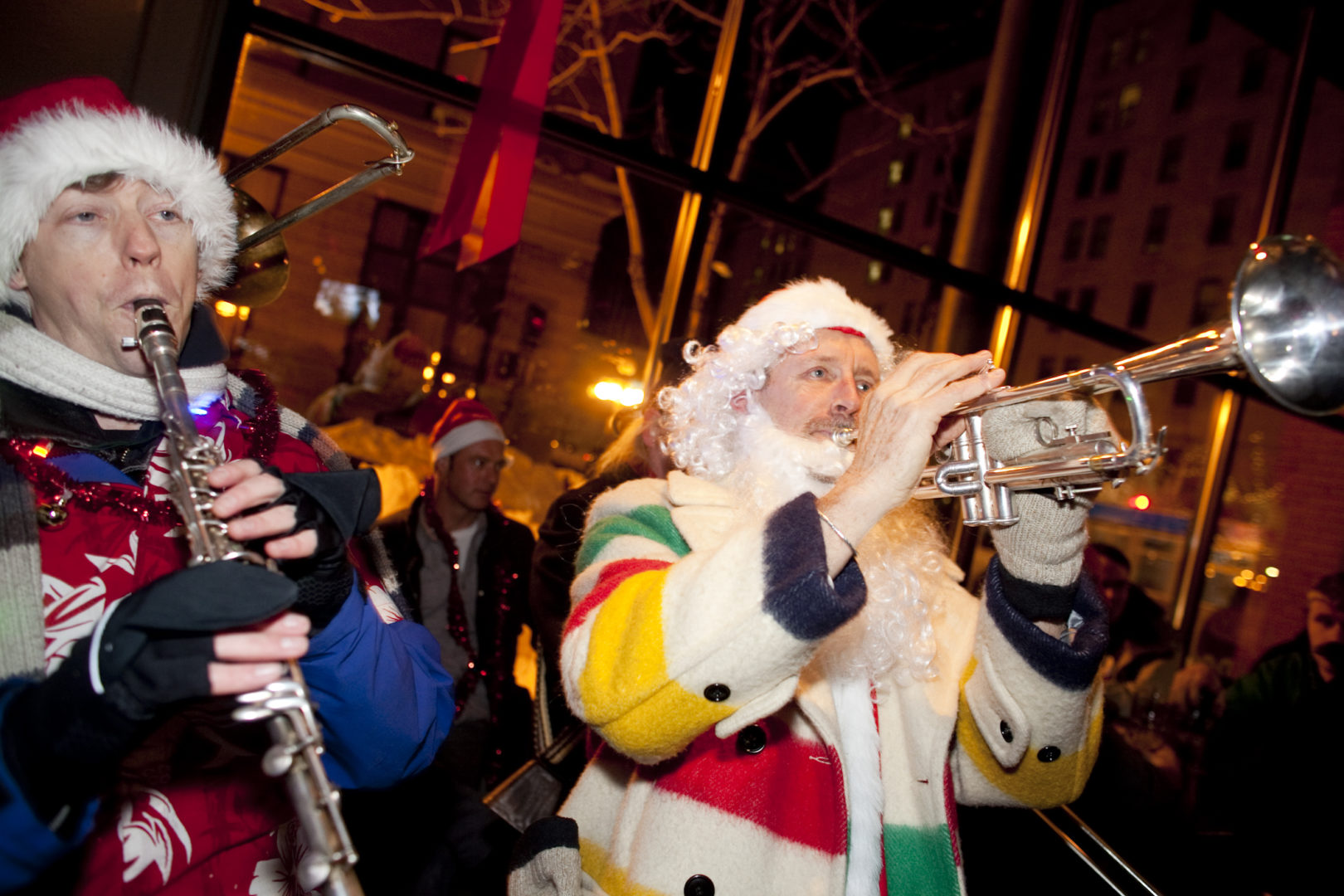 Last, starting at 10 p.m., following the second night of Dangerous Productions' Happy Craziest New Years at Bedlam is the Bedlam and Brass New Year's Eve Bash! The folks at Bedlam invite you to "dance your brass off" with the Brass Messengers. Shake your brass and wear your favorite masquerade mask. There will be prizes, a midnight ball drop, secret surprises, "mysterious strangers" and a free champagne toast at midnight! Even after all the week's doings, I am sure Bedlam will still be at 213 East Fourth Street.
THURSDAY Rest. Sleep in. Get a newspaper!
FRIDAY It's Lowertown First Friday. Celebrate the first First Friday in this mini-Art Crawl in the Lowertown district of Saint Paul. A couple of featured events this month include: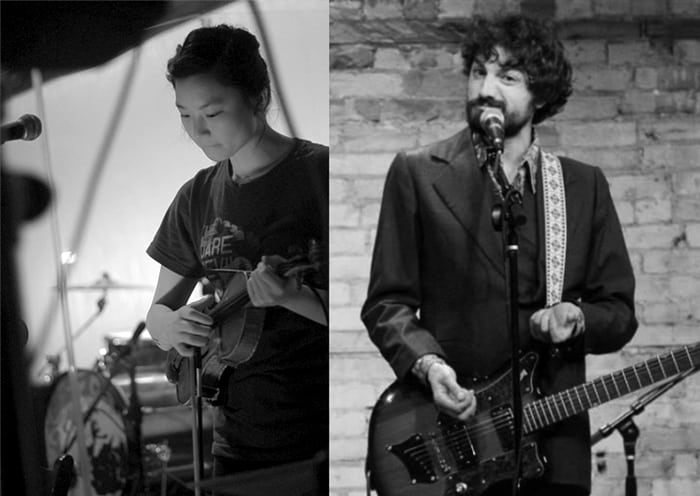 A show at Golden's Deli with LOTT, the solo project of Minneapolis musician Leah Ottman. LOTT is a pop/folk experience that is influenced by the Romantic period of classical music. A little lyrical heartfelt crooning and hands-on musicianship with a little techno embellishment creates a grand indie style. LOTT will be joined by Hot Date's Eric Carranza on guitar. Golden's is at 275 East Fourth Street.
An Opening Reception for Derek Theodore Davis is at the AZ Gallery. Davis' peers see him as a nationally respected artist and, by some estimations, one of the great representational landscape painters working today. There will be a give-away at 8 p.m. for one lucky visitor. Also, Davis supports the National Wildlife Foundation and is choosing to donate a portion of the proceeds to the NWF. AZ Gallery is at 308 East Prince Street. The reception runs from 5 to 9 p.m.
An after-Christmas sale is at Three Sisters Eclectic Arts, 253 East Fourth Street in the JAX Building.
If you are feeling stuck in Lowertown and need to venture out to other parts of town, and you need a seasonal dose of traditional Irish music, you might head up to Celtic Junction for Gourley, Feddersen & Miller CD Launch. Nathan Gourley, Laura Feddersen and Brian Miller are three young artists keeping the music alive today and into the future. They have studied Irish music all their lives and bring a flavor of their American roots to performances. Laura and Nathan explore some amazing harmonies with their dual fiddle stylings and Brian adds a fine driving force to the music on his guitar. It's just different enough to add some spice to the favorite comfort foods. They start at 7:30 p.m. Celtic Junction is at 836 Prior Avenue North.
WEEK'S END

For something that will ask a little less energy from us, Park Square Theatre's new production 2 Sugars, Room for Cream opens this weekend on their Boss Stage. I don't drink coffee (even after growing up in a Swedish Baptist church—read no "fire water") and when I meet someone for "coffee," I have to make a mental adjustment as I order some other beverage. I can't (or don't want to) help it if I don't like coffee, but this comical and silly production might tell me why everyone else does. Two stellar Twin Cities actors, Shanan Custer and Carolyn Pool, bring this story to life. A little coffee. A little music. A lot of fun. The show opens Friday, January 2, and runs through January 18. Check here for show times, dates and ticket information. To get to the new Boss Stage, enter Hamm Building at 408 St. Peter Street and take the elevator or stairs to lower level.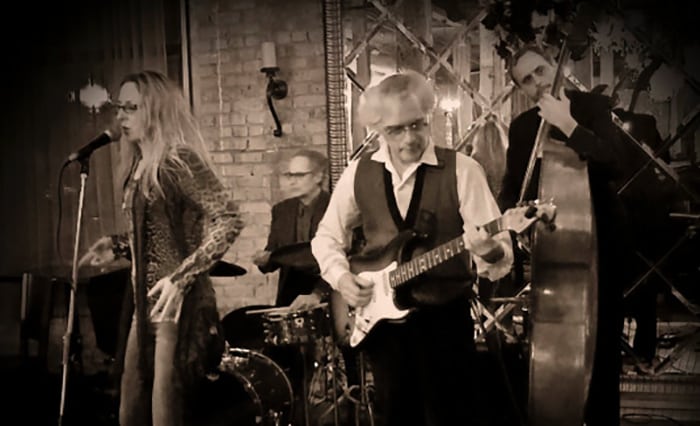 Need to slow down even more? The Como Zoo and Conservatory's Music Under Glass series continues with Parisota Hot Club. They are a versatile bunch whose music blends string swing, Roma-influenced jazz and 1960s pop to create something hot under the windows of the blooming conservatory tropics. The Como Park Zoo & Conservatory is at 1225 Estabrook Drive. The music starts at 4 p.m. and the warmth lingers long after that.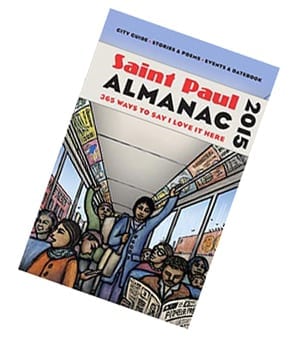 I'm sure there is more. You can always check the Almanac arts and culture calendar. For the past several weeks, we've been celebrating the family that we have in our homes and hearts. New Years is that holiday when we celebrate with family on the outside. I hope we can remember to treat everyone accordingly at all the places we visit in our fine town. Remember, wherever you are, people live, work and love there, and wherever we step, we are treading on sacred places, places where art is made. Happy New Year. Let's make it the best one Saint Paul has ever had.