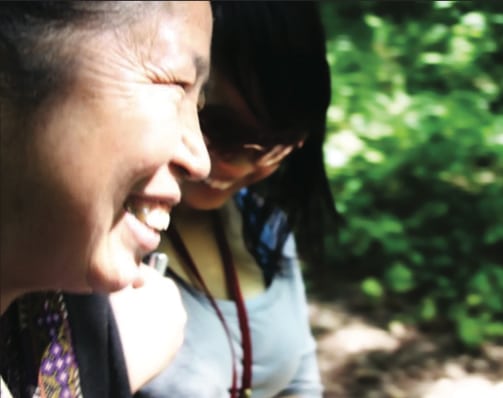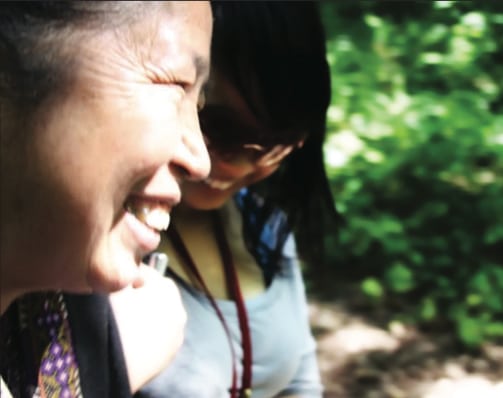 People ask me, "What is Hmong?" Hmong is not just an ethnicity, but a definition of who I am. Hmong is a tradition, a culture, and a belief. Above all, being a daughter in a Hmong family is both a gift and a curse.
In the fall of 2003, I read Kao Kalia Yang's intriguing book, The Latehomecomer: A Hmong Family Memoir. It showed me what it was like to be happy one day and, because of war, torn apart the next. This book reminded me of my mother, and, with no hesitation at all, I shared it with her. Then I started asking myself, "Where do our people belong, now that we don't have a homeland that we can call our own?"
I summoned the courage to ask my mother, who simply said, "You belong here—you belong to me and nowhere else." She kindly told me, "We must never doubt ourselves, even when we are put in a bad situation." As a daughter, I must step into the footsteps of my mother, as she did her mother's footsteps, continuing the legacy of the many generations before us.
My mother told me stories about how devastating it was that our people had been chased from their homeland. She had lived through the Vietnam War and experienced the hopelessness of never going back home. I could feel her anxiety, as I imagined her running through the forests of Laos, out of breath, carrying her firstborn. I imagined her scared to death, unable to believe it was real, denying the truth because she didn't know how to feel. I felt her pain as she described losing her first child who was only eleven months.
I saw the emptiness in her eyes as she talked about her firstborn, my beloved sister whom I will never know. "We came to America to follow the 'American Dream,'" my mother said with an expression of both disappointment and joy. At that moment, I knew that she had clung to the idea that the "American Dream" was the reason she had come to America, when in fact, it was the war that had brought her here.
As I spent countless hours listening to her stories, I realized that there is more than one path I can take. My mother married at age eighteen, my sisters married at age sixteen, and I knew that the path they chose for themselves wasn't the path I was going to choose.
My mother gave me a dream to follow, to be more than she ever was. She encourages me to graduate from high school, college, and law school, always lifting me up when I tell her, "I can't do it. . . ." She reminds me, "One day you will become a great and respectable lawyer." I was about seven years old the day I told her, "I'll be sure to make you proud. . . ." I remember her warmth as I slept next to her while she told me bedtime stories, as her mother had done with her when she was younger.
Unfortunately, for a long time I was torn between two beliefs: being forced into this "American Dream" and desperately trying to hold on to my Hmong culture. In the summer of 2010, I came to know that "the Gods," my ancestors, passed down to me the power of being a Shawoman. My mother stressed that I should claim this as a gift and not a burden. "They choose people with the purest and strongest heart and soul. Shamen and Shawomen are chosen before their birth to do good things and share their wisdom." I remember feeling scared to step into the shoes of the people we respect the most, at such a young age. But it made my mother proud of me, and that made me proud of myself.
Today, I know that my mother, my culture, and this "American Dream" have all helped make me who I am. I have learned to love my culture and the many doors that the "American Dream" has opened for me. Thanks to my mother's strength, I am in America, where I have many opportunities. I take pride in being Hmong and especially being a Shawoman. I grew up thinking I was forced to be either Hmong or American, but I've learned that there is positivity to both. In my belief, the best part about being a Hmong American is sharing stories—as my mother did with me, and as I am doing with you. And long after me, my sons and daughters will share their stories with new generations.